Service management at scale
Collaborate on one platform
Connect your dev and ops teams with an open, robust, and collaborative platform that brings greater visibility and flexibility to work.
Innovate and deliver value fast
Empower every team across the enterprise to be a service team without the cost and complexity of legacy ITSM tools.
Scale service with confidence
Support large quantities of agents, assets, requests, and workflows, and deploy changes across diverse teams with ease and confidence.
Before, it was complex to figure out who to call when we or a client detected an issue, and it took time to manually call the right person. Jira Service Management [Data Center] helps us get the right people online at the right time.
—Renato Klarić, Site Reliability Manager, Infobip
Ensure your admin team is set up for success
Asset & configuration management
Track assets and configuration items to gain visibility into critical relationships between applications, services, the underlying infrastructure, and other key dependencies.
Self-service support
Offer diverse teams an intuitive and easy way to shape processes to fit their needs via a portal, knowledge base, and agent queues.
Learn how Infobip has standardized like an enterprise while maintaining the speed of a startup
ISS World delivers spectacular service at scale with Atlassian

Discover how AppDynamics transformed from a siloed startup to a team of teams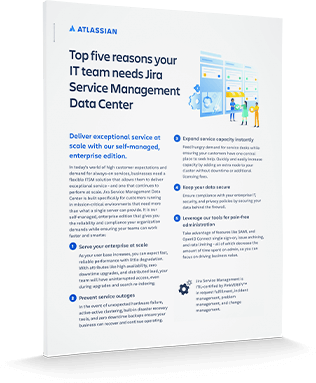 One-Pager
5 Reasons why IT teams choose Jira Service Management Data Center
Guide
Getting started with Jira Service Management Data Center
White Paper
Discover Forrester's Total Economic Impact™ of Atlassian for ITSM
Simple plans for teams of any size
Complete control of your environment

Active/active clustering for high availability

Annual term license + maintenance

Optimized for AWS or Azure deployment

SAML 2.0 and OpenID Connect support

Atlassian-supported disaster recovery

Project and issue archiving for improved performance
Get started with Jira Service Management Data Center