Marketing plan template
by Atlassian
Establish your foundation for today and the rest of the year
Use template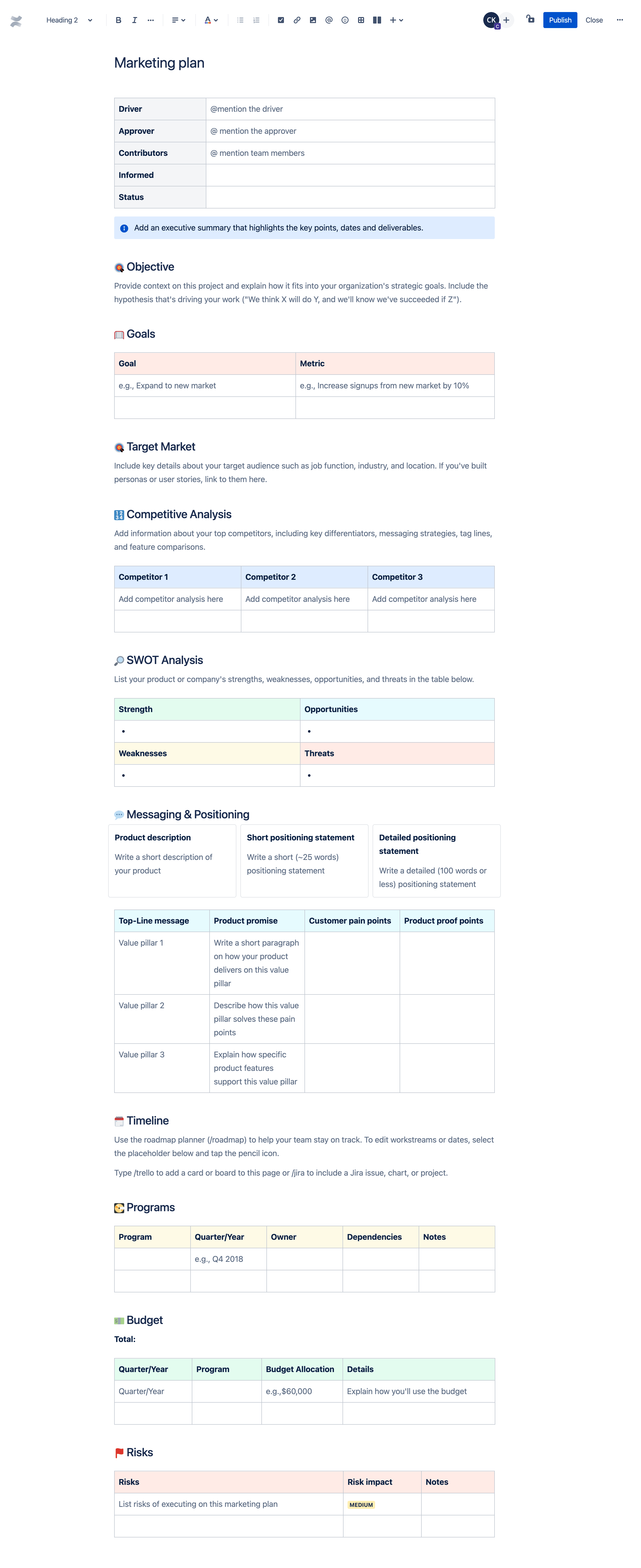 Ask any marketer, and they'll tell you developing a marketing plan is no small feat. You have to think critically and creatively, all while tracking campaign activities, coordinating multiple teams, and keeping everybody in the loop. When you barely know what your team will be working on tomorrow, mapping out marketing activities for the entire year (or more!) feels almost inconceivable. Use this template to establish your goals and metrics, outline competitor research, and identify your major marketing programs and budget needs. Trust us – you'll be glad to have this resource in your corner.
How to use the marketing plan template
Step 1. Establish your key players
Marketing plans encompass a lot of people; sometimes the entire company has a hand in pulling off those strategies. That's why it's important to outline your key players at the very top of your plan.

We recommend the DACI framework, which forces you to get clear on your driver (the plan's point person who will corral all stakeholders and execute those strategies), your approver (the person who signs off on the final plan), your contributors (people who have expertise and a voice in the plan, but no final vote), and your informed (people who just need to be in the know  of the plan's progress but aren't actively involved in getting the work done).
Step 2. Outline your objective, goals, and success metrics
You aren't just putting a marketing plan together because you feel like you should. There's a larger objective at play and you'll list that here. How does this marketing plan fit into and support your organization's strategic goals? Boil that answer down to a simple statement so everybody who references your plan has a clear idea of why it actually exists. 
Beyond that overarching objective, you probably have some other marketing-specific goals that you hope this plan will help you achieve. Maybe you want to expand to a new market or grow your social media following. In this chart, list those specific goals. But, don't stop there. Assign metrics that you'll use to evaluate your progress. Do you want to increase signups from your new market by 10%? Reach 10,000 Instagram followers by the end of the quarter? Set those digits here so that everybody knows what success looks like.
Step 3. Describe your target market
It's important to gather details on who you're marketing to so that you can build strategies and craft your messaging accordingly. In this section, you'll include key details about your target audience, including their job function, industry, and location. If you've already gone through the process of building detailed personas or user stories, make sure to link to them here so that they're easily accessible.
Step 4. Conduct a competitive and SWOT analysis
The best marketing efforts will differentiate you from your competitors. In order to do that, you need to understand the ins and outs of who you're up against. Here, you'll list your different competitors and some key information about them, such as their taglines, feature comparisons, and messaging strategies. That's information you'll want to keep handy as you figure out how to set yourself apart. 
Beyond your competition, you also need to understand the intricacies of your product or company itself, and there's no better way to do that than with a SWOT analysis. Using this simple table, you'll list your strengths (what do you do well?), weaknesses (where do you fall short?), opportunities (what do you have yet to take advantage of?), and threats (what could potentially set you back?).
Step 5. Get clear on your product and marketing programs
Whenever you're launching a new campaign or strategy, you don't want to start from scratch each time. That's why you'll want to have all of the details of your product right here. You'll outline a brief description of your product, as well as both a short (only 25 words or so) and detailed (about 100 words) positioning statement that describes how your product fulfills a customer need. Under that, use the table to outline your value pillars, and how your product or company delivers on those pillars and solves customer pain points. 
Do you already have specific marketing programs you're hoping to launch? Maybe it's a series of webinars or a targeted Facebook ad campaign. This Programs chart is where you'll write the programs you're putting together, as well as important details like their timeline, owners, dependencies, and any helpful notes. Make sure to also include links to any supplemental materials, if you have them.
Step 6. Set your budget and anticipate risks
You can only dream of the marketing strategies you would roll out if you had unlimited funds, but unfortunately, that isn't reality. Budgets are one of those real-world things you need to deal with. Using the programs you outlined in the above step, assign a budget allocation to each of those activities and offer a brief explanation of how you'll use that money. This will help you plan effectively within those unavoidable money constraints. 
Finally, you'll be much more likely to execute well if you anticipate your risks. In this last chart, list any potential risks of carrying off this marketing plan, as well as the impact of that risk and some notes for how you'll navigate around it. At the very least, you won't be caught off guard.
---
Atlassian is an enterprise software company that develops products for software developers, project managers, and content management.
More marketing & sales templates View all
Competitive analysis

Keep up with competitors by documenting their offerings and strategies.

Content strategy

Create a content strategy plan and organize your editorial calendar.

Creative brief

Use this template to share creative project requirements and goals with your team.