Hiring process template
by Indeed
Organize your hiring process and impress top talent
Use template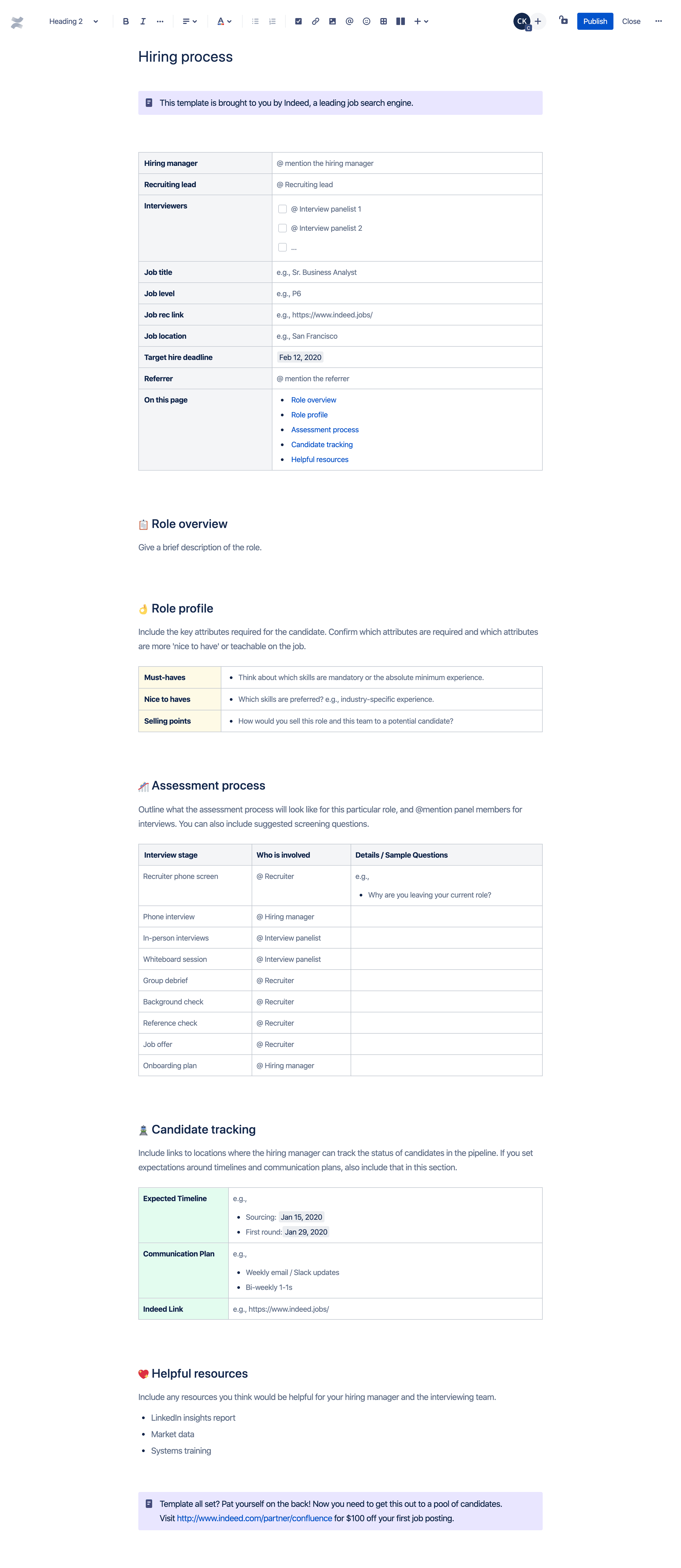 From desired qualifications to interview stages, there's a lot to keep track of as you're evaluating candidates. And with recruiters, hiring managers, and interview panelists all working together, it's important to keep everyone on this same page. That's where this hiring process template from recruitment and job search leader, Indeed, comes into play. Use it to stay organized, boost your candidate experience, and land the very best applicants for your open positions.
How to use the hiring process template
Step 1. Fill in the basics
Before you can start the hiring process, you need to agree on what you're looking for – as well as who is going to be involved in sourcing candidates with those qualifications. You'll use this first table to document the job title, job level, job description link, job location, and target hiring deadline. You should also list the team members who are involved in the hiring process for this specific job. That includes the hiring manager, recruiting lead, and all interviewers. Make sure to @mention them directly to keep them aware of their contribution. 
Step 2. Dig into the role you're hiring for
Use the Role overview section of the template to create a brief description of the role that you're filling. Then use the role profile table to jot down the key attributes you're looking for. You'll split these into "must haves" and "nice to haves." The final row of the table gives you space to write down selling points for the position, so you have them on hand when you talk to potential hires. This keeps the hiring team aware of the expectations that the hiring manager is communicating.
Step 3. Track your assessment process
There's a lot that happens between an initial phone screen and a signed offer letter, and the Assessment process table of the template should be used to outline the different hiring stages for this particular role. From the recruiter phone screen to in-person interviews to background and reference checks, you can map out the whole process, @mention any team members who need to be included in each phase, and even include suggested screening questions you want to ask.
Step 4. Document your timeline and communication plan
Keep track of your anticipated timeline for filling this open role in the top section of the Candidate tracking table. Plot dates for when you'll finish sourcing, conduct first-round interviews, etc. If you've set expectations for when candidates should hear from you, note them in the communication plan row. Finally, link to the Indeed dashboard or your candidate tracking system for this role so that you can monitor your job posting status and manage candidates from there.
Step 5. Link to additional resources
Have a report that would be helpful for the hiring manager or interviewing team? Or some market data that you want to keep handy? Use the bottom section of this template to link directly to helpful resources. Everybody will be able to easily get their hands on the information they need, within having to dig through email threads or folders.
---
Indeed is the #1 job site in the world and strives to put job seekers first, giving them free access to search for jobs, post resumes, and research companies.
Collections this template belongs to
90-day plan

Create a 90-day plan to help new hires get up to speed and succeed in their new role.

All hands meeting

Share business updates, victories, employee spotlights, and more with your larger team.

Career development plan

Create a development plan to help employees grow and achieve their professional goals.