Email drip campaign template
by Trello
Keep the details of your email sends organized and the results clear for your team

Use template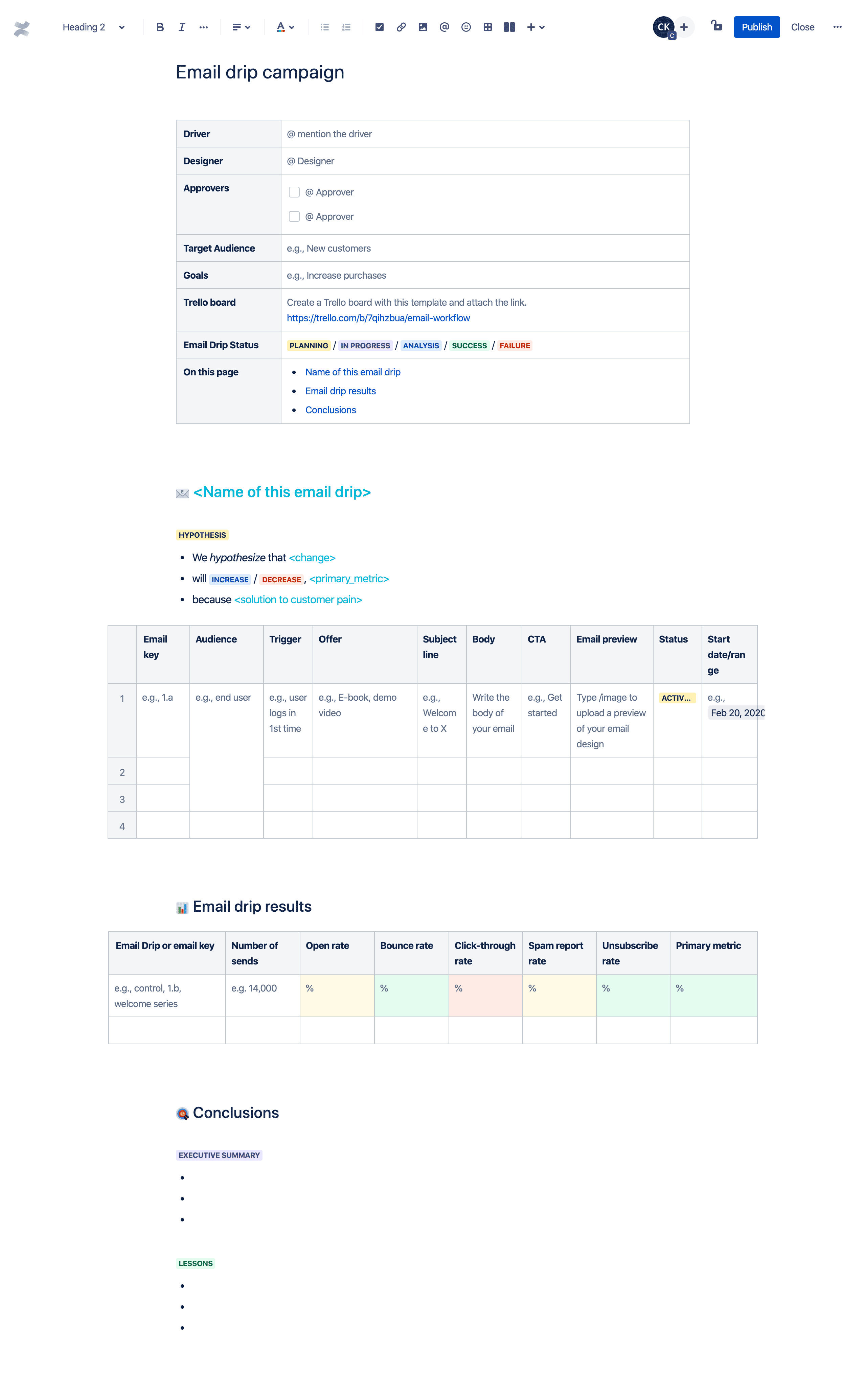 Anyone who sends email campaigns knows that the process can turn into a messy and convoluted back and forth, yet the results are always of high interest to stakeholders and management. To help keep the process and results more clear for everyone, use this template to iron out the nitty-gritty, like email content, audience, and subject line. Then, after the send goes out, update this page with the results. This page keeps everyone informed, whether they're a driver or an observer. BONUS: Copy the Trello board template linked to this page to mirror the moving parts of your email sends in real-time.
How to use the email drip campaign template
Step 1. Think big picture
Figure out the higher-level goals of this email drip and fill in who will be working on this from the production side. Use the table at the top of the template to assign drivers, approvers, target audiences, etc. Provide a link to the Trello card you're using to show status.
Step 2. What's the point?
Fill out the Hypothesis section with the problem space and the proposed solution you believe this email series will attempt to solve. Then, depending on the type of email (triggered upsell, product education, etc), fill in the table with more specifics.
Step 3. The nitty-gritty
In the tables, start building out the body content of your series. Putting the text of the email in the table allows other members of your team to review and give feedback before being built in your ESP. Now is also the time to brainstorm subject lines and layout designs. Putting all of this info on the template helps provide an easy reference for team members, designers, and collaborators on the email send, all in one place.
Step 4. Results
After your email gets out the door and everyone is fawning over your genius ideas, it's time to show your work! In the Email drip results table, fill out the hard numbers for your send. Highlighting results is key for stakeholders to understand whether your strategy is worth doubling down on again, or if it's better to look at a new approach. 
Pro tip: Use traffic-light colored background colors to indicate whether the results were positive, negative, or neutral.
---
From startups to Fortune 500 companies, Trello is the visual way for teams to collaborate on any project.
More marketing & sales templates View all
Competitive analysis

Keep up with competitors by documenting their offerings and strategies.

Content strategy

Create a content strategy plan and organize your editorial calendar.

Creative brief

Use this template to share creative project requirements and goals with your team.