Design review template
by InVision
Document requirements and run a productive design review
Use template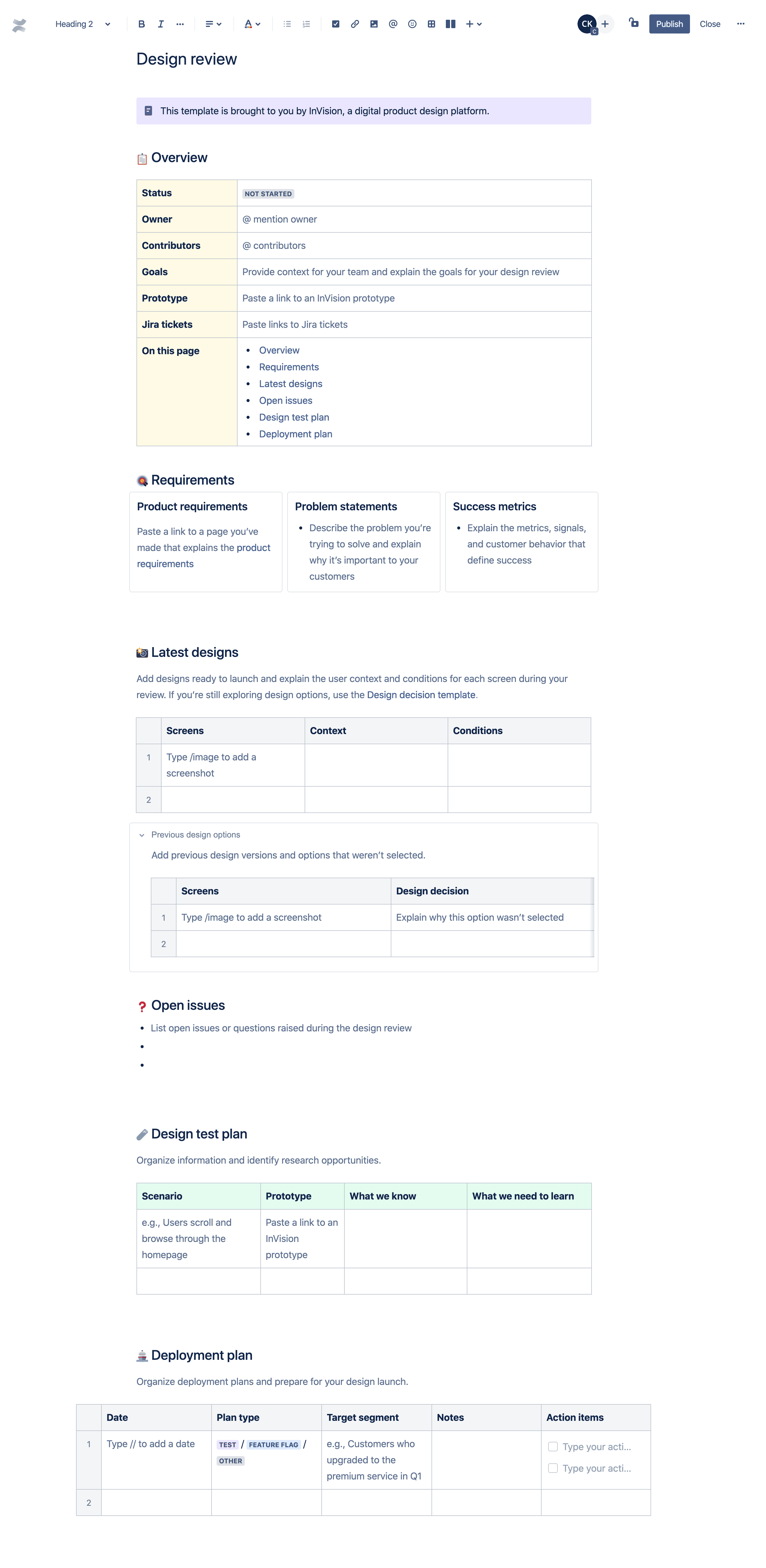 When design teams create new products, they don't immediately start sketching and prototyping. The design process starts with knowing your business, your competitors, and your customers. Design reviews help teams understand their problem space so that they can create smooth, updated experiences for their customers. Use the design review template to shape your creative strategy. This will help you document creative requirements, present designs, and record insights and open questions raised during your review.
How to use the design review template
Step 1. Organize your design process
Start by collecting all of the background information your design team needs for this project, so your team will be ready when it's time to conduct your design review. Use the template to organize product requirement documentation and list any technical requirements. Make sure to add Jira tickets, metrics reports, and any other page your team needs to design. Once you've outlined your requirements, explain the customer problem you're trying to solve and how design can improve the customer experience.
Step 2. Present designs
Once you've outlined your design project's goals and requirements, you can use the template to conduct a design review. Add screenshots of designs ready to launch and provide context that will help your team think creatively. You can also create InVision prototypes to showcase new interactions and experiences. As you present each design to your team, explain the potential benefits and challenges of each option and ask your team for their input.
Step 3. Capture design review insights
During your review, you and your team should use the template to take down notes. As you discuss designs, record open questions and information gaps so that your team can plan research sessions. You can organize and track issues raised during your review. Continue to update the template as you finalize designs and set up design tests and deployment plans.
---
InVision is the digital product design platform used to make the world's best customer experiences.
Content design glossary

Teach writers how to use product names, industry terms, and other content with an A-Z guide.

Content strategy

Create a content strategy plan and organize your editorial calendar.

Customer interview report

Turn customer interviews into insights with the customer interview report.