Create and maintain your ideal company culture
Boost your organization's productivity, coordination, and engagement — so you and your HR team can focus on people first.
Join the 100,000 customers worldwide who trust Jira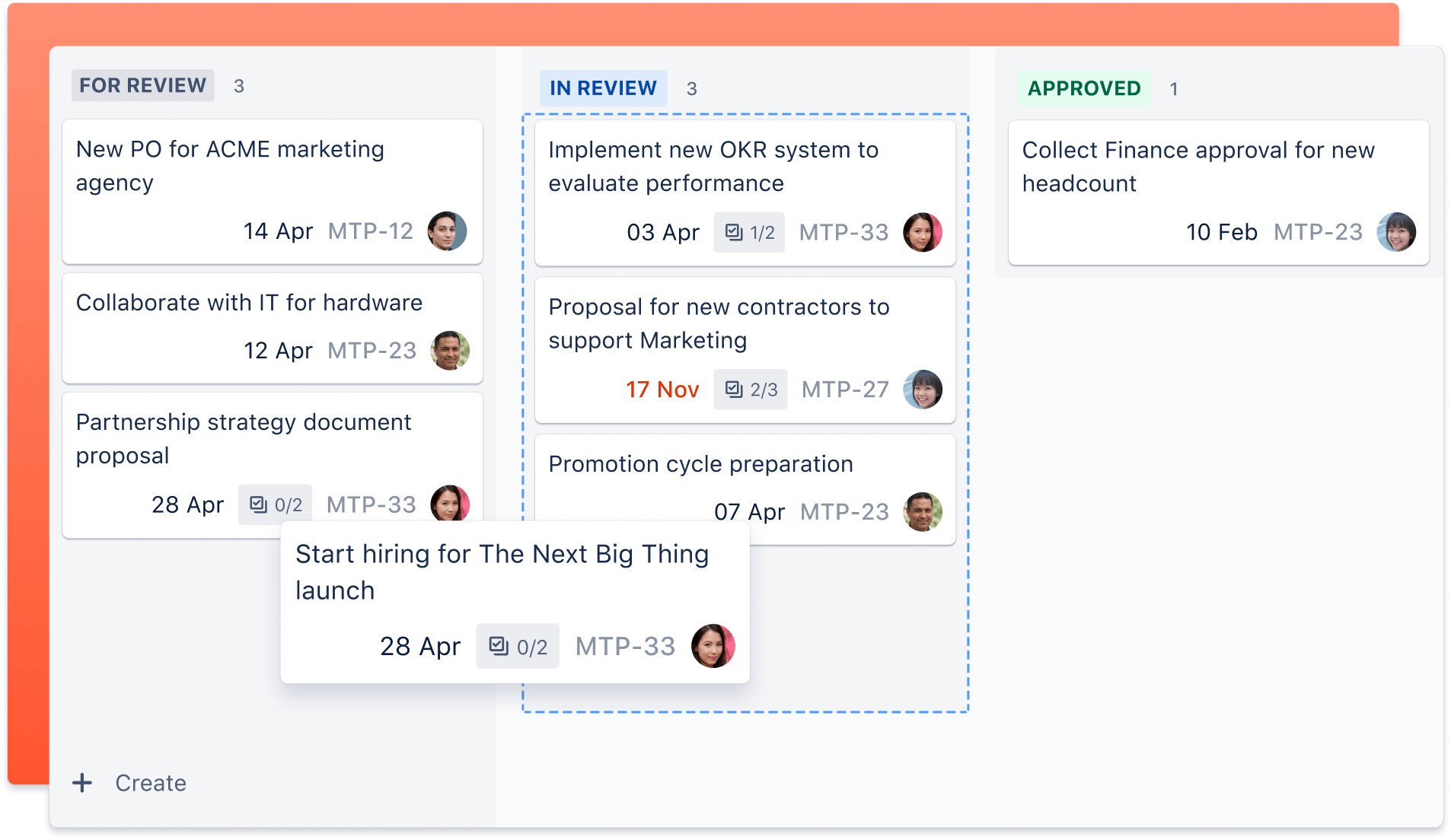 Make hiring the right talent easy
Filling job openings is too hard to have to spend time on the process. Combine tracking and automation for interviews so your potential hires move effortlessly through the funnel, freeing you to juggle roles and applicants.
Craft sustainable and effective policies
Ensure your company's policies get the go-ahead from top leadership and employees by consistently tracking their development. As you improve your policy process, our workflow engine is ready to help.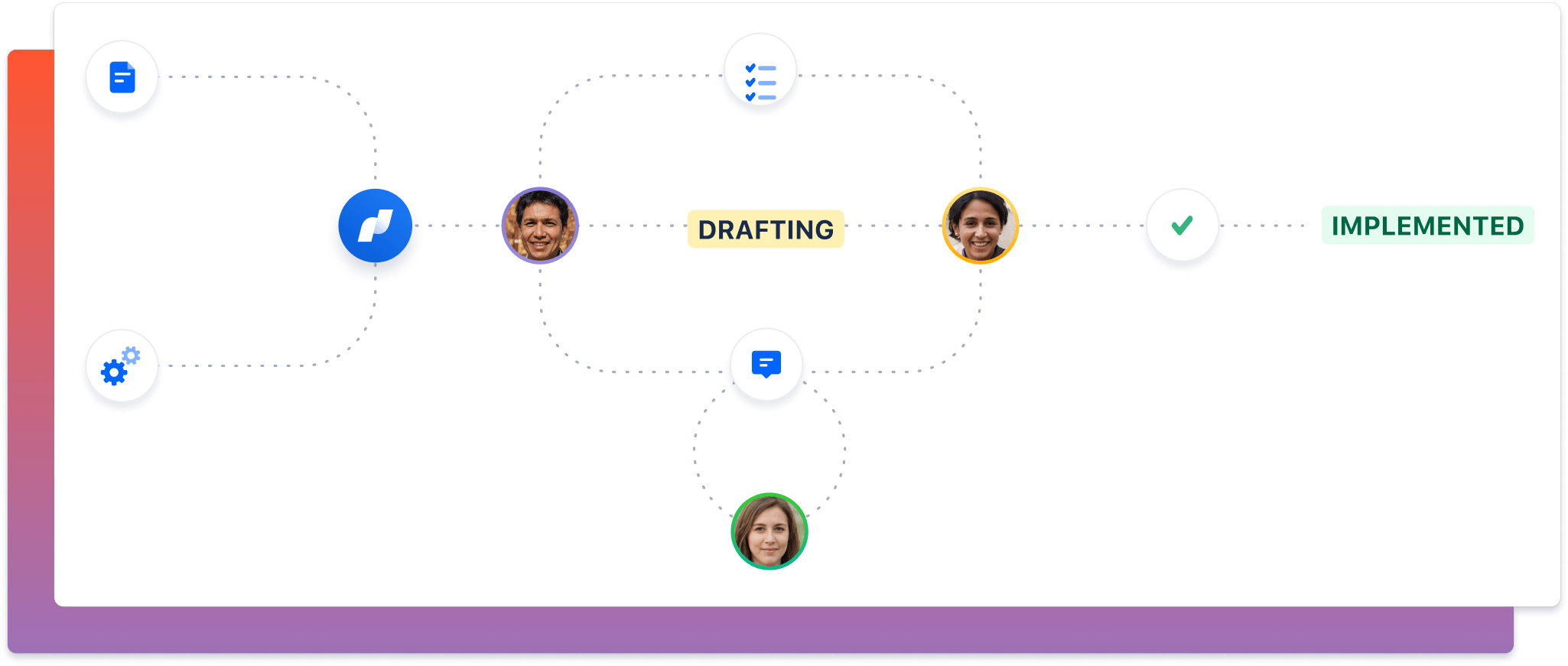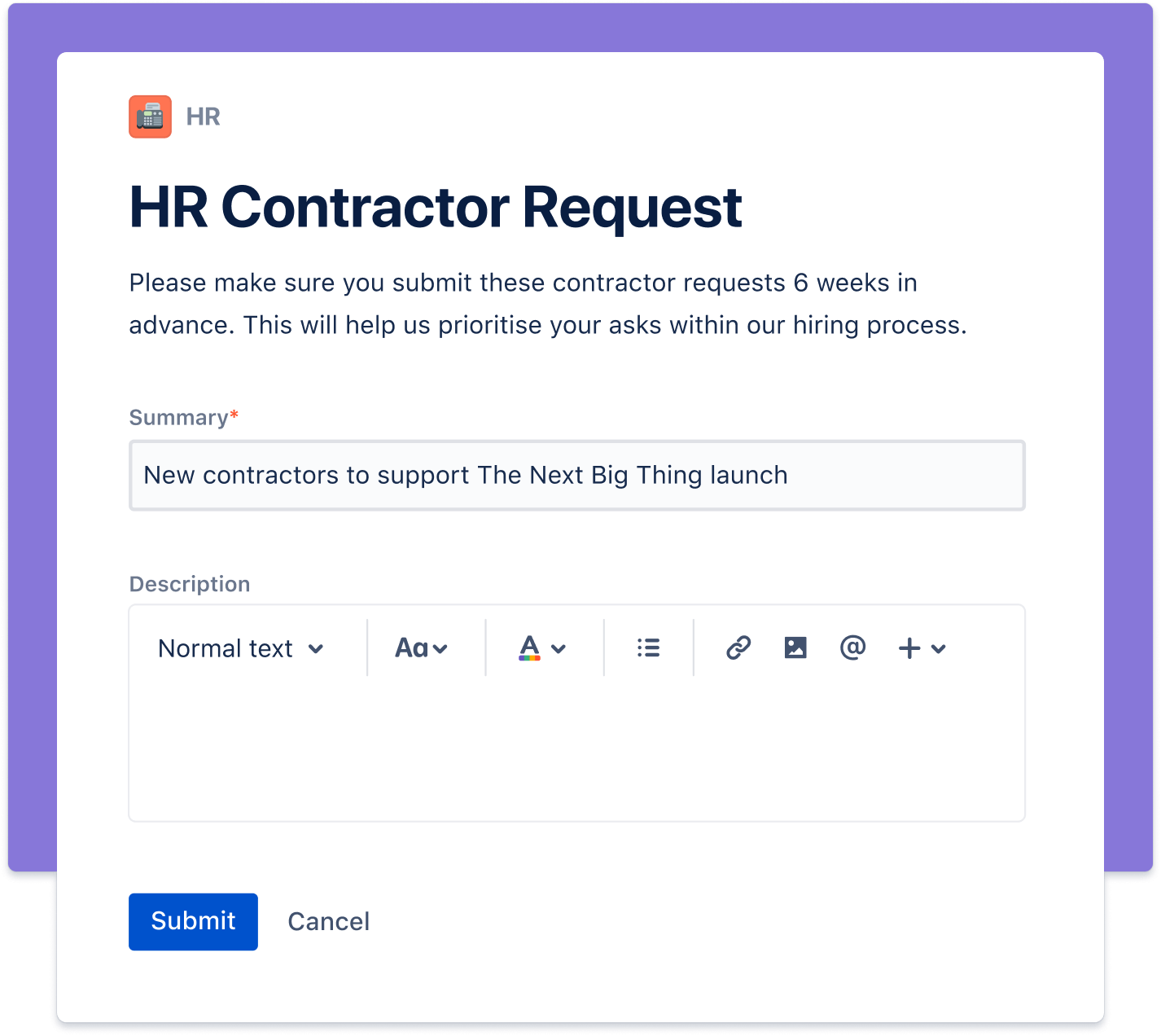 Collect simple HR requests
Whether it's feedback for improvement or suggestions for new ideas, our forms feature consolidates requests into the projects where you work.

Use cases
No matter the HR process, we've got you covered
Track candidates, create new policies, and keep employees happy with Jira Work Management's customizable workflows. It's an all-new way to keep your HR teams in sync.
Automation
Put your projects on autopilot with automation
Unlimited, free actions within projects mean you're free to focus on what matters. Create your team's custom rules or get started quickly with our pre-made favorites. Focused on privacy? Our audit logs come standard.
INTEGRATIONS
Bring your favorite tools together
Instead of context-switching between platforms, neatly integrate your tools with Jira Work Management.
Slack
Use Slack to remove the constant hunt through documents and emails to get what you need, when you need it. Edit, view, and comment from Slack.
Gmail
Atlassian Cloud for Gmail transforms your inbox into mission control, as it allows you to take actions and view rich data directly from emails.
Zendesk
Create a seamless workflow between Zendesk Support tickets and Jira to bring together your employees and HR team.
The URL is dead, long live the Smart Link
The era of static URLs is over — Smart Links are here and enabled by default. Enter data into embedded Google Sheets, export and import data with Excel, and take actions with 30 other top providers with a single copy/paste.
Enhanced Efficiency
We're helping HR run smoother than ever
Dynamic reports and dashboards
Follow the status of your team's projects via high-level overviews, customized dashboards, or 30+ reports. Discover bottlenecks and continuously improve.

Templates for HR teams
20+ new project templates make it easy for every team and department to get started instantly, with no set-up required.