Modèle de gestion des services financiers
Gérez le budget, les dépenses et les autres demandes financières.
QUESTIONS À L'ATTENTION DE L'ÉQUIPE FINANCIÈRE
Demander une allocation budgétaire
Demander un examen de conformité
Soumettre une demande ou un incident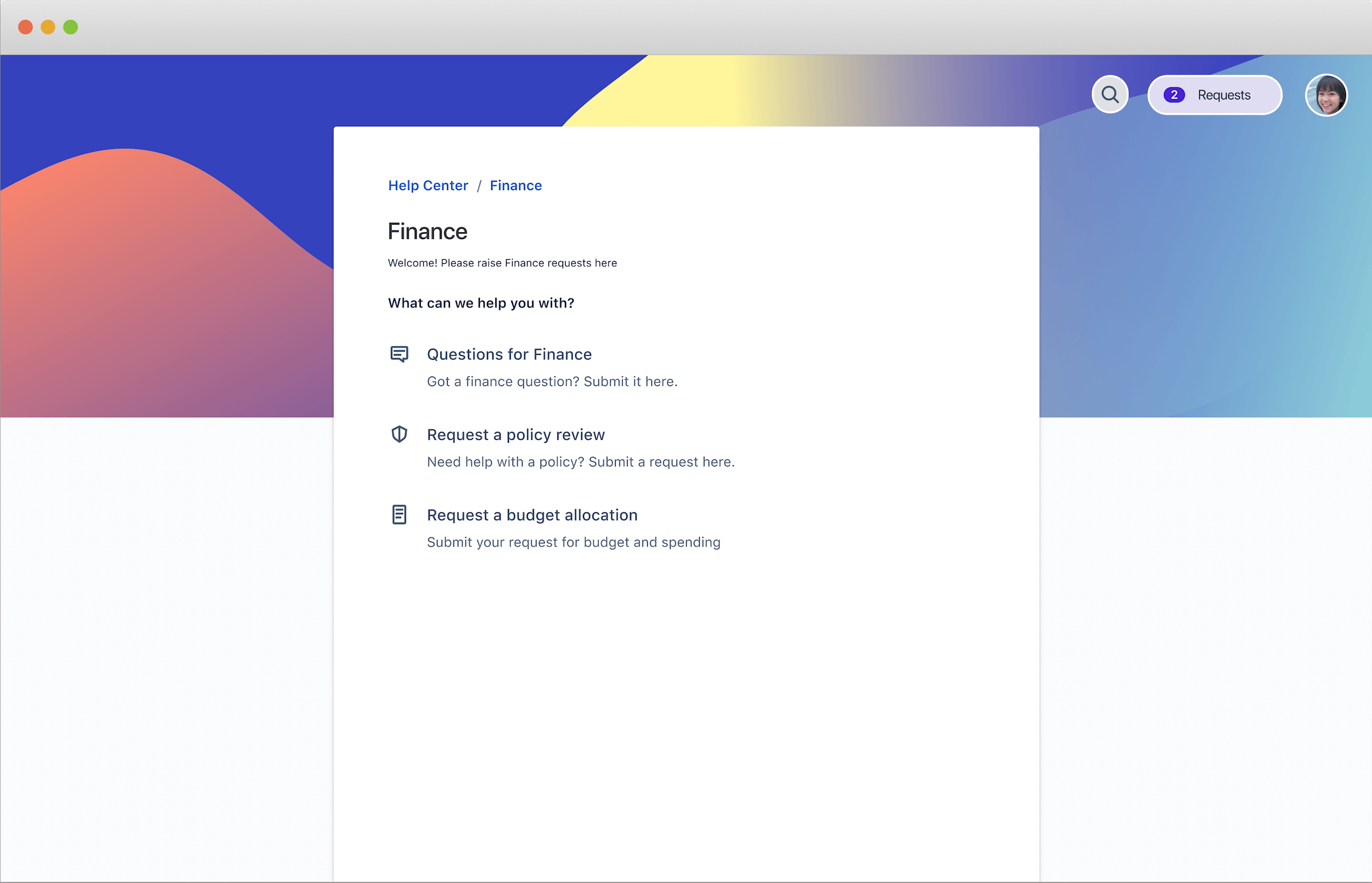 Produit recommandé : Jira Service Management
Gérez le budget et les demandes de dépenses, répondez aux questions, et partagez des lignes directrices et des analyses. En savoir plus
« Nous disposons désormais d'une source de référence unique à partir de laquelle nous pouvons extraire des données et générer nos rapports. Cela nous garantit une meilleure vue d'ensemble et une compréhension commune dans toute l'organisation. »

MARIE BJØRKE
Head of IT Service Management, ISS World
Modèles associés
Jira Service Management
Gestion des services généraux
Gérez toutes vos demandes de service interne.
Jira Service Management
ITSM
Gérez les demandes, les incidents et les changements pour fournir d'incroyables services, rapidement.
Jira Service Management
Gestion des services client
Offrez rapidement des expériences de service exceptionnelles aux clients externes.
Ressources associées
Comment fonctionne la gestion des services d'entreprise dans Jira Service Management ?
L'approche Atlassian de l'ESM
Prêt à utiliser ce modèle ?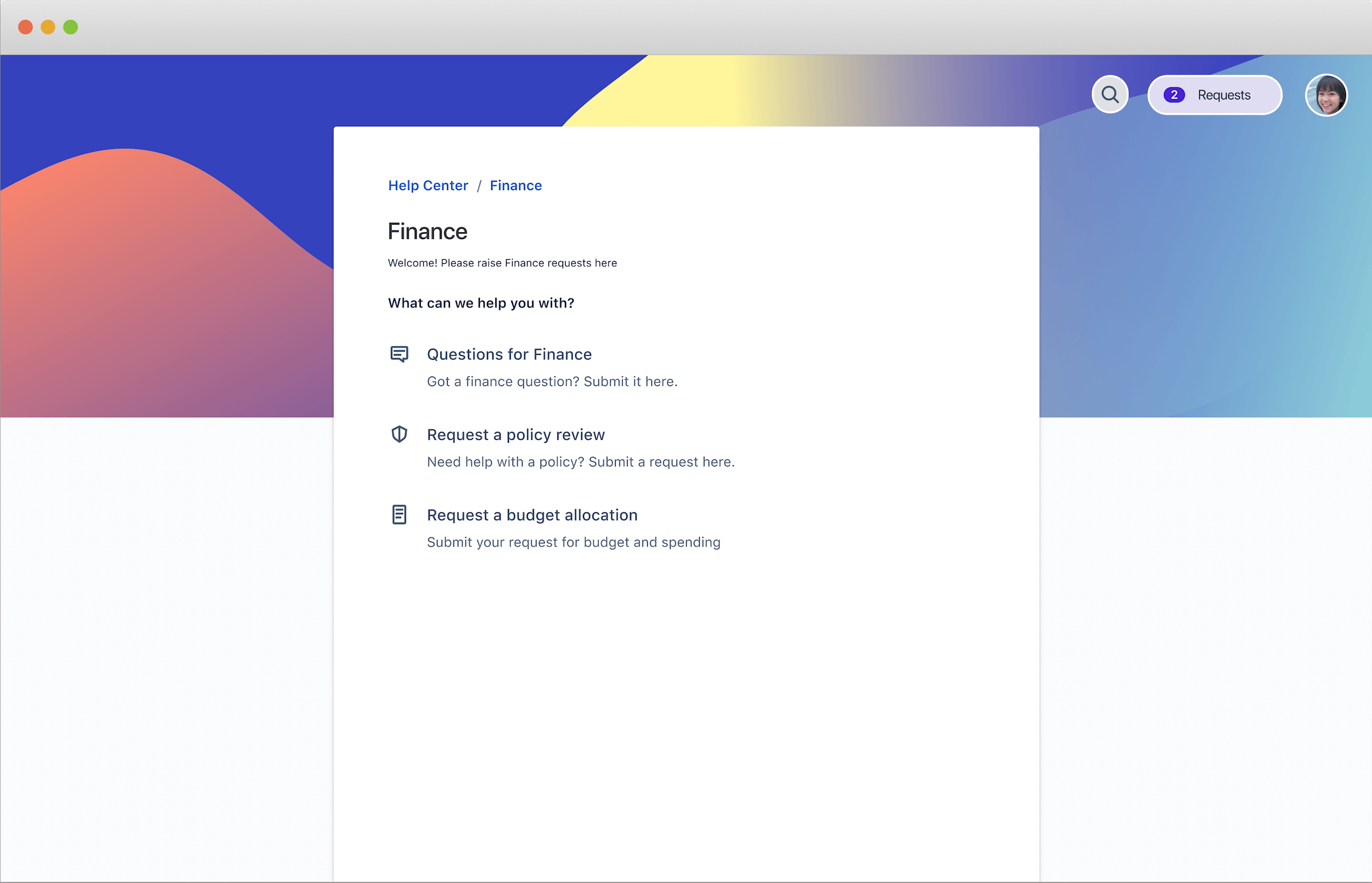 Finance service management template
Manage budget, spend, and other finance requests.
What is a finance service management template?
This template provides teams with a central place to field queries, and triage and manage budget, spend, and other finance requests. Set up a knowledge base so employees can find answers to common questions without submitting a request.
What does the finance service management template include?
A finance service portal
Create a service portal to manage finance requests. Shape request types and workflows to meet your organization's needs.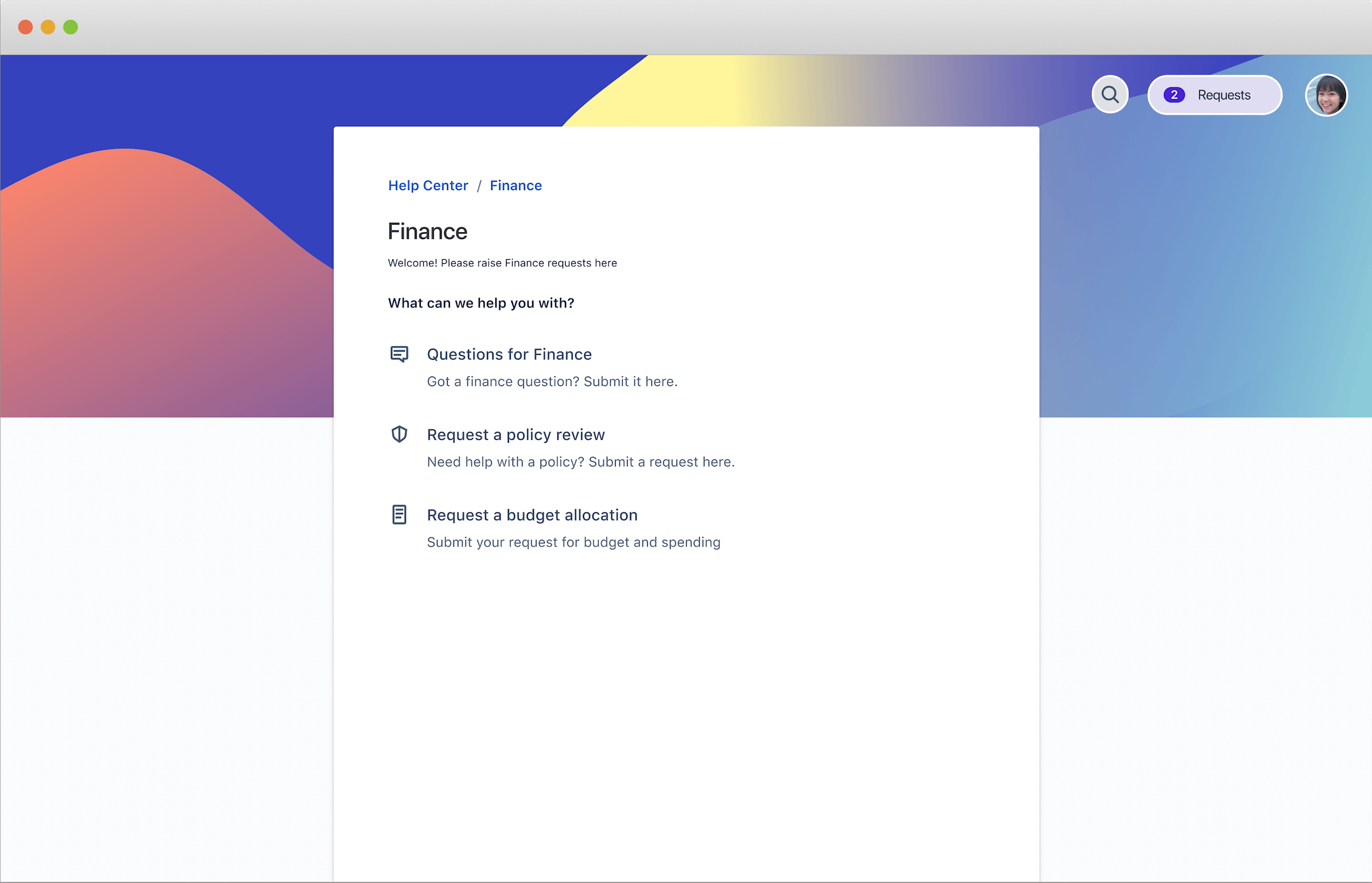 Manage finance requests
Capture, track, and manage incoming finance requests in one place. Quickly assign tasks to the right people.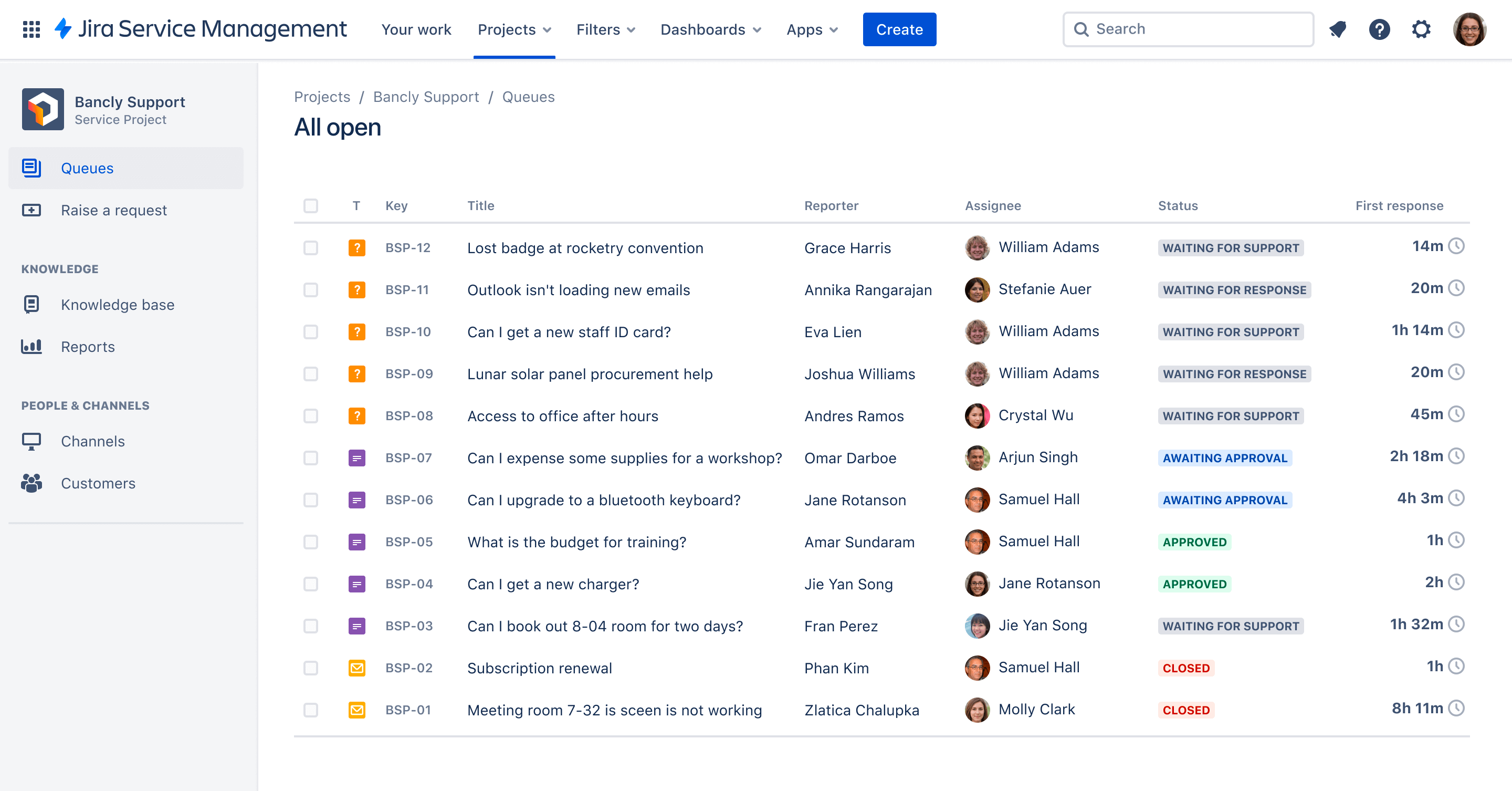 Report on performance
Proactively spot and fix bottlenecks slowing down your team's work, make better decisions around resource allocation, staffing, and investments, and keep tabs on the state of your finance programs.
Empower employees with knowledge
Provide answers to common questions using a self-service portal. Leverage a knowledge base that surfaces relevant articles to deflect requests.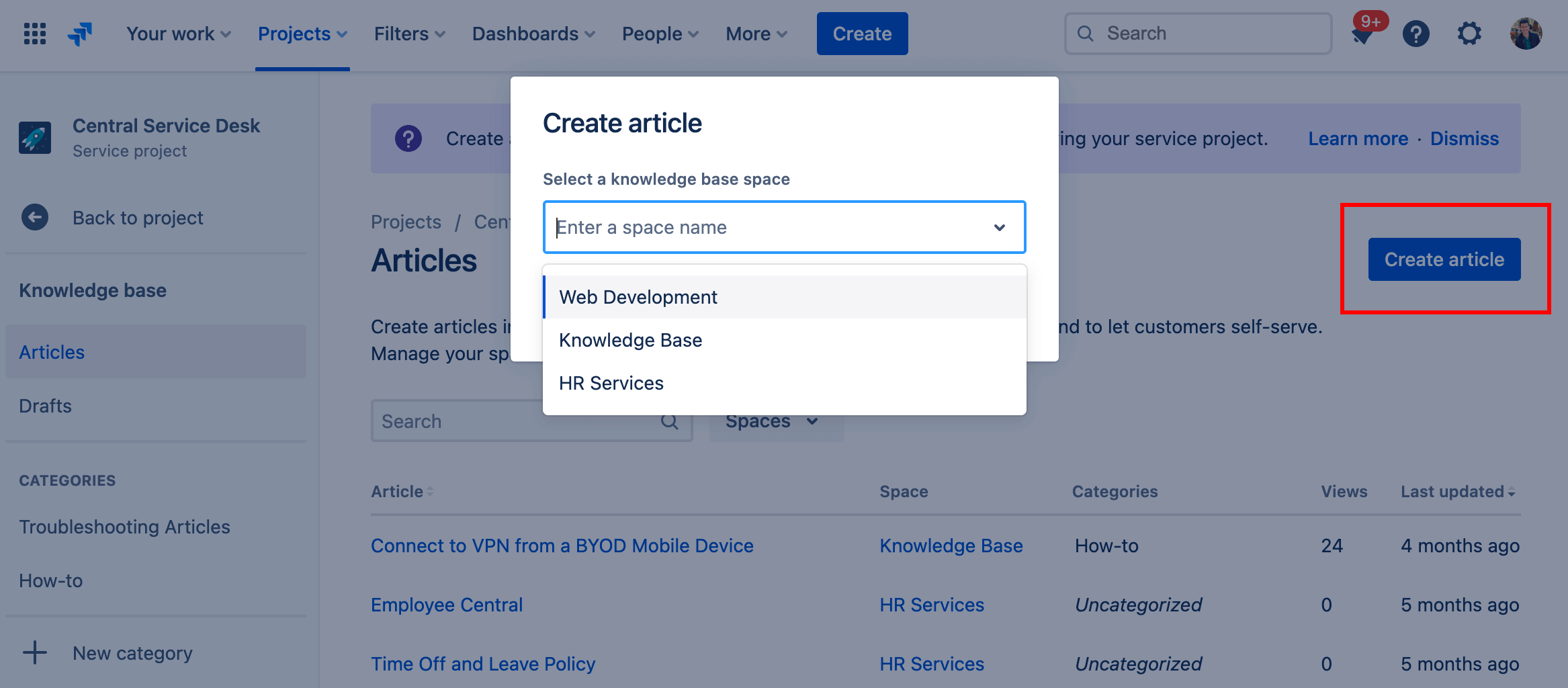 Améliorez l'efficacité opérationnelle
Make it easy for employees to submit requests, and for your team to prioritize, track, and manage them using workflows and queues that support your processes. Automate how you handle simple or common requests, so your team can spend more time focusing on the work that matters.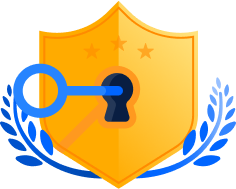 Partagez des informations en toute sécurité
Create a secure space so that finance teams can manage sensitive requests and share information with confidence. Protect your employees' privacy and keep information confidential by using permissions to manage who can view, find, and comment on requests.
Promote cross-team collaboration
Use one central location to share progress on requests in real-time, promote consistent processes, and set expectations with stakeholders and approvers. Foster collaboration with employees and business partners by using shared workflows, tailored request types, and form templates.
How to get started with the finance service management template
This template uses Jira Service Management to help you manage budget, spend, and other finance requests.
Ready to use this template?