Our features make managing work easy
Jira Core helps your teams manage work, projects, and processes, no matter the complexity.
Project Management
Jira Core delivers industry-leading project management functionality to help you plan, track, and manage your team's work.
Views and Reporting
View your work, and the results of your work, in the way that makes the most sense for you, your team, and stakeholders.
Admin Controls
Jira Core is the most configurable and customizable tool in the market today with granular control over security, privacy, and process.
Automation
Use Rules to automate important actions in your processes so teams don't miss steps.
Smart links
Transform messy URLs into easily understood file names w/ logos for links from Google, Dropbox, Figma, & more.
Task relationships
Understand how your work is related to, linked to, or dependent on other tasks.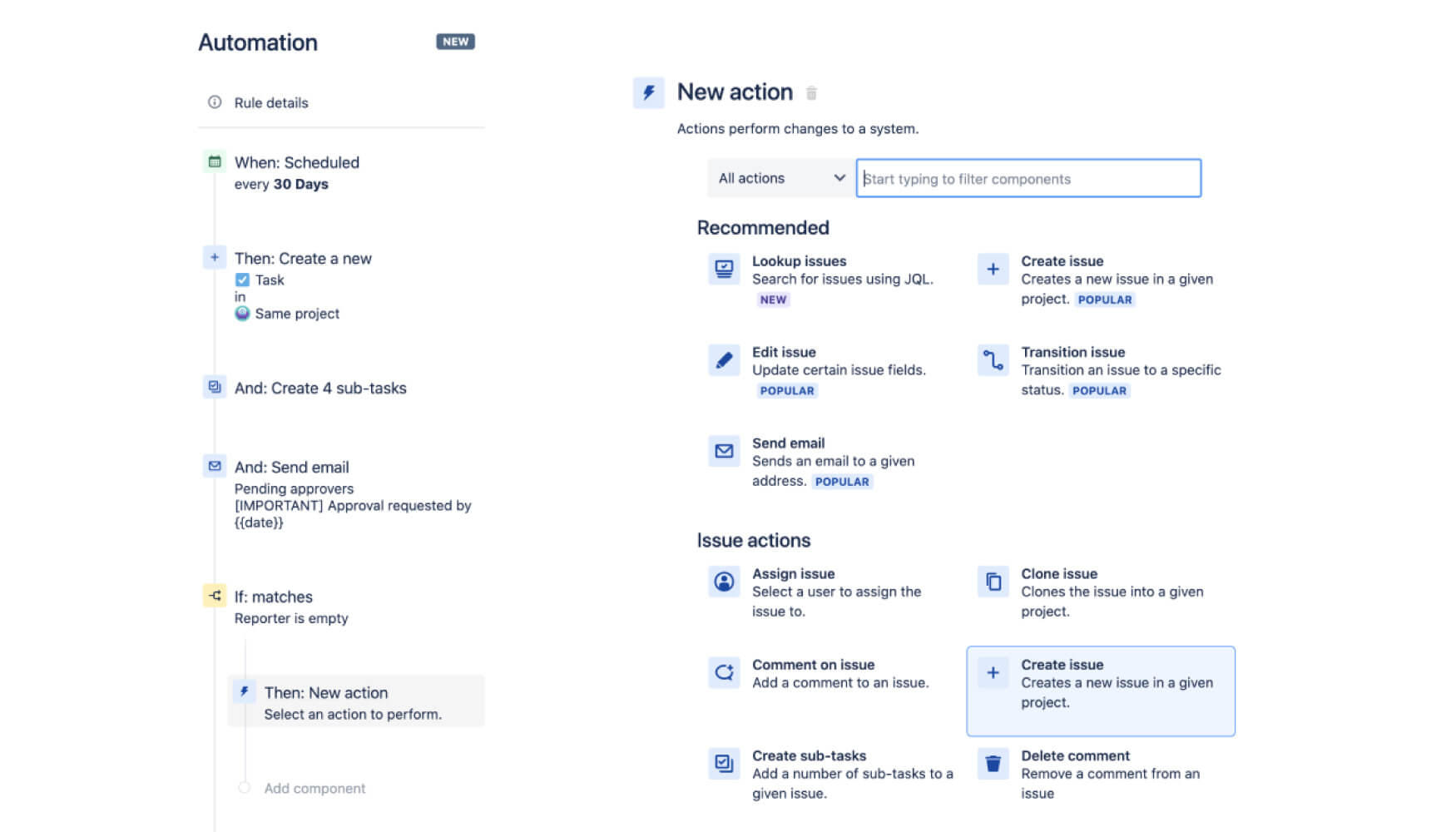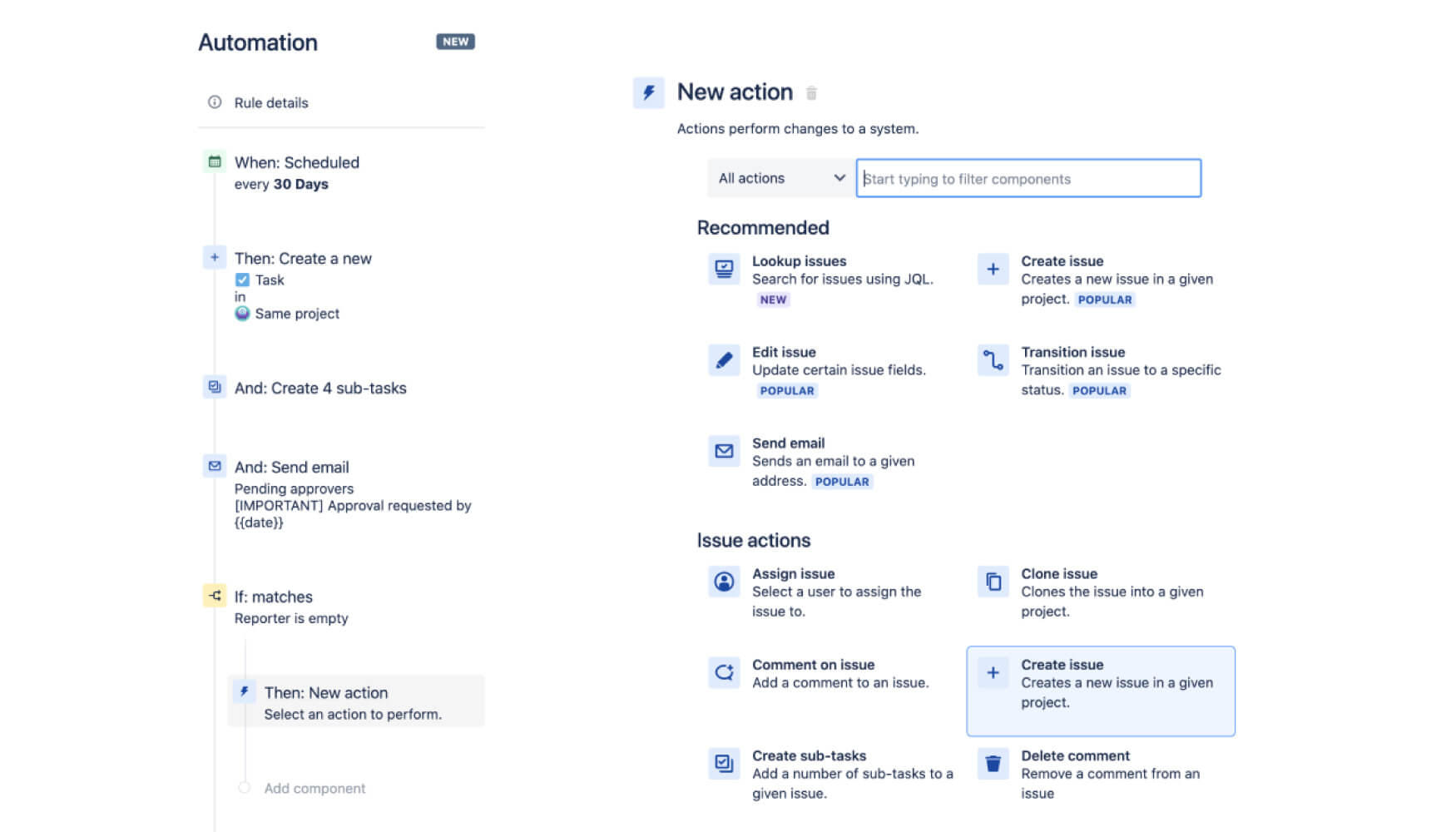 Task-level security
Safe for sensitive work, lock down tasks so only specific users can see certain tasks and information.
Labels
Keep track of tasks by labeling a task however makes the most sense to you.
Projects
Organize your work into shared projects as kanban boards and task lists for your initiatives.
Tasks
Divide work into manageable pieces for you and your team to get work done faster and with better visibility.
Sub tasks
Break up a task into smaller parts, or show additional steps to complete an overall task.
Start and due dates
Track important dates and times so that everyone is working together, no matter the time zone.
Attatchments
Add files from your computer, Dropbox, Google Sheets, or Google Drive to any task or conversation.
Sync tasks across projects
Mark tasks as a duplicate across projects to keep track of work between teams.
Reactions
React to comments with emojis and likes to show exactly how you're feeling.
Templates
Use our pre-made templates to get any team started quickly on their work from day one.
Versions
Versions represent points-in-time for a project and help you organize your work by giving you milestones to aim for.
Approvals
Use Automation to prompt confirmation from the right stakeholders when tasks reach a certain stage.
Components
Group tasks into sections in any project to match workflows, break up types of work, and keep tasks organized.
Dashboards
Create dashboards made up of charts and filters to keep track of work the way you want to.
Portfolios
Monitor projects across every team with Advanced Roadmaps. Available with a Jira Software Premium license.
My work
Every user has a personal space to organize and prioritize their daily tasks and project work.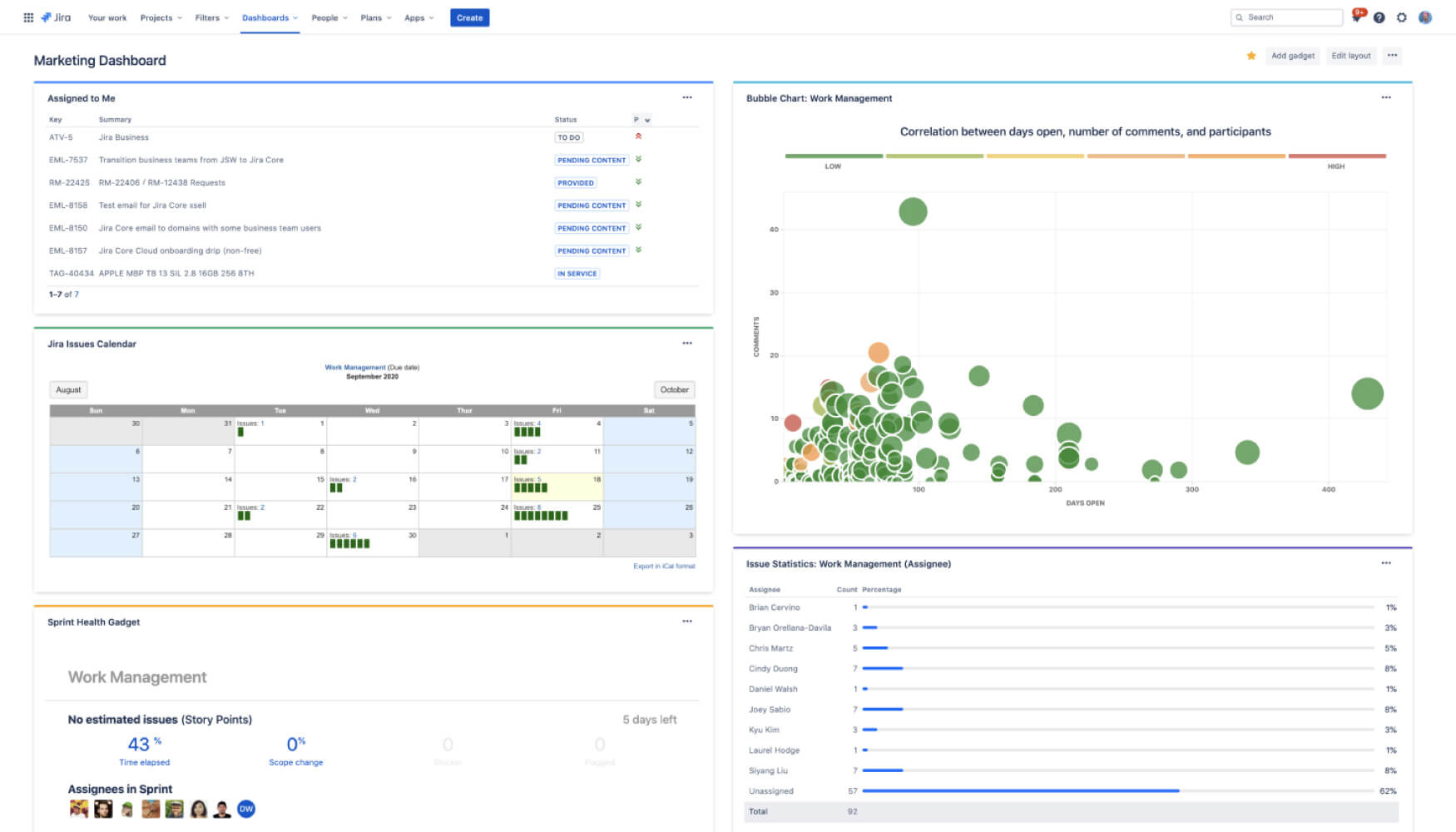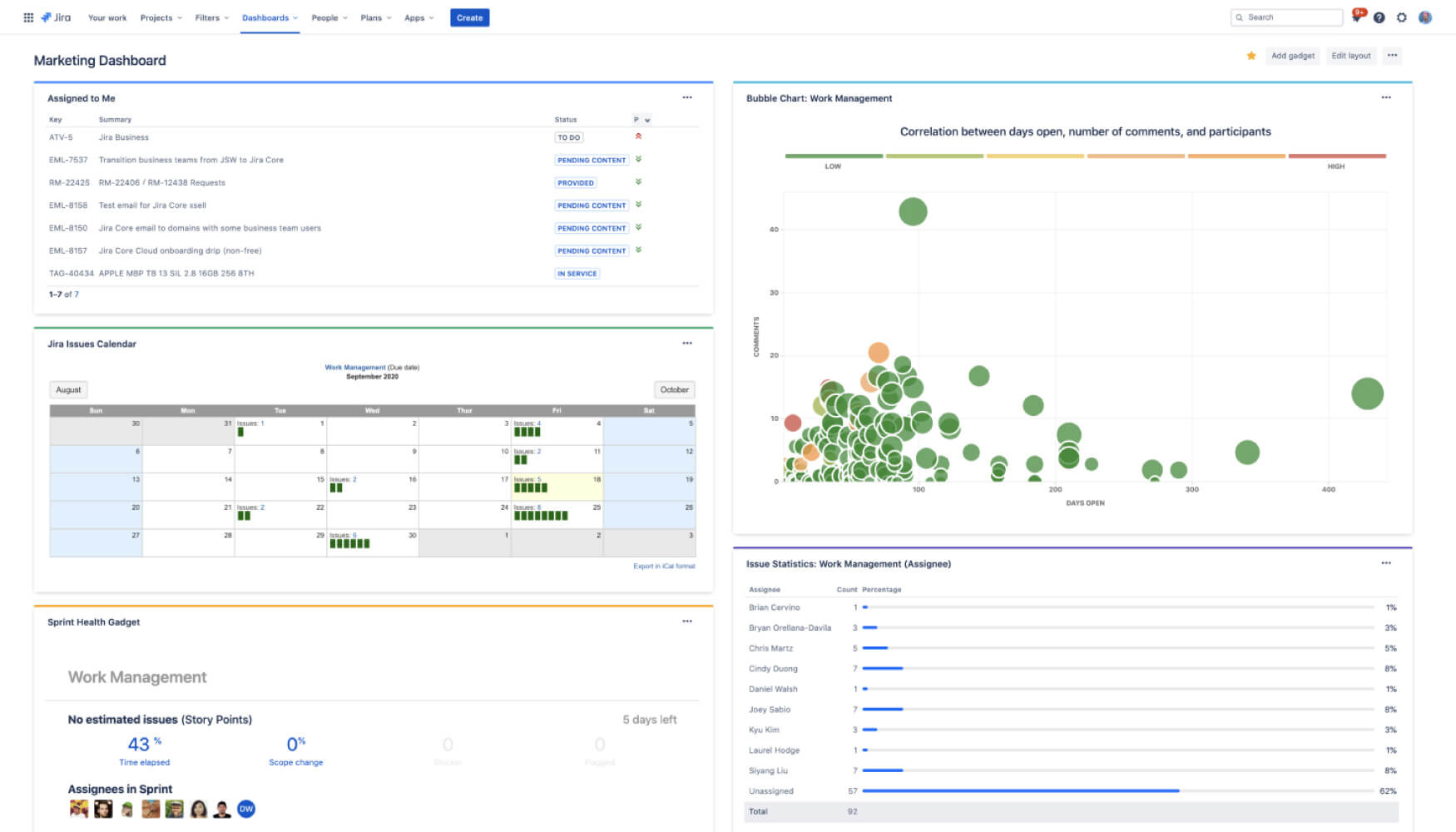 Custom field reporting
Report on custom fields across projects and teams with over 30 charts and reports.
Filters
Sort, rank, and filter your work based on any criteria or custom field.
CSV import
Bring any data into Jira Core in an instant, no manual entry necessary.
History
Ensure your work is fully auditable with task change history and tracking.
Work log
Track the time spent on tasks with Work Logs enabled on every task and project.
Calendar
See any set of tasks on a Calendar to get a clear view of when work is due.
Workload
Get a real-time overview of how busy team members are across projects, and rebalance work to keep projects on track.
Charts
Start learning fast with 30+ prebuilt, yet customizable, charts and graphs.
Project export
Export to CSV, Word, XML, and JSON if you want to slice and dice your own data.
Advanced search
Filter work based on specific criteria that are most important to your team. Save your filters to see work across projects, assignees, custom fields, and more.
JQL
JQL stands for Jira Query Language and is the most powerful and flexible way to search for your work in Jira.
Accessibility
We're auditing our products to ensure they are compliant with Section 508 and WCAG 2.0 AA. The VPAT and general Accessibility Statements are available under Product VPAT documents.
Custom fields
Track any kind of work in Jira Core with custom field names, types, and values.
Global configuration
Standardize the way your company works with global settings, workflows, and automation rules.
Permissions and privacy controls
Set up custom permission and privacy profiles with market-leading granularity.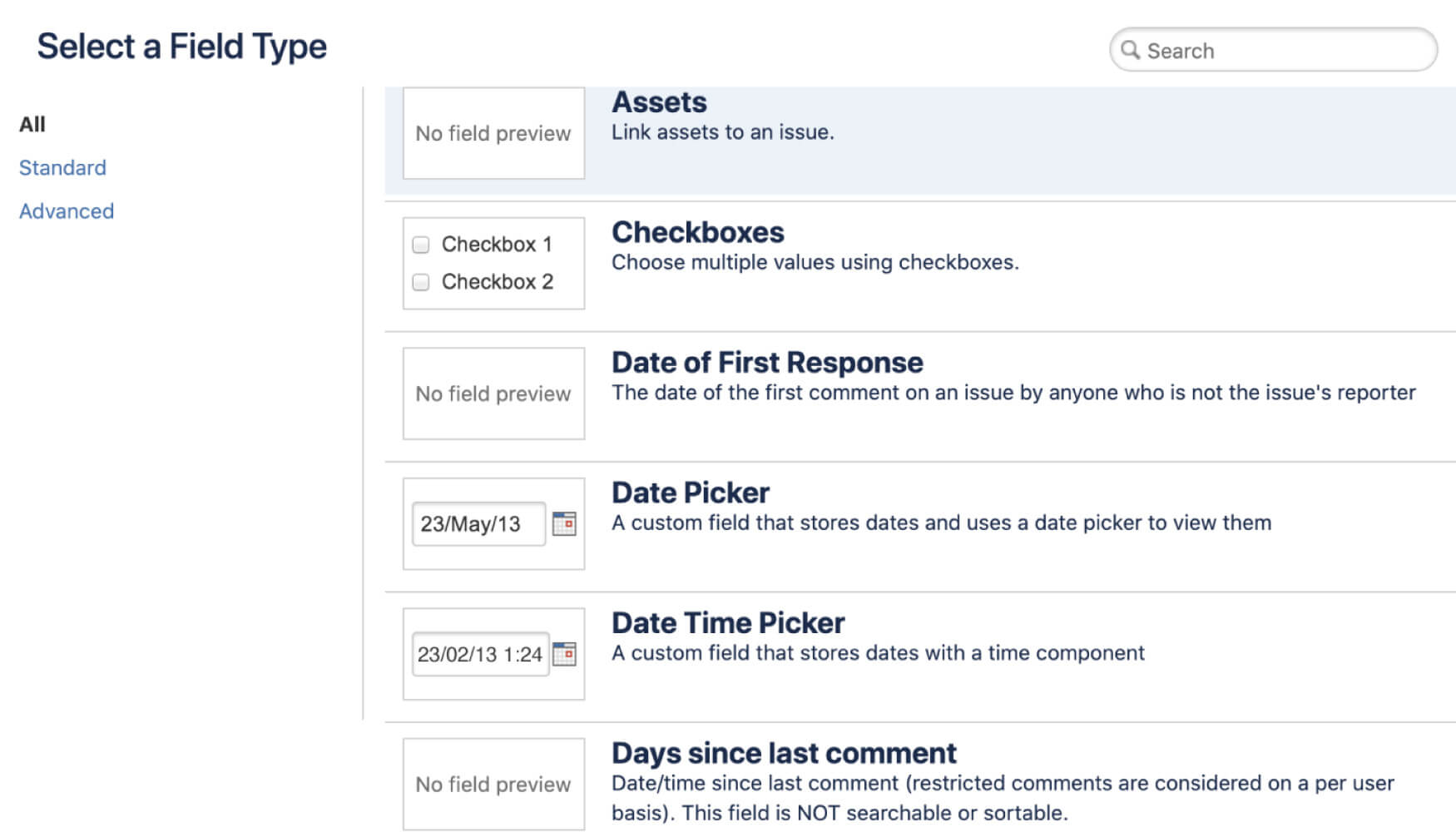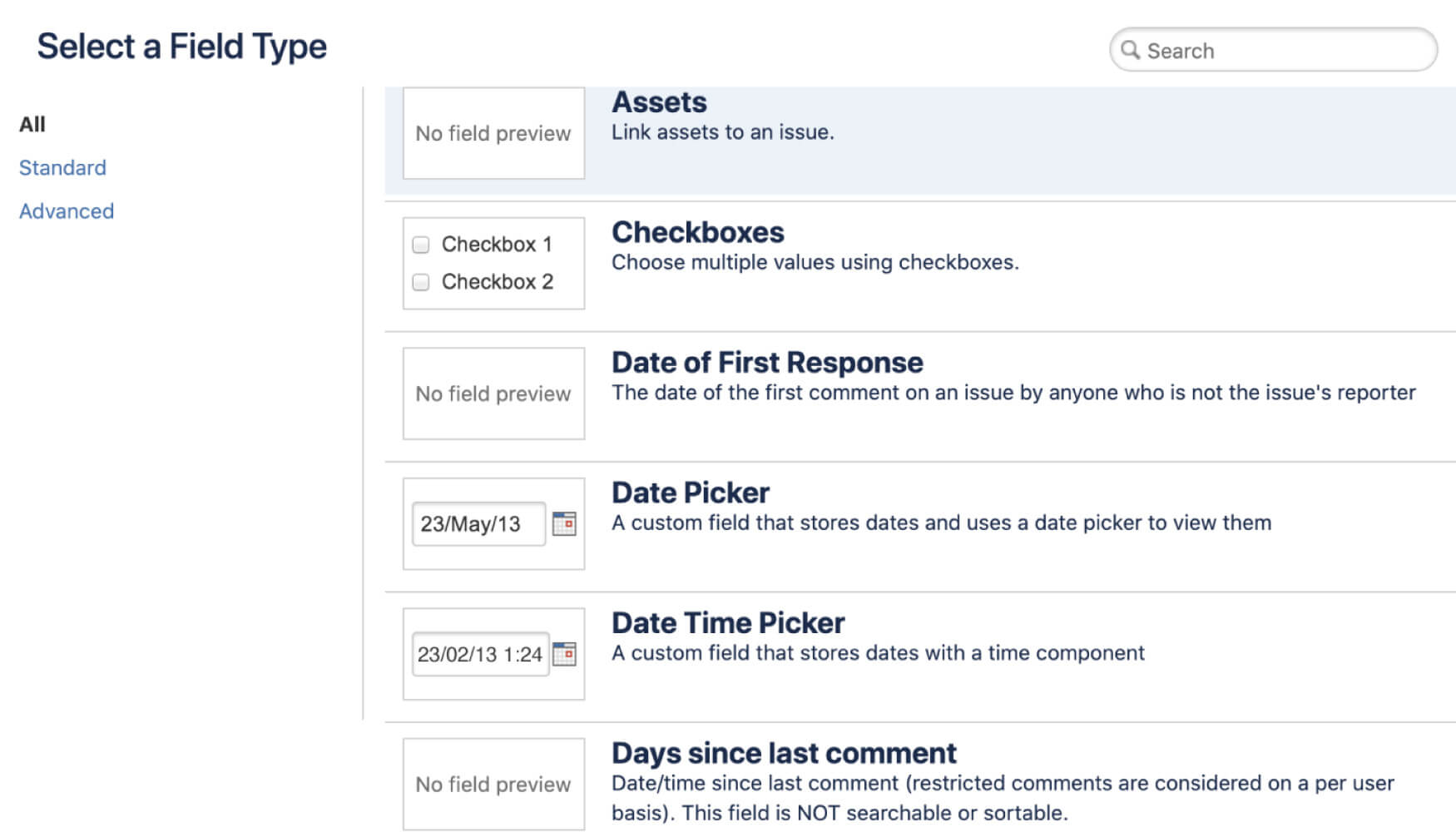 3000+ Apps
Extend the power of Jira Core with apps for every and any use-case.
Rich APIs
Automate processes with Jira's robust set of APIs.
Custom themes
Custom colors and themes are the fastest way to customize Jira Core for everyone.
Custom branding
Turn Jira into your company's tool with custom branding in both the application and browser tab.
Data security
Built with enterprise-grade security in mind, see why the Fortune 500 trusts Jira and Atlassian to keep their data safe.
Compliance
We undergo independent third-party audits and certify our products with SOC2, SOC3, ISO 27001/27018, PCI DSS, and more.
SAML & SSO
Atlassian Access and our Identity Manager were built to keep companies of every size safe and secure.
Customizable workflows
No matter the complexity of your processes, create customizable workflows that map to any style of work.
Task screens
Only show the relevant fields and information so that each team gets their own experience.
Task types
Task types distinguish different types of work in unique ways, and help you identify, categorize, and report on your team's work across Jira.
Project duplication
Eliminate time spent recreating your team's common workflows and configurations.
Task comments
Comment directly on a task to clarify exactly what needs to be done, and @-mention teammates or other tasks or projects so everything stays connected.
Watchers
Add teammates as followers so they can stay in the loop with work on the task and receive relevant notifications with task updates.
Project conversations
Discuss a project's progress to keep the momentum going.
Notifications
Stay up-to-date with consolidated notifications for every Jira product in one place.
Status updates
Coming Soon
Track the overall status of any project with upcoming status reporting functionality.
Mobile
Track work and stay up to date on the go. Just like our web app, you can use it to create tasks and get updates on their progress.
Desktop
The fastest Jira Core Cloud experience is now native on your Mac. Download it today to see just how quickly you can get your work done.
Web
The standard way to access Jira Core Cloud, view your work from any device with access to the internet.
See all project information at a glance