Sales portal template
by Atlassian
Arm your sellers with the best possible tools
Use template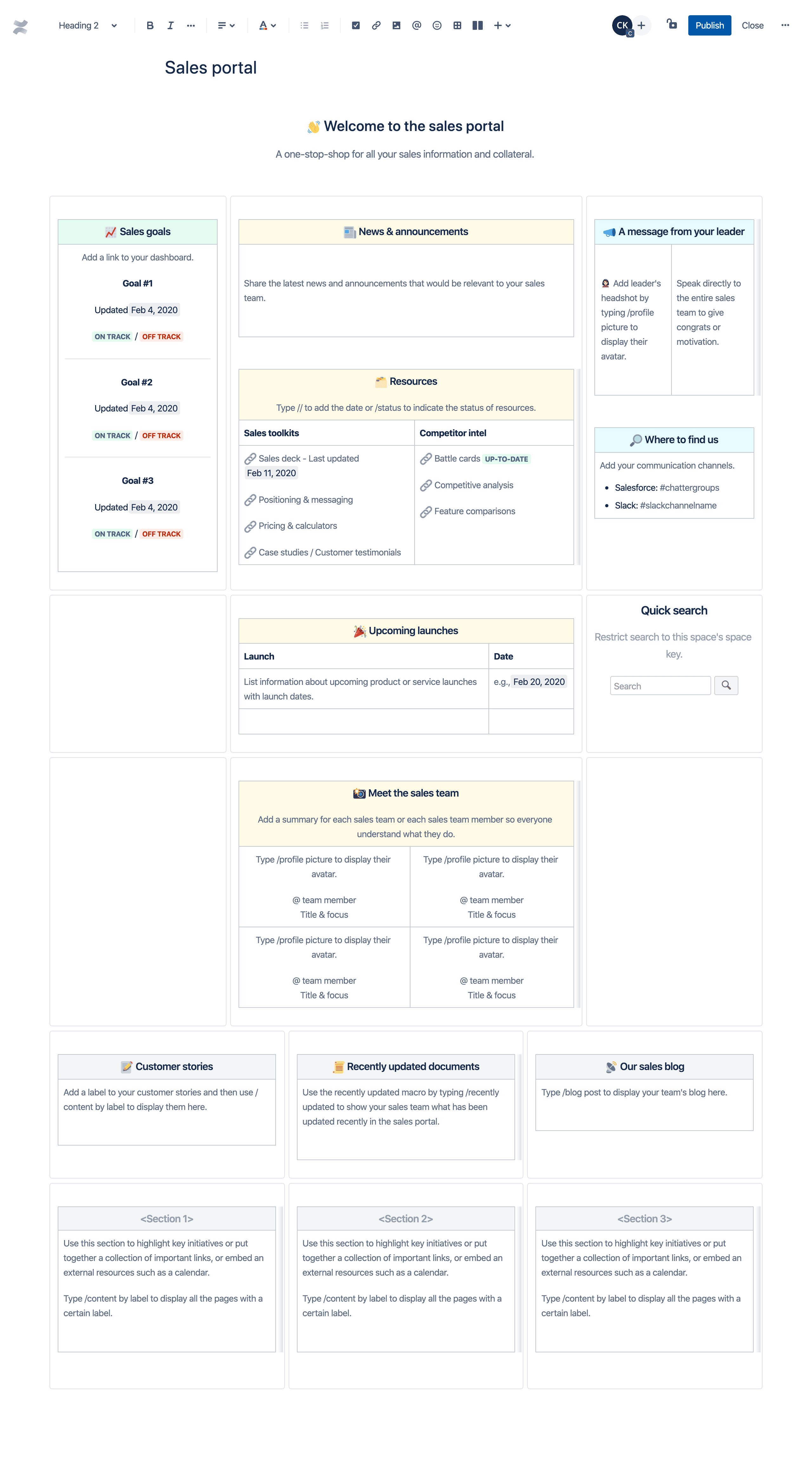 Sales enablement is the process of equipping your sales team with the information, content, and tools they need to do their best work, strengthen relationships with existing buyers, and successfully build bridges with new ones. The sales enablement portal template can help you provide these resources and store them for reference over and over again. Use it to set your sales team up to smash goals like never before.
How to use the sales portal template
Step 1. Keep it current
There's no such thing as too many quality resources. Keep this section filled with relevant links to industry research, intel about competitors, the most up to date company messaging and positioning, and more.
Step 2. Inform sellers of upcoming launches
Refresh this table on a regular basis with updates on new products, releases, and features. With prior knowledge, the sales team can plan their campaigns and outreach in advance and with each buyer's specific needs in mind.
Step 3. Inspire your sales team
The Message from your leader section is a great opportunity to tie a direct line between the heads of the company and the sales team. Use this space as a reminder to the team what they're trying to achieve and words of encouragement to keep up morale. 
Step 4. Refresh customer stories
You sell a great product or service, and people are talking. When you get a customer story from a satisfied client, this is the place where that content should live. By adding a label, you can group like stories together for easy access.
Step 5. Update available documents
When your sales team is moving at high speed, you want to make sure everyone is on the same page. In this section, your sellers can find all of the most up-to-date forms for client interactions, so you can be sure the fine print is the same across the board.
---
Atlassian is an enterprise software company that develops products for software developers, project managers, and content management.
More marketing & sales templates View all
Competitive analysis

Keep up with competitors by documenting their offerings and strategies.

Content strategy

Create a content strategy plan and organize your editorial calendar.

Creative brief

Use this template to share creative project requirements and goals with your team.