Twilio
Learn how Twilio's small but mighty team of two Jira administrators work together to enable every single employee across the organization to do their job more efficiently.
Industry
Enterprise Software
Location
San Francisco, CA
"Our most important product is trust"
Daniel
Senior System Engineer, Twilio
Twilio, where Jira is a member of every team
To be a Jira administrator at Twilio-- the leading cloud communications platform for building SMS, Voice, and Messaging applications-- is to be a member of every single team within the organization. "Every employee at Twilio touches Jira," shares Ian, one half of the small-but-mighty Atlassian Administration Team at Twilio. Ian and his colleague Daniel, manage the Jira instance at Twilio, helping teams across engineering, service desk, marketing, sales operations, facilities, HR, legal, and more to find and execute efficiencies that save the organization valuable time and money.
It's their Jira expertise that allows every team inside Twilio to have the freedom to move and function in a way that is unique to that particular team.
Remember, No Shenanigans
Along with saving valuable resources for the company and its employees, Jira also helps Twilio promote one of its key company values: "No shenanigans." This value is defined as: "Be thoughtful. Always deal in an honest, direct, and transparent way." As a company that provides innovative communications platforms to their own customers, it's no surprise that open and transparent communication is a guiding principle for the teams who build and support the technology they take to market.
Ian and Daniel have been deliberate about structuring their Jira implementation to adhere to the "No shenanigans" doctrine. 95% of Twilio's Jira projects are completely open and visible to every Twilio employee (with the exception of a handful of legal and HR projects, which are closed because of sensitive information). Furthermore, of their 225 projects, more than a hundred of them use the same permission scheme, which further promotes open work; if a ticket is linked in Confluence, anybody in the company can take a look at it. "We are one big team. We keep the small team mentality, but as a company as a whole, we're one big team. And teams need to know what each other is doing," says Daniel.
And how does Twilio encourage usage of Jira by all of its employees? It starts on day one, when new employees complete new-hire procedures using Jira. And after that, Ian and Daniel share, Jira is simply where work exists – it's not a tool one can pop in and out of occasionally. By linking Jira with Confluence and third-party apps, it has become ingrained in the company. "Every team needs and relies on Jira."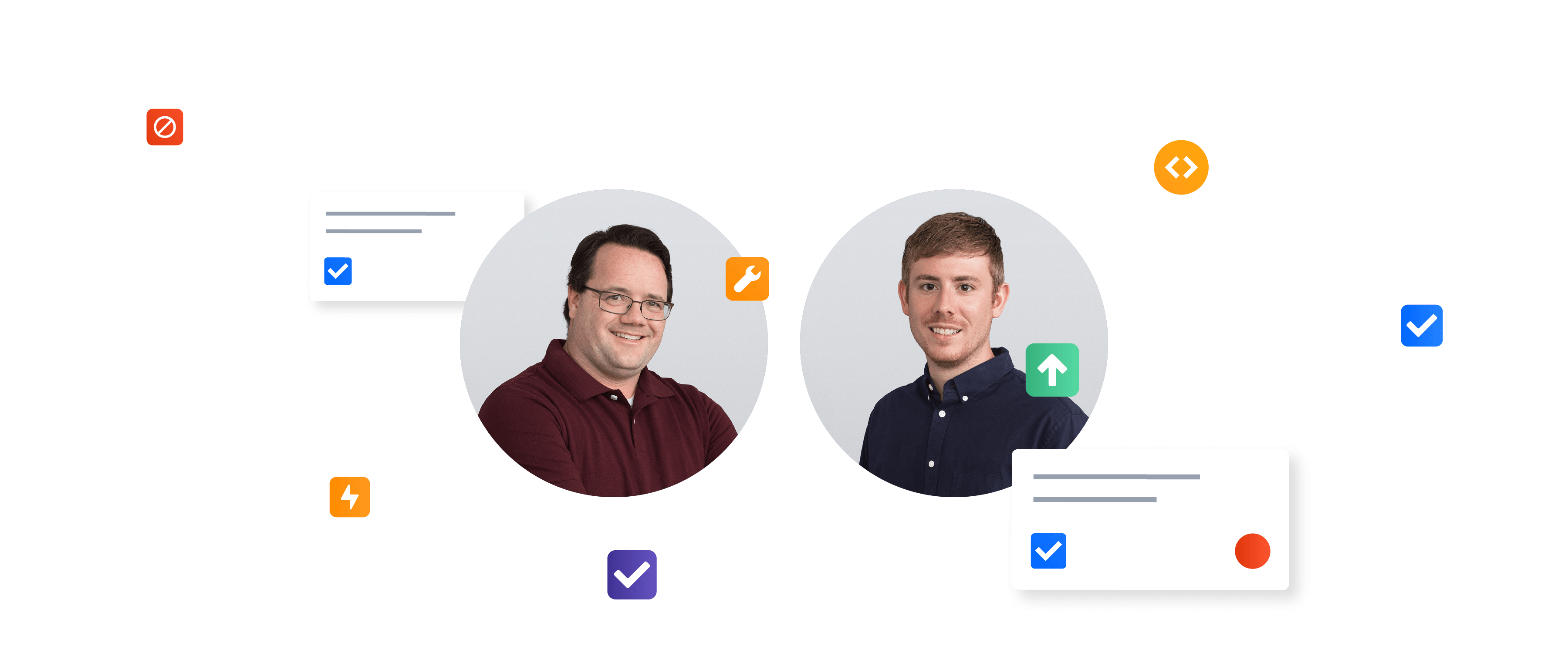 Meet the team (from left to right) Dan & Ian
Transparency through integrations
Integrations is another way Ian and Daniel enable the teams they support to work the way they want and need to. The two have built multiple integrations with Jira to bring increased visibility - and thus increased trust - directly to their users. In addition to internal requests, the Engineering Team has full visibility into actual Zendesk customer service requests, reinforcing the company's customer-first orientation. "Our most important product is trust" says Daniel.
Twilio also monetizes the impact of customer feedback in sales deals. Their Sales Teams logs feature requests on behalf of customers into Salesforce, and the development team ties bugs and feature requests to sales opportunities using the data to prioritize their projects.
Lastly, in the rare instance when an incident occurs that affects Twilio's performance, Jira notifies a designated Slack channel and PagerDuty so all appropriate team members are alerted to address the issue.
What's next
Both Ian and Daniel remain focused on identifying new workflows and automations to employ in order to create efficiencies across all the teams they support at Twilio.
Daniel tells us, "I enjoy figuring out the different things that people give us as project tasks. I've been given the most vague description of what a team wants, and I design a workflow and use the visual workflow tool and people will look at it and go, 'That is exactly what I want.'" It's these problem-solving challenges that make this role Daniel's "most fun job in years."
Ian, similarly, is focused on automating simple tasks to find ways to better respond to team members' needs quickly. This small – but powerful – administration team at Twilio is able to improve processes and come up with better ways to do things using Jira, making all the teams happier and more productive.
Start running your team on Jira today
---
Over 40,000 organizations worldwide run on Jira