Optimizely
At Optimizely, the world's leading experimentation platform, teamwork is all about people rallying around a common goal. Read on to learn how Jira enables Optimizely's teams to do just that.
Industry
Enterprise software
Location
San Francisco, CA
"Teamwork is about collaboration, and being able to do so easily. Your team isn't always the people sitting right next to you, so we need to work cohesively on integrated campaigns together, with as little friction as possible."
Brad
Web Development Manager, Optimizely
Meet the team
Optimizely, the industry leader in customer experience optimization, provides their customers with the technology to experiment on everything from their website to the products they sell. But when it comes to their project management and software development tracking tool, there's no need for any testing across Optimizely's global organization, as they're all on Jira.
"Jira helps us collaborate across our different offices around the world. Someone in Sydney can provide feedback in Jira, and in the morning we see it here in San Francisco and take care of it," says Brad, Optimizely's Web Development Manager on the marketing team.
Brad Taylor, along with the company's Engineering Project Manager Dae-Ho Chung and self-proclaimed team mascot Keith Nottonson (his official title is Senior Director of Development), are just a few members of Optimizely's global team who rely on Jira to prioritize, plan, and complete their work. Jira helps drive workflow across Optimizely's global teams, as well as facilitating meaningful teamwork, increasing transparency, and organizing work on a global scale.
Going global, feeling local
With teams in the US, Amsterdam, Sydney, and beyond, it's critical for Optimizely to maintain a united working environment that transcends geographical barriers. "Teamwork is about collaboration, and being able to do so easily. Your team isn't always the people sitting right next to you, so we need to work cohesively on integrated campaigns together, with as little friction as possible," shares Brad.
For Optimizely, Jira is the tool that facilitates collaboration on a global level. "A project starts as an idea, it snowballs, and Jira publicly tracks all its history. A lot of times work bounces around since a lot of different work has to get done. Often, you don't know what has to be done when you first start a project," shares Keith. Along with email and his calendar, Jira is the one tab Keith keeps open all day. It's his team's ultimate to-do list, keeping them focused and "keeping the idea alive," as Keith describes it.
Jira isn't just a tool for Optimizely's engineering and technical teams. Legal, People Operations, and even the Facilities team rely on the tool for their workflows. Recently, Optimizely's marketing arm undertook a massive website re-architecture initiative, requiring technical and non-technical teams to work together seamlessly. Brad explains that "Jira was the driving force for everything. We do two-week sprints. From the very beginning, every single section of the website re-architecture had an epic, we had different burn-downs, and I could accurately project when we would be getting different sections of the site launched, which helped with training, communicating with designers and outside contractors. It was the way we would plan every single sprint."
Critical to Optimizely's Jira usage is reporting.  The Cumulative Flow Diagram and Control Chart are simply too complex, and too dynamic to create and maintain in a spreadsheet. "Charts show you what really happened and allow for a really good conversation: 'What happened here? Why do you think this was?' That's important because knowledge sharing is really tricky. Reports are the only real, tangible indicator of what really happened," adds Keith.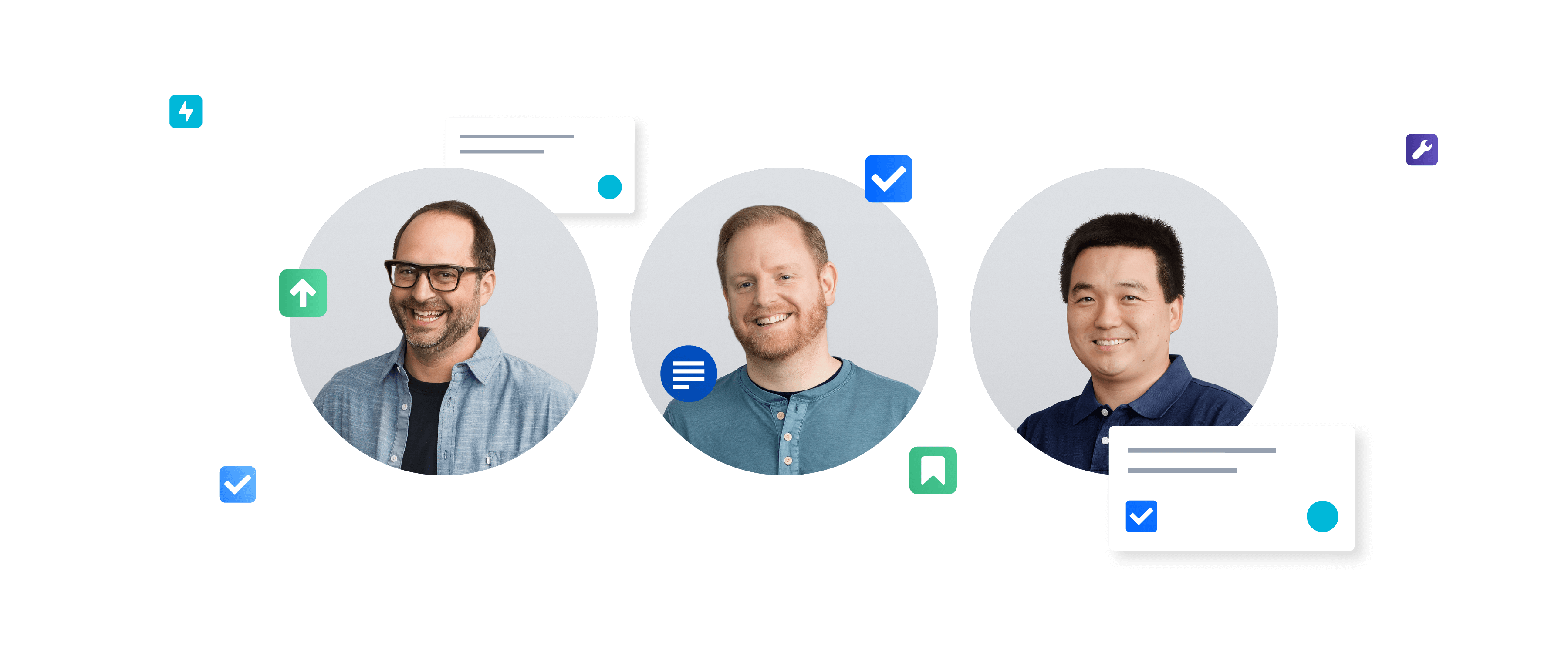 Meet the team (from left to right) Keith, Brad, Dae-Ho
The wall
If you tour Optimizely's San Francisco office, you may walk past a massive wall representing all the work in progress at the company. "Employees know the real work goes in Jira, but we put it on the wall to show customers, partners, and potential new employees a glimpse into all that Optimizely is working on," says Keith. The wall is divided into phases, including define, design, and develop concluding with a "rocket" column at the end when a launch is complete.
As Brad, Dae-Ho, and Keith look ahead, marching toward operational excellence is top of mind: monitoring different types of tickets and how their teams are responding against them. As Keith puts it, "we are driving pretty well, and we're using Jira to keep driving better."
Start running your team on Jira today
---
Over 40,000 organizations worldwide run on Jira