Walmart Labs
Developing technology to constantly innovate Walmart's in-store and online shopping experience is no small task, and Walmart Lab's team of technologists rely on Jira to keep them focused on the projects at hand.
Company size
2,000,000-2,500,000
"Jira helps with the visibility of the project. Not only for the junior engineer, but to the VP, who can see all the products and projects, and what's going on across all the initiative."
Abyakta
Systems Engineer for Atlassian tools, Walmart Labs
Enabling teamwork at massive scale
Ninety percent of Americans live within ten miles of a Walmart store, and 250 million customers shop with Walmart each week. Walmart Labs, the organization's technology arm, is responsible for building and managing the technology behind both their online shopping site and in-store locations, as well as and creating a seamless experience for shoppers across both.
The Enterprise Tools Engineering team is the quiet hand that enables all functions of Walmart Labs to strive toward changing the way people shop. And to support such a large-scale operation requires an intense focus on finding smart efficiencies across a diverse set of teams within the organization.
From Post-its to Jira
It takes an army of 17,000 Jira users - product managers, software engineers, developers, and more - to keep everything from the eCommerce site to in-store checkout technology running smoothly. But it's not just about keeping the lights on for this team; they are laser-focused on innovation to "change the way people shop," no matter where the purchase is made.
The Enterprise Tools Engineering team knows helping their 17,000 Jira users has a direct impact on Walmart's customers' experience.
Often times, a single project, such as a recent initiative to merge multiple Jira software sites, involves multiple teams and a variety of stakeholders. Abyakta, Walmart Labs' Systems Engineer for Atlassian tools, tells us: "all the teams involved in the project are tracking their day-to-day work. All bits and pieces are tracked in Jira. Jira helps us track our timeline, whether we can complete this in a defined goal time or not."
Along with tracking steps and milestones, Jira helps communicate progress across the org: from engineers completing the day-to-day tasks to stakeholders at the top. "Jira helps with the visibility of the project. Not only for the junior engineer, but to the VP, who can see all the products and projects, and what's going on across all the initiatives," shares Abyakta.
Their solution prior to implementing Jira? "Post-It notes," Abyakta reveals with a laugh.
Sticky notes, while charmingly old-fashioned, didn't provide teams with such mission-critical insights as the history or evolution of a project, and who was responsible for what. Perhaps most painful of all was when a sticky note simply went missing. Ever since the team adopted Jira about five years ago, they've been able to track everything related to a project and achieve transparency for every member of the team.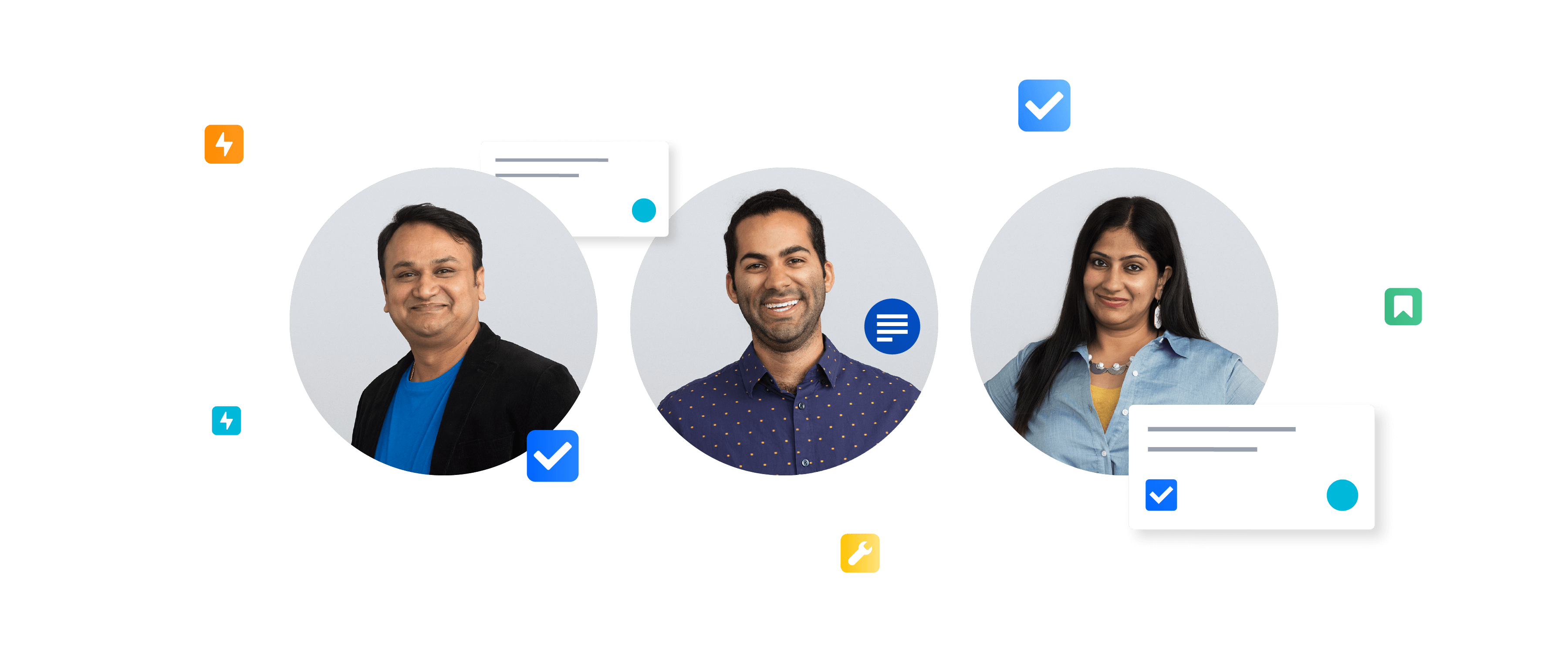 Meet the team (from left to right) Abyakta Lenka, Alexander Jones, Kamini Sugumar
Pursuing a single source of truth
Complete visibility into the work of any given project – its history, current status, blockers, next steps – is something the Enterprise Tools Engineering Team is constantly driving toward. The benefits of this single source of truth are highly measurable, in time, money, and team morale. Leveraging the power of system consolidation and integrations, more and more data could be captured in Jira, and team silos were broken down.
One unexpected benefit of this improvement was the impact on the overall happiness and productivity of the team.
"The teams are doing their work, and they don't have to do administrative things as well. It makes engineers cranky to go to multiple systems to do the same thing," shares Alex, a Product Manager on the Enterprise Tools Team. Jira's "infinite customizability" and open API allowed the team to build leadership visibility tools on top of the platform and add plugins as needed. All of this makes life easier and work more efficient for supported teams, according to Alex.
Kamini, a Product Manager for Enterprise Tools, attributes a large part of her team's success to its diversity. "This team, it's the most diverse team I have ever worked with in my career. We have people from all different cultures, and countries. Having a diverse team, you get a lot of different ideas coming in, and that opens up a spark of 'hey, why can't we do it like that?'"
Looking ahead: increasing efficiencies, reducing silos
The Enterprise Tools Engineering team is working on several big projects, continuing their march towards maximum efficiency. Kamini shares that she's partnering with the Finance Team on a complex project around capitalization. Finance wants to know the labor cost associated with Walmart's technology products, including asset tracking and technology costs.
Currently, time tracking is monitored using an expensive and old-fashioned tool that requires manual entry to measure time against project work. "Jira already captures people's work, so we can retire the time-tracking tool, which will save us money and also provide transparency on financials," says Kamini.
While the team often operates in the background, Enterprise Tools Engineering's work hasn't gone unnoticed by leadership or their peers at Walmart Labs. They are regularly called out at all-hands meetings for their accomplishments, and have employees they've never met tell them how much easier they've made day-to-day life.
Start running your team on Jira today
---
Over 40,000 organizations worldwide run on Jira