Ritual reset template
by Atlassian
Evaluate and improve team working habits and processes
Use template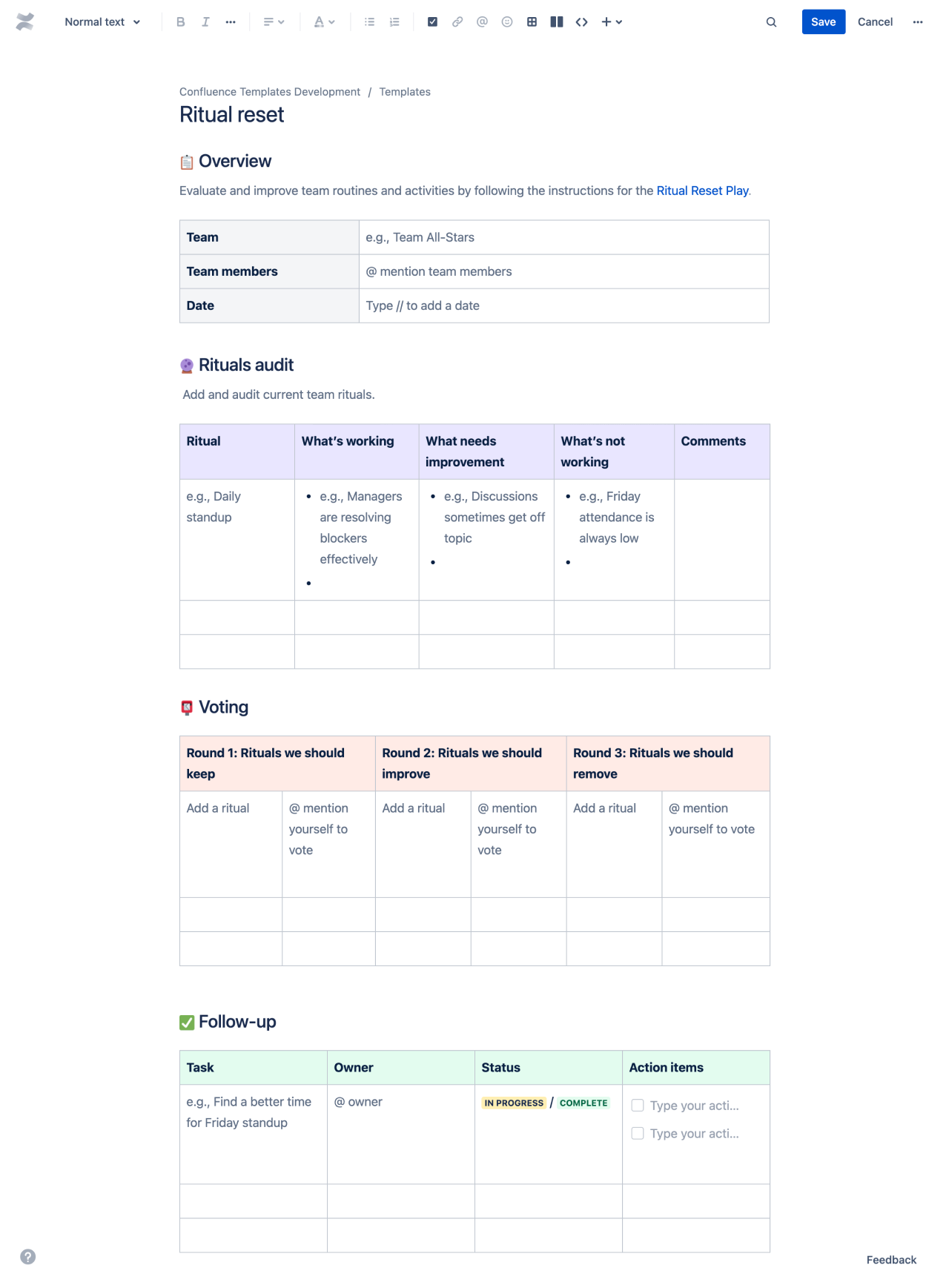 Rituals are the day-to-day habits, traditions, and processes that teammates follow when they work on projects together. These small rituals can make a big impact on your company's culture. Use the ritual reset template to run the Ritual Reset Play. Created by Atlassian Team Playbook coaches, the Ritual Reset Play is a group exercise that helps teams evaluate and improve working habits. Once you put them into practice, these improved rituals can strengthen your team's connection to their work and to each other.
How to use the ritual reset template
Step 1. Audit team rituals
Start by @ mentioning participants and share the page with your team. Once you're ready to run the team exercise, use the template to audit current rituals. Rituals can be any recurring habit that happens at work, such as meetings, status reports, or team social hours. Each participant should first add rituals to the page. Then as a group, discuss and decide which rituals should be combined or added.
Step 2. Vote on rituals and discuss next steps
Once the group finishes the audit, use the template to vote on rituals and make an action plan. There are 3 rounds of voting: rituals to keep, rituals to improve, and rituals to remove. For each round, @ mention yourself to vote. Once all votes are in, discuss and document next steps for the top 3-5 rituals in each category.
Step 3. Follow up on action items and reset rituals
As the group discusses next steps, use the Follow-Up section to note tasks, open questions, or anything else you need to review. After the team exercise, go back and check off action items as you complete them and leverage the information on the page to reset team rituals. As your team starts to practice new rituals, encourage them to add comments to the page and share feedback about their experience.
---
Atlassian is an enterprise software company that develops products for software developers, project managers, and content management.
More business strategy templates View all
4Ls retrospective

Use this template to conduct a 4Ls retrospective with your team.

5 whys analysis

Use this template to conduct a 5 whys analysis and discover the sources of team problems.

All hands meeting

Share business updates, victories, employee spotlights, and more with your larger team.