Product roadmap template
by Atlassian
Transform your product features from ideas to reality
Use template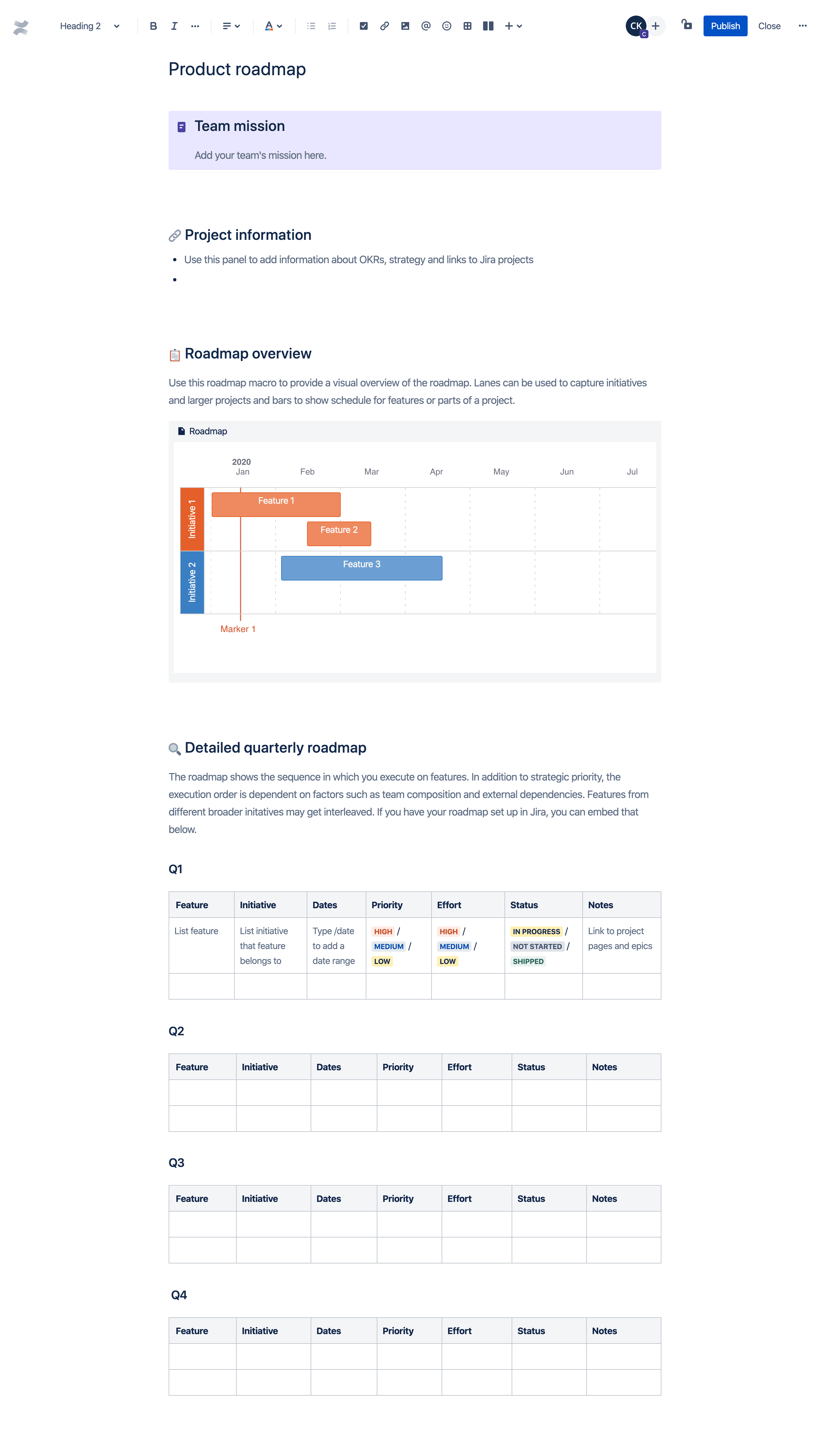 There's no shortage of product features that you and your team want to launch in the coming year. But, in order to transform your ideas into reality, you need to record, plot, and track them. This product roadmap template can help. Fill it in, and you'll create a high-level overview of all of the features that you have lined up. Then share it easily with leadership and other teams.
How to use the product roadmap template
Step 1. Explain your team and your project
Before you jump right in with the features you've been noodling on, start with the basics first. Under the Team mission section at the top of the template, outline the core purpose that your team is trying to achieve. In the Project information section, dig into any relevant details or documentation that might be helpful to someone looking at this page. From OKRs and Jira links to instructions about where to file bugs, think of this as your chance to get the need-to-know information out there – and save yourself a lot of questions in the long run.
Step 2. Plan out your quarters
Even though the Roadmap overview section comes first in the template, go ahead and skip that for now. Instead, turn your attention to planning each quarter under the sections labeled Q1, Q2, and so on. Use these tables to note the feature launch dates, priority, effort, status, and other notes (such as links to project pages and designs). If you're planning a roadmap for less than a year, you can easily delete any quarters that aren't relevant.
Step 3. Complete the overview
Now that you've broken things down this way, it'll be way easier to go back and complete the Roadmap overview section of the template. This will be your visual timeline for getting all of those features launched. Use the lanes to capture your different projects, and the bars to show the schedule for the specific features or elements. Try to avoid getting too into the weeds and keep this high level. It'll make your overview way easier to look at (and far more helpful, as a result).
Step 4. Check in on your roadmap frequently
We'll spare you the cliché about what happens to your best laid plans. You know that things come up, which means this roadmap certainly won't be set in stone. As changes occur over the course of the year, return to this template and make any necessary updates. That way, everybody across your organization will always be equipped with the most current and accurate information about your releases. 
You and your team have tons of product features you want to launch in the next year or so. Use this product roadmap template to create a plan and timeline.
---
Atlassian is an enterprise software company that develops products for software developers, project managers, and content management.
Collections this template belongs to
More product management templates View all
Competitive analysis

Keep up with competitors by documenting their offerings and strategies.

Customer interview report

Turn customer interviews into insights with the customer interview report.

Customer journey mapping

Visualize your customers' experiences and find opportunities for improvement.