ITSM runbook template
by Jira Service Management
Keep your ITSM team informed and ready to respond to system alerts


Use template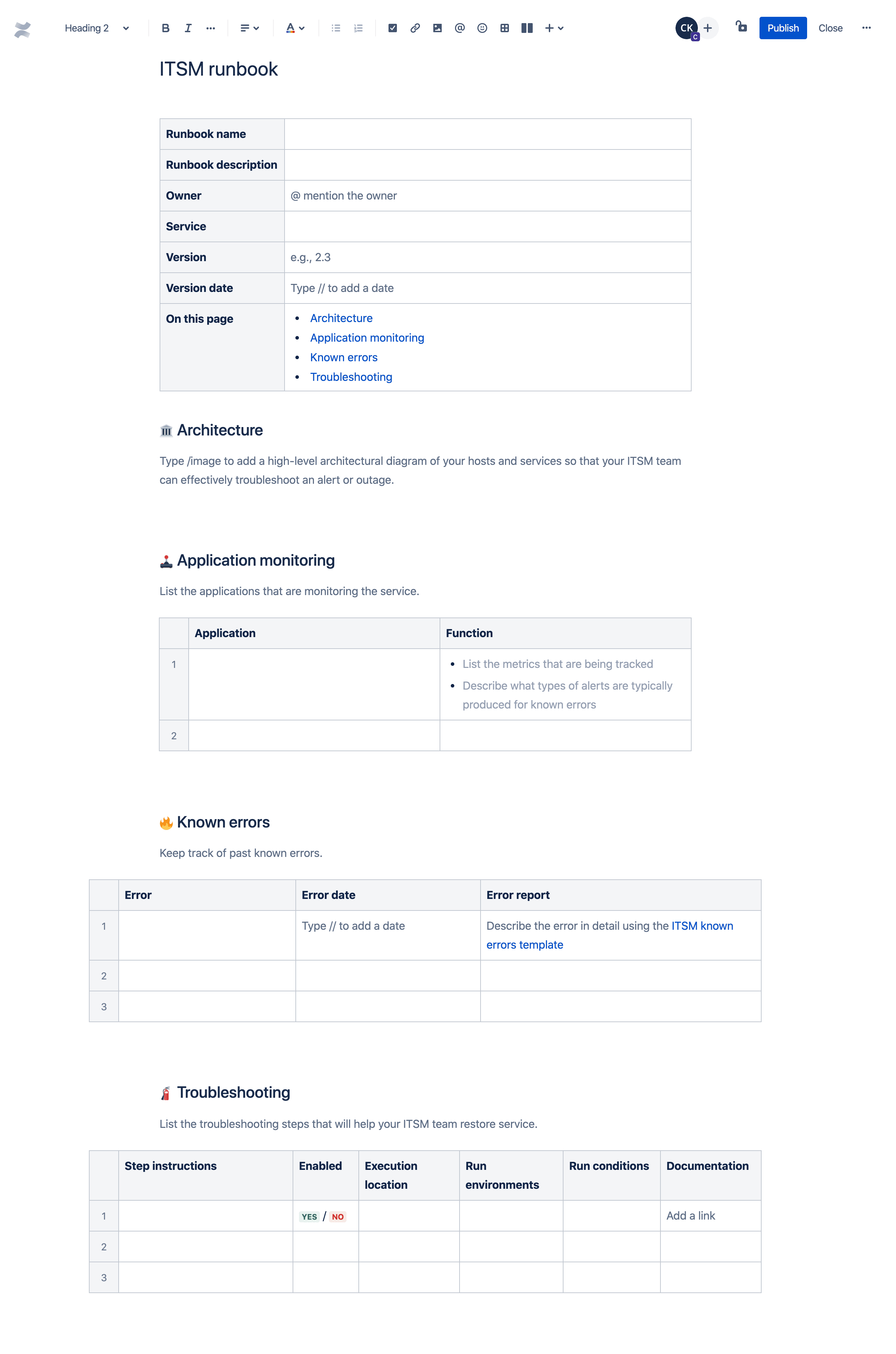 ITSM teams invest a lot of time and effort into making sure systems run smoothly. Their work ranges from routine operational tasks to resolving complicated, high-priority system outages. Save your team time by using the ITSM runbook template to document the procedures for recurring ITSM alerts and outages. Your ITSM team will be able to respond to system alerts quickly and efficiently with all the information they need organized in a single resource.
How to use the ITSM runbook template
Step 1. Explain your ITSM architecture
Start by using a diagramming app to create a high-level overview of your ITSM architecture. Your diagram should explain how your systems operate so that ITSM team members using the template can easily learn how to follow runbook instructions. Once you've made the diagram, type /image to add a screenshot of it to the template.
Step 2. List applications and known errors
With your system architecture in place, continue using the template by listing the applications monitoring the service. Make sure to explain the metrics tracked and alerts produced for each application. Once you've listed each application, list each known error. You can use the ITSM known errors template to create a detailed report for each.
Step 3. Describe runbook troubleshooting steps
Now that you've added background information to the template, you're ready to get into the details of the runbook. Use the Troubleshooting section to list the specific steps your ITSM team needs to follow to respond to system alerts. Add documentation links for each step so that team members are equipped to respond to every service and use case.
---
Jira Service Management empowers teams with everything they need to get started fast. Check out capabilities for ITSM practices like request, incident, problem, change, and configuration management.
More software development / IT templates View all
AWS architecture diagram

Visualize your infrastructure to better identify weaknesses and pinpoint places for refinement.

Design your ideal workweek

Provide step-by-step guidance for completing a task.

DevOps runbook

Prepare your operations team to quickly respond to system alerts and outages.