Excel replacement solution
Get the flexibility you need without the limitations of a spreadsheet.
---
Has your team outgrown Excel and Google Sheets?
Create a connected enterprise
Jira Align helps business and technology leaders to deal with rapid digital change by connecting your business and technology operations in real time. It gives you one source of truth for progress, value delivery, and customer feedback to keep you aligned for better outcomes.
Many teams use Excel, Google Docs, or SmartSheets to manage projects and team-level work, but in an enterprise scale organization, spreadsheets cannot provide the visibility and real-time alignment you need to successfully maximize value delivery and optimize flow.
Spreadsheet solutions are not designed for the rapid collaboration and information sharing that an innovative enterprise needs. A connected enterprise can quickly and easily answer questions like: Will we deliver on time? What are my team's dependencies? Are we building the right things? How do we know?
"Holy cow. This is the product we need. I can really see it for time in terms of how scaling agile is supposed to be and what we can really do to connect our overall strategy to what the teams are doing."
Program Manager
Nielsen Corporation
Connect your teams (and their data) faster
Import your spreadsheet data into Jira Align with T-Rex's import vacuum to accelerate your ability to scale. T-Rex arranges your data to scale agile above the team level and evolve beyond spreadsheets.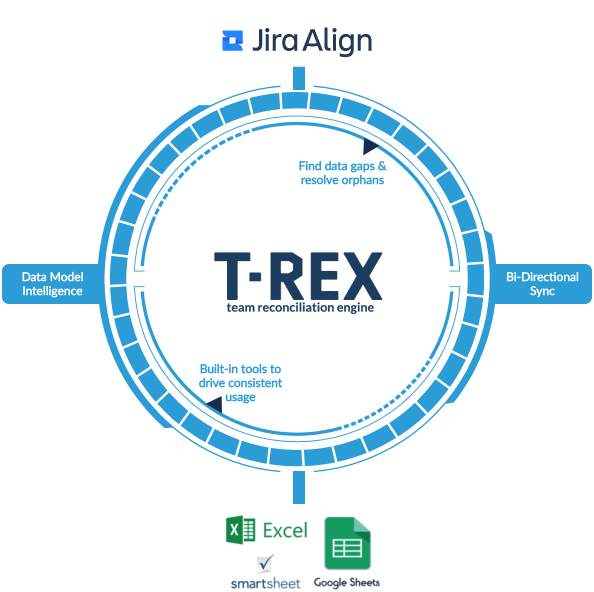 Explore the benefits for each role in your organization
Portfolio management
---
Communicate the value of funding strategic initiatives to investors, analysts, and employees.
Product management
---
Manage idea intake, prioritize your feature backlog, and track progress with live roadmaps.
Program management
---
Track and resolve program risks, impediments, and dependencies while keeping everyone informed.
Release train engineers
---
Ensure programs run smoothly and resources are perfectly allocated to nail on-time delivery.
Finance
---
Ensure Initiatives maximize value, right-size scope and stay within budget from end to end.
Executives
---
Drive enterprise value of your high-level mission and vision while connecting strategy to execution.
Transformation teams
---
Drive digital transformation with a framework customized to scale agile in your enterprise.
Delivery teams
---
Execute against sprint work that tracks back to your organization's high-level strategy.
Ready to connect your enterprise?
Software without silos enables end to end visibility.