Project kickoff template
by Atlassian
Bring your team together at the start of a project
Use template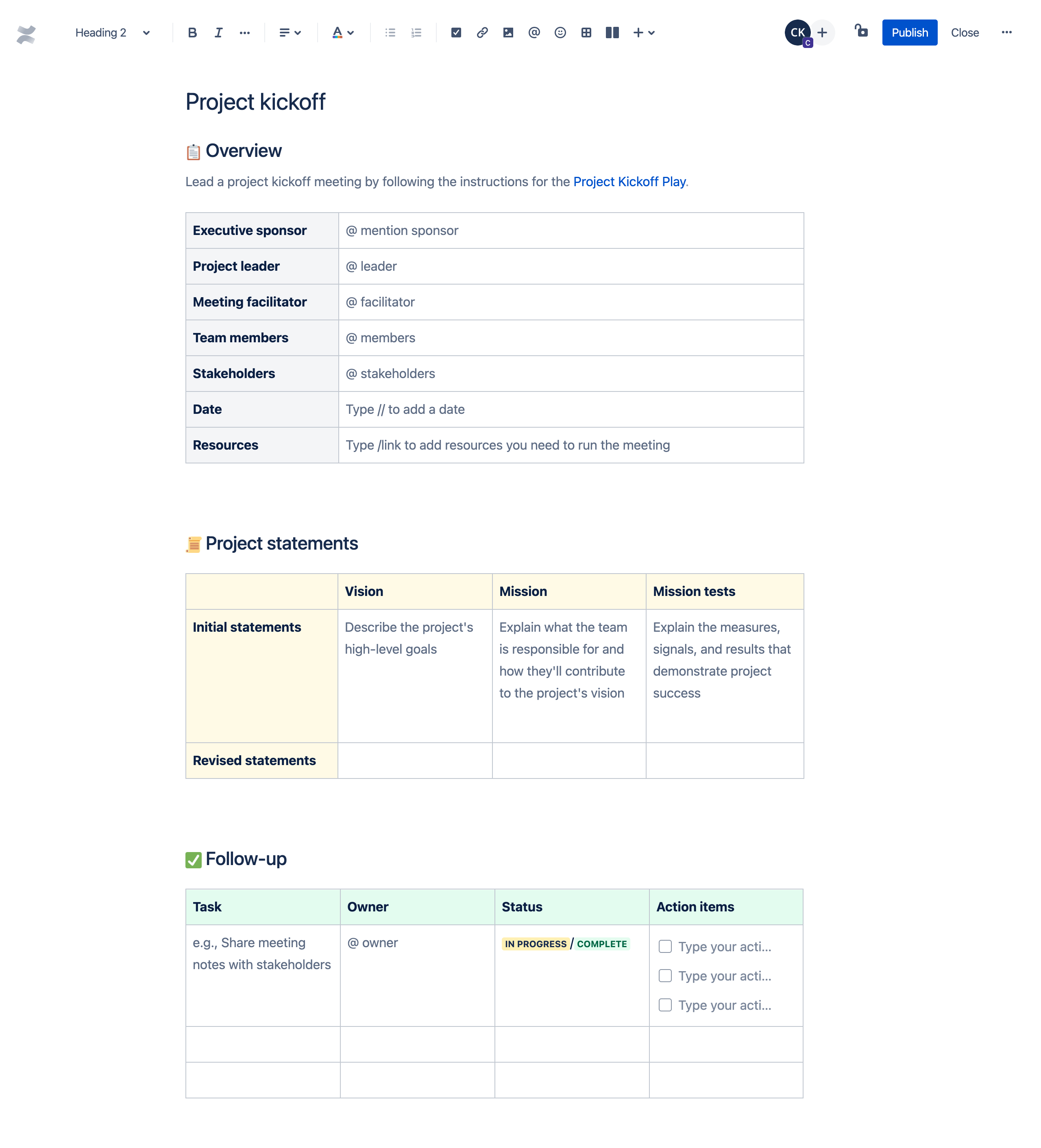 Starting a project can be just as challenging as finishing one. Before teammates can start work, they need to understand the project's vision, mission, and strategy. Use the project kickoff template to run the Project Kickoff Play. Created by Atlassian Team Playbook coaches, the Project Kickoff Play is a team exercise that helps project leaders communicate new plans and helps teams set goals.
How to use the project kickoff template
Step 1. Add project information
Start by deciding and assigning roles for your project. Use the template to @ mention team members, facilitators, and any other stakeholder. Type /link to add supporting materials you need to reference when you run the Play. Share the page before you meet and encourage participants to add comments and questions.
Step 2. Create project statements
Now that you're ready to lead a project kickoff, use the template to collaborate with everyone participating in the Play. Start by sharing the project's initial vision, mission, and mission tests. Then participants should edit the template together to create revised project statements. You can quickly vote on ideas by adding thumbs up and down emojis. Type : to choose and add emojis.
Step 3. Follow up on action items
As you create project statements and discuss goals, use the template to note open questions and tasks teammates need to complete after the meeting. Briefly describe each task, @ mention owners, and add action items that need to be addressed. Teammates should check off action items as they complete them.
---
Atlassian is an enterprise software company that develops products for software developers, project managers, and content management.
More project planning templates View all
Brainstorming

Plan, run, and document a remote brainstorming session for your next great idea.

Steven Bao

R&D Program Manager
Atlassian

Business status update

Provide regular updates to leadership and the wider team on business and product performance.

Capacity planning

Take the guess work out of your estimation and prioritization.