Job description template
by Indeed
Finding the right talent starts here
Use template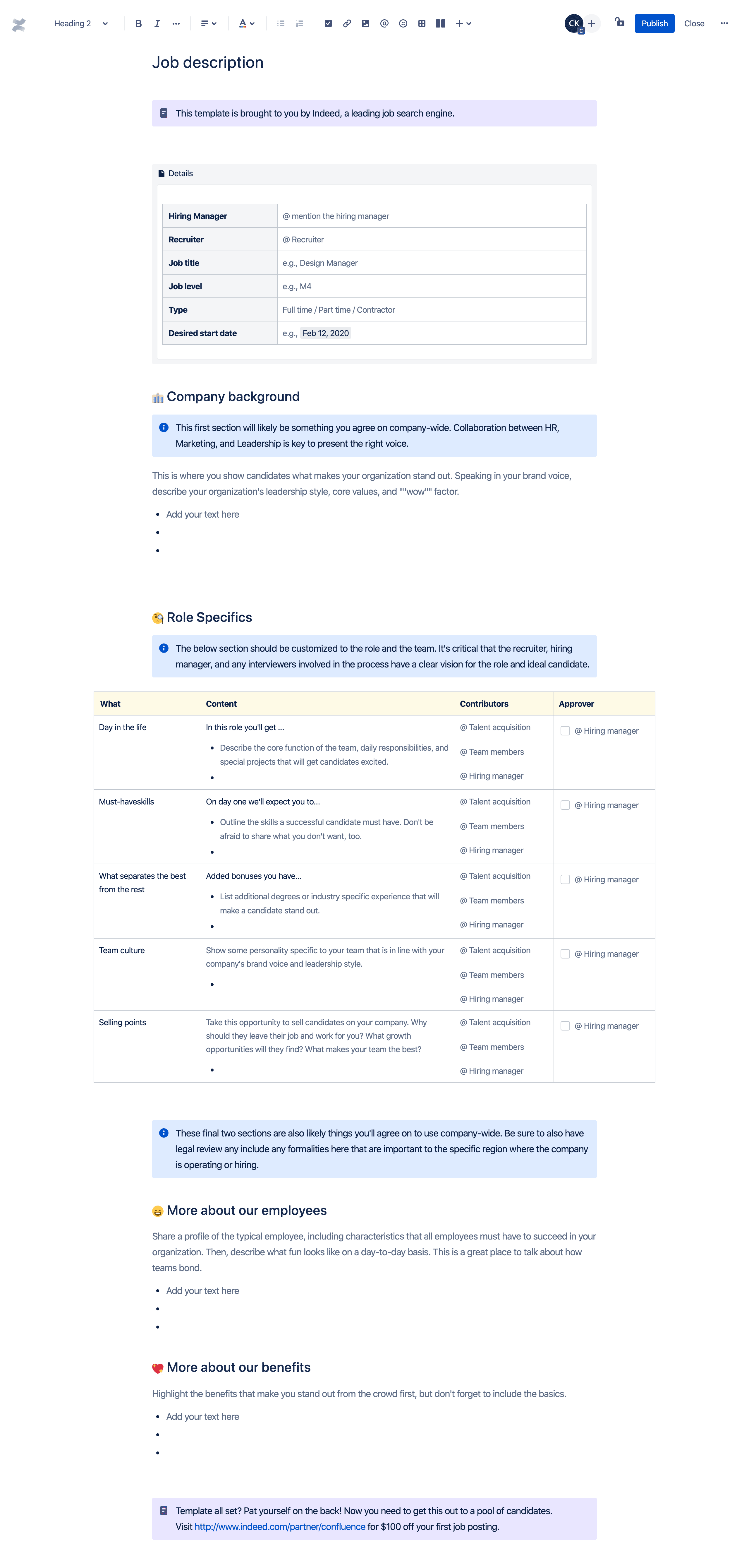 There's a role that you need to fill on your team. But, before you can post the job and start sourcing candidates, you need to figure out exactly what you're looking for. Use the job description template created by recruitment and job search leader Indeed to detail the open position and your company as a whole. This template can help you and your team agree on what you're searching for as well as make it easier to clearly translate those expectations to potential candidates.
How to use the job description template
Step 1. Cover the details
The top table of the template is where you'll outline the basics of the position you're hiring for, as well as who on your team is involved in the process of filling that role. List the hiring manager and recruiter assigned to this position, note the job title, level, and type (full-time, part-time, contractor, etc.), and then set an end date for when you hope to have the position filled. Getting this ironed out upfront ensures that everyone is in agreement on the most basic elements of that role and the hiring process.
Step 2. Tout what makes your company special
Especially in a competitive talent landscape, the hiring process is a two-way street. Everybody wants to score the best candidates, which means you need to be prepared to promote your company – just like job applicants are promoting themselves. The Company background section of the template gives you space to note what makes your workplace stand out. From your leadership style to your core values, highlight why prospective candidates should want to work for you. Make sure to include other people from your HR, marketing, or leadership teams in this process so that you can align your selling points and messaging.
Step 3. Nail down what you're looking for
Use the Role specifics table dive deep into what you're searching for in a job applicant. This table makes up the bulk of the template and has rows for you to detail everything from the daily responsibilities and the must-have skills to preferred qualifications and highlights of your team culture. You can @ mention team members in the contributors column to have them chime in with their thoughts and assign an approver who will provide a final sign off on all details.
Step 4. Highlight your employees and culture
The Employees section of the template prompts you to identify some characteristics that help your team members thrive at work. Think of it as an exercise in creating a profile of your happiest, most productive employees. It's smart to make this a company-wide activity, so you don't miss anything important. This section is also a great place to talk about how your team bonds and has fun together (the monthly Friday potluck, for example). These types of details help applicants picture themselves on your team and determine whether or not it's the type of work environment they're looking for.
Step 5. Promote your benefits
The benefits you offer are the icing on the cake, and calling attention to them in your job description could be what sets you apart from other companies who are hiring for similar roles. Use the Benefits section of the template to shine a light on your perks and employee benefits. Start with the ones that you think make you stand out most (like that monthly learning stipend and your on-site fitness room), but don't forget to cover the basics too. Don't forget that people care about health insurance and retirement savings options too.
---
Indeed is the #1 job site in the world and strives to put job seekers first, giving them free access to search for jobs, post resumes, and research companies.
Collections this template belongs to
90-day plan

Create a 90-day plan to help new hires get up to speed and succeed in their new role.

All hands meeting

Share business updates, victories, employee spotlights, and more with your larger team.

Career development plan

Create a development plan to help employees grow and achieve their professional goals.