Elevator pitch template
by Atlassian
Quickly and clearly describe your project's value
Use template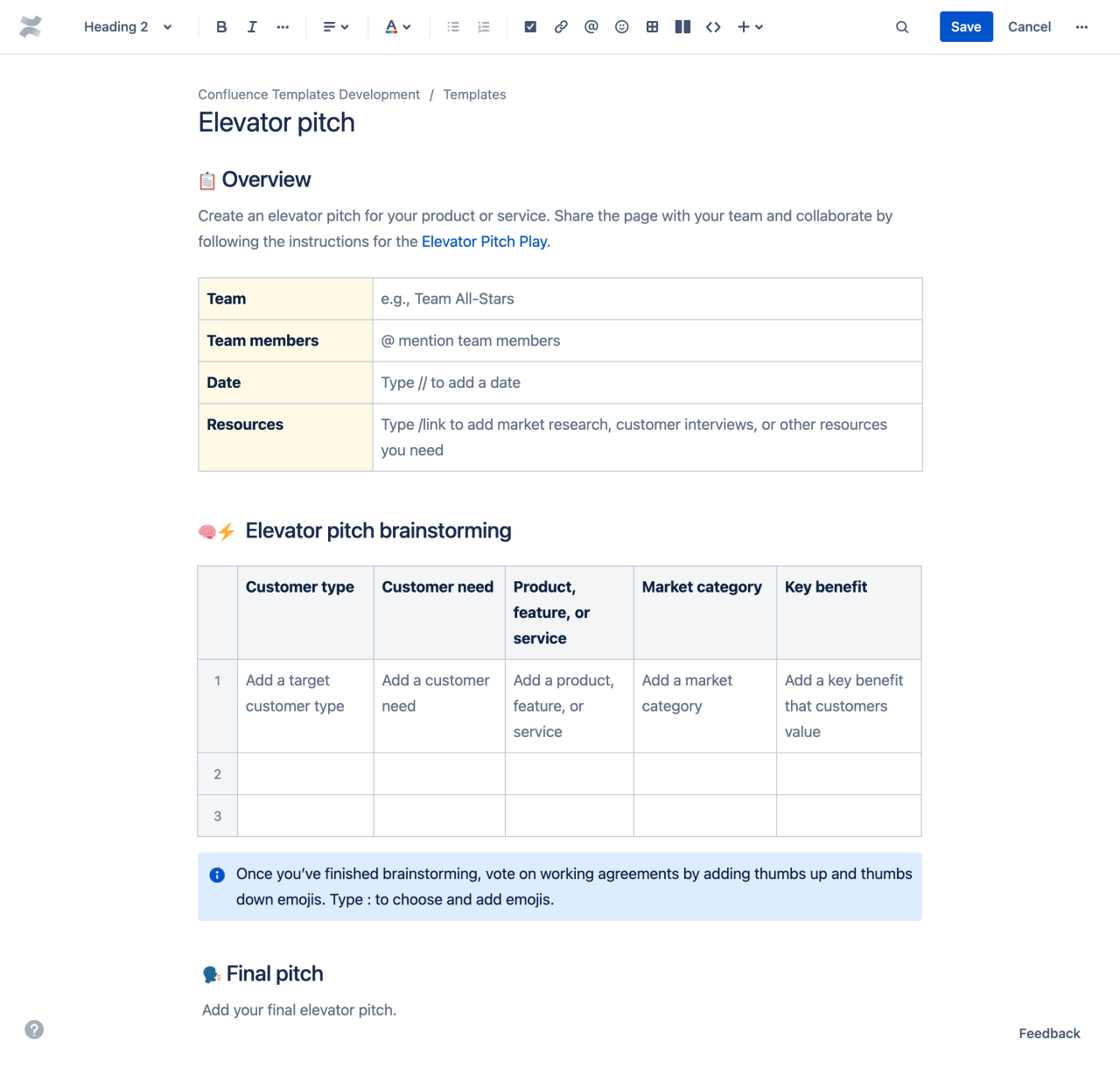 To succeed at any project, you need to show partners and stakeholders that it's worth their time, effort, and resources. An elevator pitch is a short description of your project that clearly explains why it's valuable. Use this template to run the Elevator Pitch Play and draft a pitch for your project. Created by Atlassian Team Playbook coaches, the Elevator Pitch Play is a team exercise where you collaborate to identify your project's purpose and benefits.
How to use the elevator pitch template
Step 1: Prepare for collaboration
Start by @ mentioning team members participating in the Play. Type /link to add information that validates the need for your product like market research, customer feedback, or customer interviews. Share the page with your team and encourage them them to add comments and questions before you meet.
Step 2: Brainstorm elevator pitch ideas
Once you meet with your team, use the template to guide discussions about your project's purpose and value. Each teammate should start by adding ideas about the project's customers, products, market categories, and key benefits. Then collaborate to create a rough draft of an elevator pitch. Vote on ideas by @ mentioning yourself or adding a thumbs up emoji to the template. Type /emoji to choose and add emojis.
Step 3: Create a final elevator pitch
After your team has discussed and voted on ideas, add the group's final elevator pitch to the template. As a team, verify that it captures the value of your product, feature, or service in the most concise way possible. After you finish running the Play, share the elevator pitch with stakeholders and add it to other project pages.
---
Atlassian is an enterprise software company that develops products for software developers, project managers, and content management.
More business strategy templates View all
4Ls retrospective

Use this template to conduct a 4Ls retrospective with your team.

5 whys analysis

Use this template to conduct a 5 whys analysis and discover the sources of team problems.

All hands meeting

Share business updates, victories, employee spotlights, and more with your larger team.