Jira Align Advisory Services
From the first program planning event to launching your first portfolio, you're not alone on your journey to scaled agile success with Jira Align. We have the product and practice expertise you need to deliver immediate value to your teams and business leaders.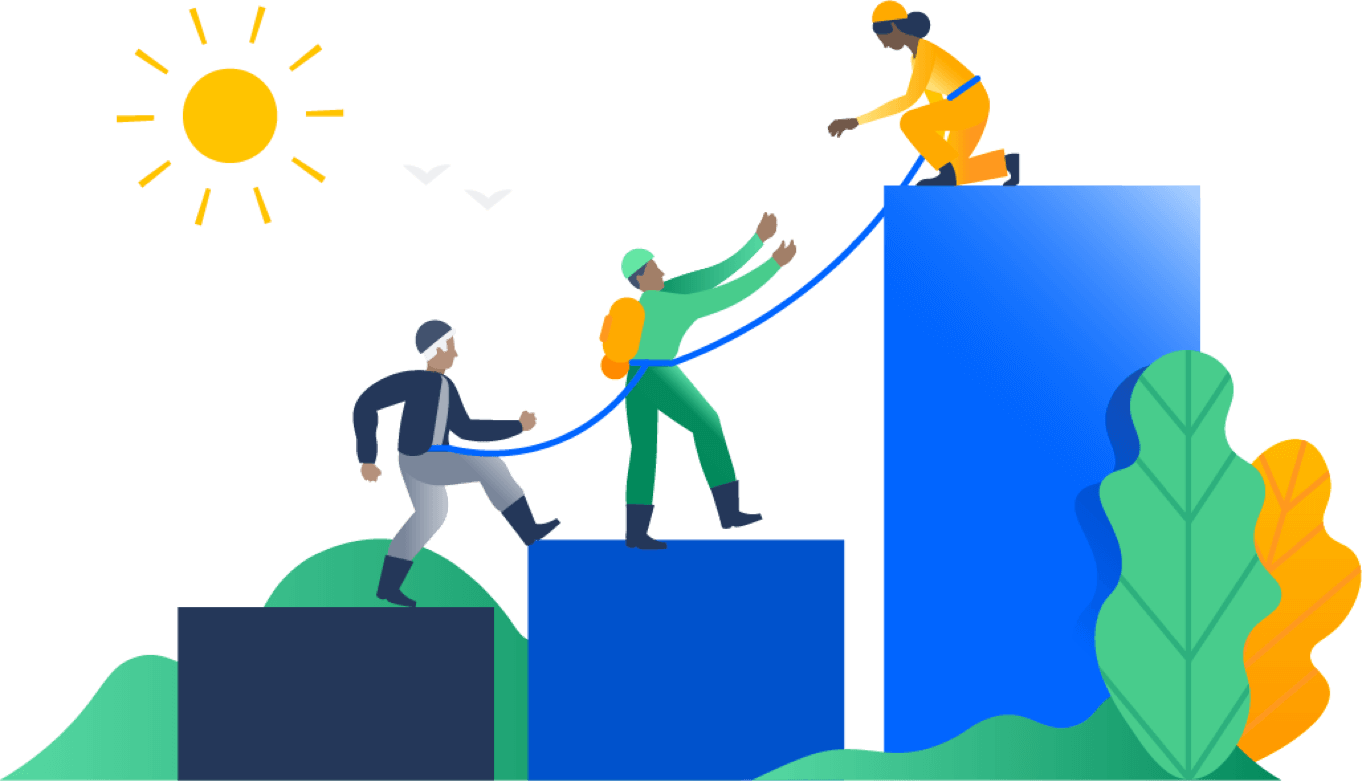 Optimize value today for growth and scale tomorrow
Get started with a scaled agile practice bundle
Our bundles simplify the buying process and enable healthy, systematic expansion by incorporating and aligning the right blend of services with your organization's agile maturity level. They aim to support organizational growth, operational effectiveness, and the ability to drive customer outcomes.
Expand your practice knowledge. Support your transformation at scale.
Designed for organizations with emerging agile-at-scale delivery processes, above the agile team level, looking to expand their practice knowledge and leverage an agile-at-scale platform to support their transformation at scale.
Drive consistency and adoption of your practice. Advance your transformation at scale.
Designed for organizations with mature agile-at-scale experience, and various single scaling efforts, looking to drive coherent and consistent adoption of agile and agile-at-scale practices while building the infrastructure needed for broader scale.
Overall expected outcomes:
Establish visibility at the executive level into every agile team
Visibility from agile team to the Portfolio Execution level
Achieve demonstrative results during agile adoption
Accelerate your teams' adoption of agile
Improve operational performance
Increase certainty of delivery commitments
Overall expected outcomes:
Learn and build scaled agile practices
Fine-tune customer agile practices
Support both pre-PI Planning and PI -Planning events
Design a basic portfolio Intake process and roadmap
Included workshop packages
Program operating model alignment
Architect your Jira Align Platform and Processes
Production jumpstart
Demonstrate the value of Jira Align with your data and teams
Program Expansion
Elevate your performance and attain faster results by seamlessly depoying up to four new programs.
Portfolio fundamentals
Establish the Mechanics of Lean Portfolio Management
 
Portfolio Expansion
Extend usage to your first portfolio and lay a foundation for future growth and expansion.
Transformation team power up
Empower your transformation team to run independently
Need additional assistance scaling your practice?
We can offer additional assistance by estimating a general quantity of supporting services hours, based on your needs and interests, required for a broader Jira Align rollout. We've mapped individual workshop modules to pre-paid consulting hours for Jira Align. You simply review and confirm your module selection, and our services delivery team will take the reigns from there.
Scaled agile success starts here
Onboarding Success is a short-term engagement required for each new Jira Align deployment. During your first few weeks using Jira Align, an Onboarding Success specialist will work with you to map your teams, partners, process, data, and technology to an implementation plan.
Onboarding Success Activities:
Connect Jira Align to your Team Tool
Identify initial teams and programs to onboard to Jira Align
Identify the people in your organization who will help roll out Jira Align, and divide roles and responsibilities
Analyze your data for the next phases of work
Share best practices for team tool setup
Enterprise Success Package
TAM and Premier Support services are conveniently bundled together in the Enterprise Success Package. You get dedicated insights and support, allowing your teams to reduce procurement complexity with a single line item.
With the Enterprise Success Package you'll receive all the benefits of a TAM plus direct access to a dedicated global team of Senior Support Engineers who are committed to delivering higher SLAs, faster triage, and faster resolutions for technical support issues.
Ready to connect your enterprise?