Mutual action plan template
by Recapped.io
Keep sales teams connected and close deals more efficiently
Use template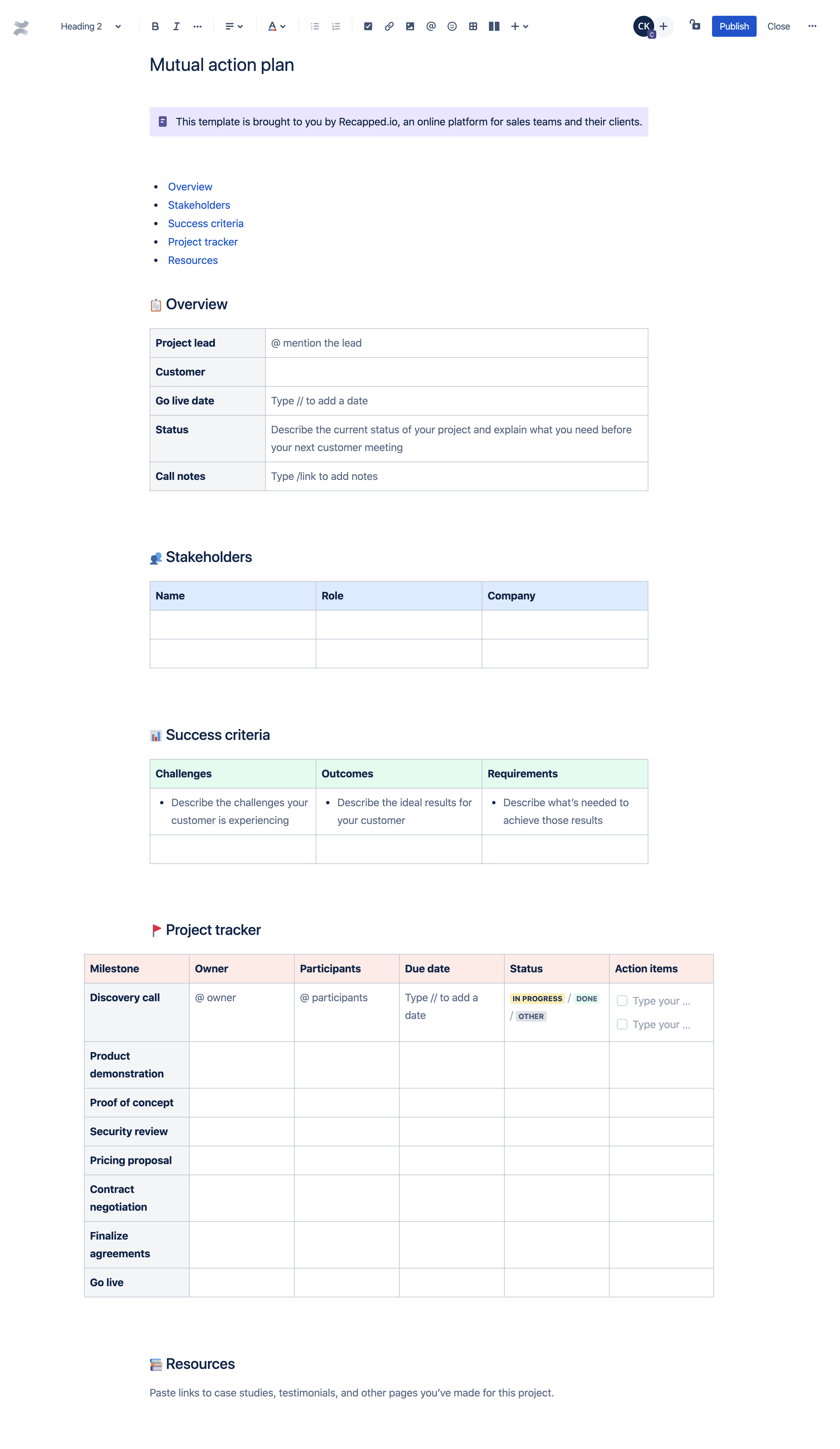 Sales can be complicated. A single deal can require rounds of negotiation and agreement among multiple stakeholders working at different companies. Use the mutual action plan template to collaborate with your sales team at each stage of the deal. Our template will help you communicate with stakeholders, track progress, and close deals more effectively.
How to use the mutual action plan template
Step 1. Summarize your plan
Start by providing an executive summary and listing all the stakeholders that need to be informed. Your summary should include the project lead, the go-live date, and any high-level information people need before they dive into the details of the template.
Step 2. Define success criteria
Now that you've provided context to stakeholders, use the template to explain the success criteria that inform your sales team's strategy. First, describe the challenges your customer is currently experiencing. Then explain your goals for your customer and how the deal can help them achieve their goals. Make sure to include how much time and what resources are required to achieve those results.
Step 3. Keep track of sales milestones
Use the template to map out and assign responsibilities for each stage of the deal. Add due dates for each step and update the template frequently with notes, status updates, and any other information your team needs to keep the deal moving.
Step 4. Add resources for prospects
As your team collaborates and updates the template, make sure to add pages your team references and uses to communicate with prospective customers. Type /link to add case studies, customer success stories, or any other page you've created for the deal. By organizing all your resources into one place for easy accessibility, your team can collaborate and work faster.
---
Recapped.io is a collaboration platform built specifically for B2B sales teams and their clients. Create mutual action plans that consolidate everything in one place, streamline complex deals, provide visibility into the status of deals, and create a world-class buying experience.
More project planning templates View all
Brainstorming

Plan, run, and document a remote brainstorming session for your next great idea.

Steven Bao

R&D Program Manager
Atlassian

Business status update

Provide regular updates to leadership and the wider team on business and product performance.

Capacity planning

Take the guess work out of your estimation and prioritization.