Connect your Atlassian products directly to Okta for seamless identity & access management.
An overview
Atlassian admins can centrally manage cloud users and security policies through a direct integration between Atlassian Access and Okta. By streamlining the authentication process, your end-users will receive an easy and consistent log-in experience across Atlassian's suite of cloud products.
One-click access to all Atlassian cloud products
Connect Atlassian Access to Okta to enable SAML single sign-on across Jira Software, Jira Service Management, Jira Work Management, Confluence, and Bitbucket.
Save time with user provisioning
Utilize the user provisioning integration between Access and Okta to manage users in once place, rather than across dozens of cloud applications. Free up time for your IT team.
Easily connect to your on-prem systems, too
Using Active Directory or another on-prem application? No problem. Okta offers various connectors so you can easily bridge the gap between your various on-prem and cloud applications.
Free Okta for Atlassian Access customers
Don't have a cloud identity provider yet? Sign up for a free Okta account directly within Atlassian Access. Your Okta account is free for your Atlassian cloud products.
How it works
Atlassian Access is a company-wide subscription that provides central governance across multiple Atlassian cloud products. You can connect Atlassian Access to Okta via our SSO and user provisioning integrations.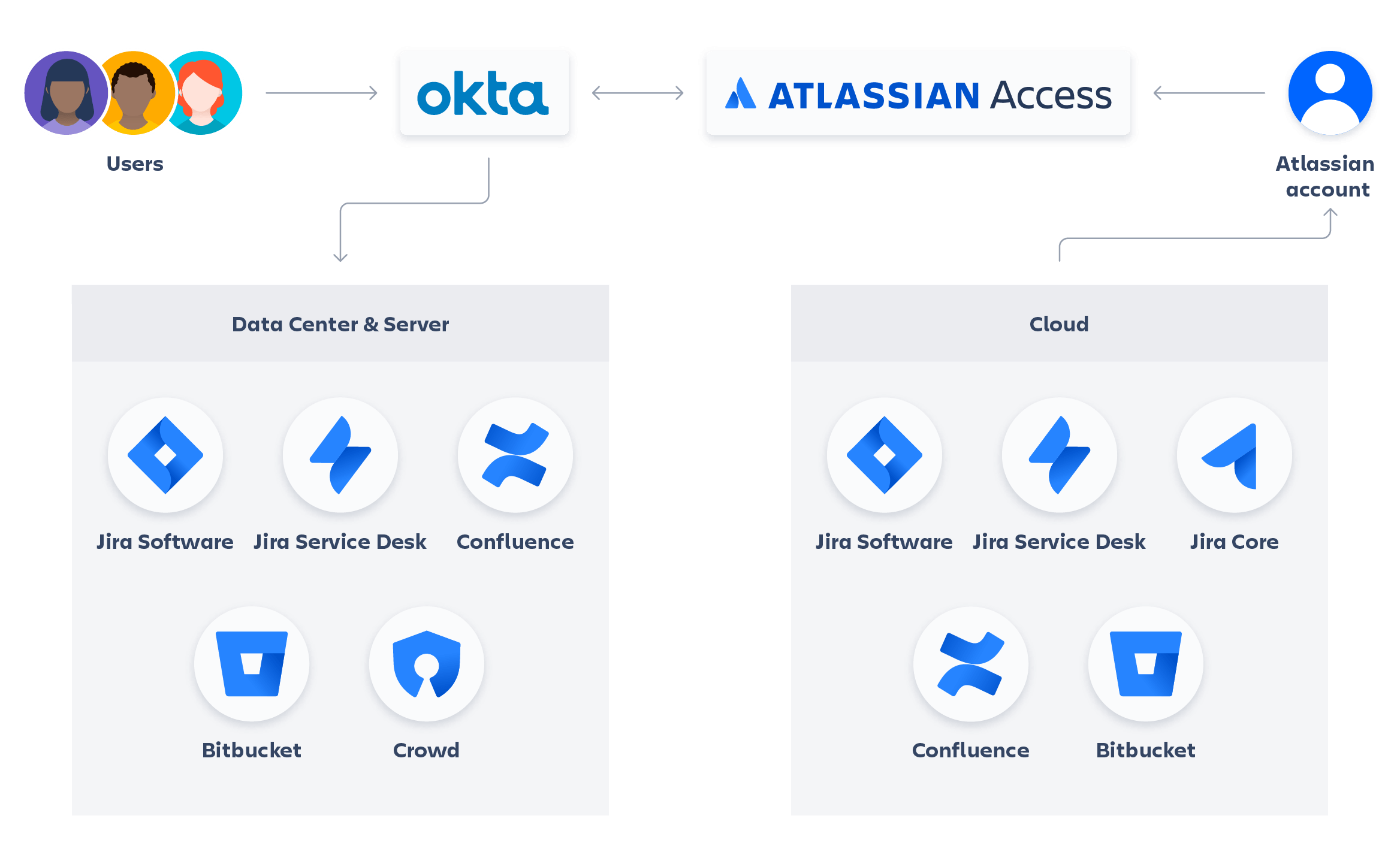 Get started with Atlassian + Okta
Atlassian Access is free for 30-days
Get a perpetual free Okta account
No credit card required for trial
Leading customers choose Atlassian and Okta for
seamless, secure collaboration in the cloud
Webinar
Secure and scale Atlassian in the cloud
CAC doc
Configure user provisioning with Okta
CAC doc
Configure SAML SSO with Okta
Okta doc
How to configure SAML 2.0 for Atlassian Cloud