Data Center
Scale, performance, and availability
Meet your scale and performance needs with capabilities and controls built for the enterprise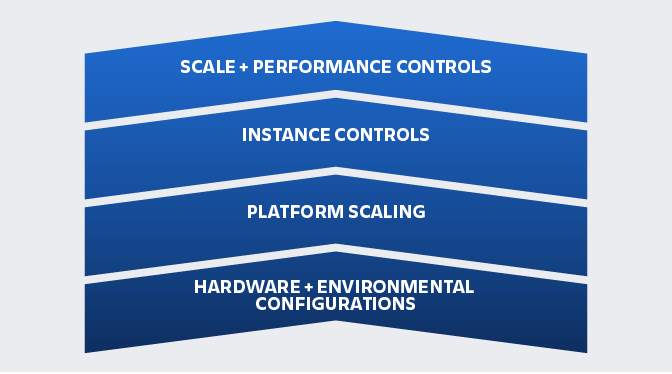 Data Center's framework enables teams to get the best performance at scale.
Build infrastructure for scale
Expert guidance on how best to optimize your environment
Leverage platform enhancements
Scale and performance built directly into the platform
Customize your instance
Controls that help you protect and manage your data
Support your teams
Advanced settings designed to meet your specific requirements
---
Scalable platform
In order to meet the needs of your organization, the products you're using need to be capable of scaling. That's why Data Center has functionality built directly into the platform to help you. These foundational capabilities address your core availability, performance, and scalability and are built under the hood, so you can enjoy the benefits without needing to configure anything yourself.
Customizable controls
As you scale and mature, you need to be able to customize your instance so it fits your specific needs, which is why Data Center has instance controls.
These customizable controls fall into two categories:
Protection
Hygiene and data management
Protection
Maintaining the stability of your instance at scale can be challenging - especially as you strive to maintain your compliance and regulatory requirements. With Data Center, customize your instance so that it's always available without compromising security.
Rate limiting allows you to control the number of external REST API requests that are made to reduce the risk of potential downtime. You have added visibility into who is being rate limited, how often, and the last time they were limited. Custom configurations give you the control to adjust user limits, protecting your instance against certain users and giving advanced permission to those who require it.
You can also use advanced auditing, which gives you a digital record of the events that occured within your instance. These event logs help you take action quickly and confidently so your instance is always secure.
Hygiene and data management
The more your teams use their products, the more data is accumulated. At scale, too much data can degrade performance and weigh down your infrastructure.
Data Center has capabilities designed to facilitate cleanup and manage your instance's data, like the custom-field optimizer in Jira Software Data Center and space archiving in Confluence Data Center. Because Atlassian products help your organization collaborate in different ways, these capabilities are built specifically with each product in mind.
Advanced scale controls
For enterprises with the more complex needs, Data Center is built with advanced performance and scale controls that you can use to configure your instance to meet your specific scale needs.
These advanced controls address needs in three areas:
Availability
Scalability
Performance
Deploy Data Center is a clustered architecture to keep your products available at all times. By adding a load balancer to distribute your team's user traffic and adding additional nodes to your cluster, you can reduce the risk of unplanned downtime and ensure your products are always performant even as you scale.
And, to help you better support your geo-distributed teams, Data Center offers CDN support. A CDN is a distributed network of proxy servers and their data centers. Service is distributed spatially to your end users. With CDN support, a globally distributed network of servers helps to minimize the delays that occur when you try to load content by reducing the physical distance between a server and your team.