Atlassian Access
Scale with confidence
Get company-wide visibility, security, and control across your entire Atlassian Cloud infrastructure.
Unified user and policy management
Access works across all your Atlassian Cloud products and domains so you can manage users and security policies in one simple place. Get company-wide control at your fingertips.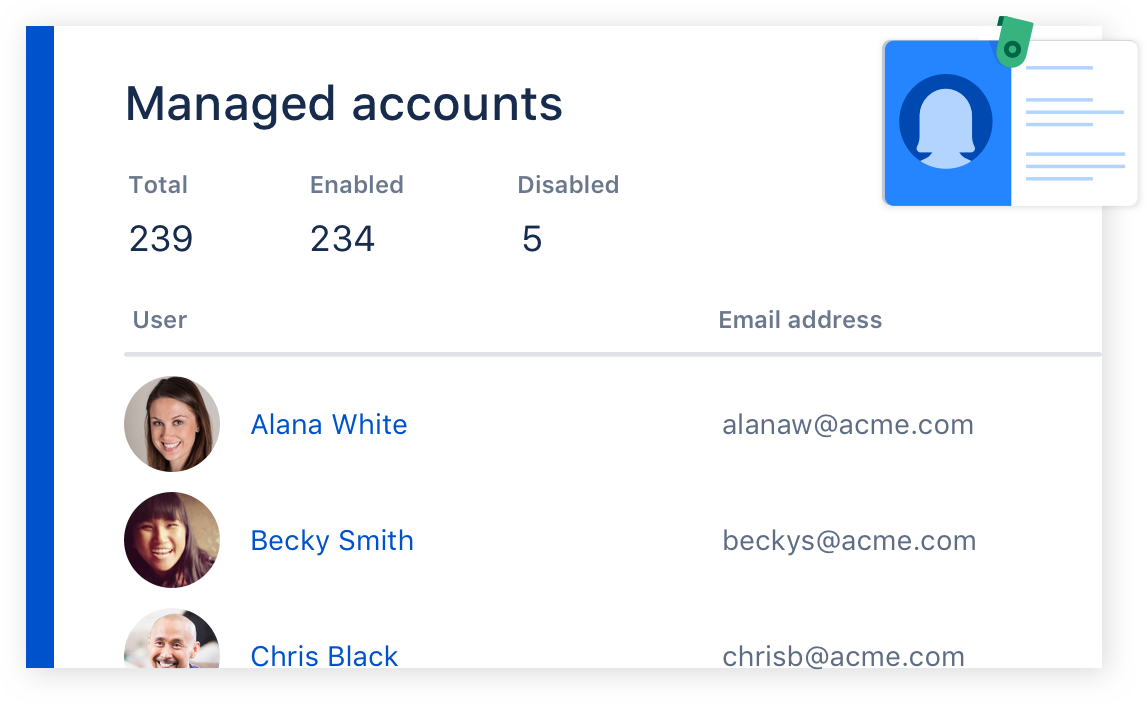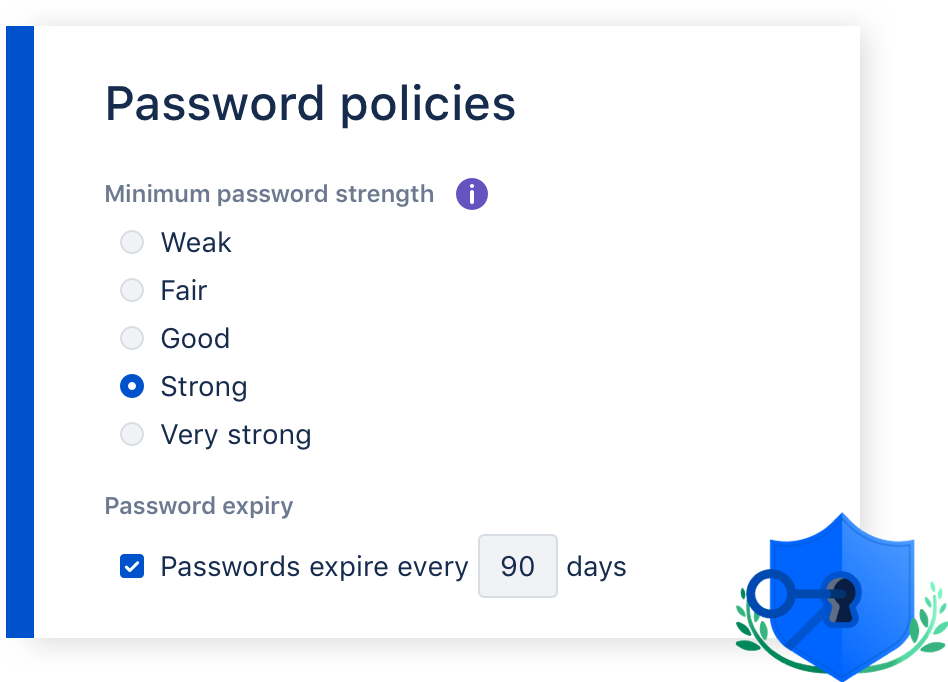 Enhanced security with SAML SSO, password policies, and more
Protect your company with SAML single sign-on, strong password policies, and enforced two-step verification. Access works with your existing identity provider to help you manage users efficiently.
User lifecycle management made easy
Automatically sync your Active Directory to Atlassian with Okta. With just one place to provision and de-provision accounts you'll save time, increase security, and gain greater control over your bill. Support for Azure and OneLogin are coming soon.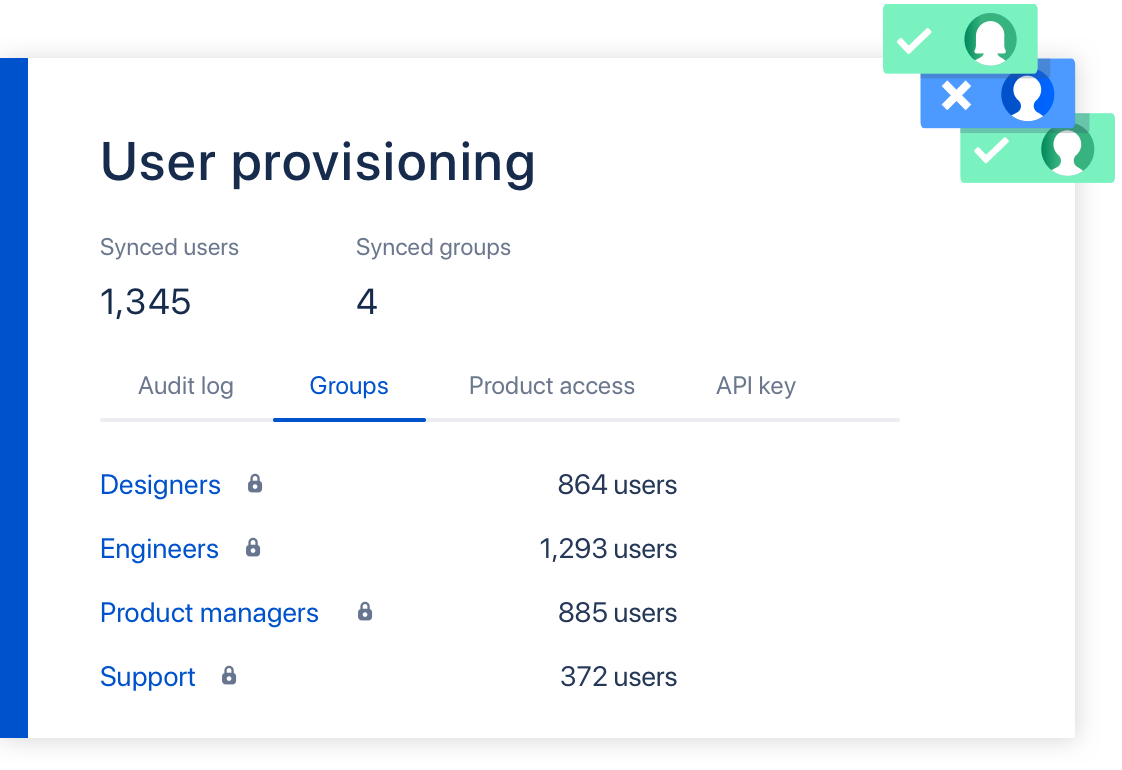 Elevated levels of support
Access comes with Priority Support built in. Get 24/7 support with one-hour response times for critical issues from our dedicated team.
Trusted by
Pay once per employee, across all products
You'll be charged once per employee to grant your users secure access to an unlimited number of Atlassian Cloud products.
| User count | Progressive price* |
| --- | --- |
| 10-250 | $3 |
| 251-1000 | $2 |
| 1001+ | $1 |
*Access pricing is progressive. That means, you'll pay a total of $750 (250 x $3) for 250 users, a total of $752 for 251 users (250 x $3 + 1 x $2), and a total of $2251 for 1001 users (250 x $3 + 750 x $2 + 1 x $1).
Your price
$
total per month
$
average per user
A la carte pricing
Access is offered separately from our core cloud products because we want to offer you the flexibility to make the right choices for your business needs.
Annual pricing
Annual licenses come at a ~17% discount,
One license that works across Jira, Confluence, and more
If users get access to additional cloud products, they'll be automatically covered by your security policies, at no extra cost.


Frequently asked questions
How do I begin an evaluation of Access?
show details +
| | |
| --- | --- |
| | You must be a site administrator to begin an evaluation of Access. Additionally, you'll need to have created an organization and verified a domain. Start the process of creating an organization and verifying your domain by navigating to your Admin Hub at admin.atlassian.com. Once you've completed these two steps you can then subscribe to Access from within Admin Hub. |
Is Access the same product as Identity Manager?
show details +
| | |
| --- | --- |
| | We've rebranded Identity Manager to Atlassian Access. Our vision for Access it to go beyond just identity and one day become the control center for every Atlassian Cloud product within your company. In addition to identity and authentication, Access will one day enable admins to manage and monitor policies across privacy, usage, and more. |
How does Access work?
show details +
| | |
| --- | --- |
| | Access applies policies upon users on your company domains that have access to Atlassian Cloud products - Jira Software, Jira Service Desk, Jira Core, Confluence, and Bitbucket. |
Is Access just for identity management?
show details +
| | |
| --- | --- |
| | Today, Access is focused on giving admins company-wide control over identity and authentication for their Atlassian Cloud infrastructure. Over time, Access will allow admins to manage and monitor security, privacy, external collaborators, usage of apps, and other key controls you need to run your mission-critical apps. |
What is the difference between Access and Crowd?
show details +
| | |
| --- | --- |
| | Access works to secure your Atlassian Cloud products while Crowd is designed for customers using our Server and Data Center solutions. |
Does Access work across Atlassian Server products?
show details +
| | |
| --- | --- |
| | No. Atlassian Access works across the following cloud products - Jira Software, Jira Service Desk, Jira Core, Confluence, and Bitbucket. |
Do I need to pay for Access to create an organization and do a domain claim?
show details +
| | |
| --- | --- |
| | No. Any site administrator can create an organization and verify their domain free of charge. This gives you a single place to view all of your managed users. You will need to subscribe to Access to enforce security policies across these users. |
With Jira Service Desk, do I pay for just my agents?
show details +
| | |
| --- | --- |
| | You'll only pay for the agents within your domains. Employees who only request help on the Jira Service Desk portal will be governed by your Access policies but they will not be billed for. |
---
Still have more questions?
Get detailed documentation about Atlassian Access.