Employee onboarding process
By Kat Boogaard
You've made it through the hiring process; the work is really only beginning. You now need to onboard your new hire, an incredibly important stage for setting the right impression and getting the new hire up to speed.
Plenty of research emphasizes the importance of this time, especially when it comes to retention. Up to 20% of employee turnover happens within the first 45 days of employment. That's scary stuff, but here's the good news: 69% of employees are more likely to stay with a company for three years if they experience great onboarding.
A solid employee onboarding process matters. But unfortunately, it's also an area where a lot of companies fall short.
According to research by Gallup, only 12% of employees strongly agree that their employers did a solid job of onboarding new hires.
Needless to say, there's room for improvement. This chapter covers what you need to know to develop a streamlined process that makes your top talent want to stick around.
Step 1
Gather feedback on your existing employee onboarding process
Do you know who has the best insight into what's lacking in your existing onboarding process? Your current employees. After all, they're the ones who have lived it. That means they're far better equipped to point out the pros and the pitfalls.
That's why your first step should be enlisting their help to figure out what can be improved. Even if you're beginning without a structured process, it's still helpful to collect employee feedback about what went well during their first few days or weeks, and what could've gone better.
Go about gathering this feedback through:
One-on-one conversations
Surveys (anonymous or not)

Group brainstorms or focus groups
Regardless of what method you use, make it clear to employees that you want to have a candid conversation and that they won't face any repercussions for voicing honest opinions. Constructive criticism is what you're hoping to hear.
You have the freedom and flexibility to come up with questions that will be the most valuable to you, but the below ones are a great starting point:
What surprised you about your first week working here?
What's one thing you enjoyed most about your first week here?
What's one thing we could've done differently to improve your first week?
What was the biggest challenge or frustration you faced during your first week on the job?
While employees will likely have some of the most insightful, hands-on feedback, it's also beneficial to talk to other people involved in the onboarding process, such as department leaders. That will help you spot and fill any gaps or sort out any inconsistencies as you're overhauling the onboarding sequence.
If your team is distributed, it can be tricky to get everyone's feedback on the onboarding process. Use Trello's Distributed Team Brainstorming template to gather input far and wide. It might just spark a great conversation, too!
Step 2
Figure out the core onboarding elements
Using the feedback you collected in the first step, identify everything that should be included in your onboarding process. Step back and think about everything that an employee needs to get up to speed and write it down on a main list. It's going to be a jumbled mess for now, but you'll clean it all up later.
After doing this, your main list might look something like this:
New hire welcome
Benefits enrollment
Direct deposit enrollment
Emergency contact paperwork
Office tour
Department leader conversations
Tech setup
Tech tutorial
Team lunch
Department overview
Employee policy training
Manager one-on-one conversation
Step 3
Map out your onboarding flow
So now that you have those must-do activities, what order should they happen in? As you're figuring out the general sequence, it's likely going to resemble moving a bunch of puzzle pieces around —and that's okay!
The next step is to create a standard workflow. It can span as many days as you need and should be templatized and repeated for each and every new employee, like a well-oiled machine.
It can also be helpful to collect feedback from other stakeholders at this stage, as they might have some valuable input about what order of events makes the most sense.
However, here are a few general tips for working out the best onboarding sequence:
Do as much as possible beforehand: Have your IT team set up logins and workspaces before new hires step foot in your office.
Look for concurrent and dependent tasks: As you're looking at your long list of activities, spot any dependencies (i.e., tasks that need to happen before anything else can). Also look for time-saving opportunities. For example, if you have the new employee fill out paperwork first thing in the morning, it can all be reviewed and acted upon while the employee is doing an office tour.
Strike a balance between administrative and social tasks: You've probably had your fair share of first days that were nothing more than a barrage of paperwork, which isn't fun for anyone. For the first few days, make sure you're establishing a healthy mix of administrative responsibilities and more social, get-to-know-you type activities to keep new employees engaged and interested.
Using the example activities we outlined above, here's an example of what a general flow might look like:
If you're hiring remote employees, it's even more important to plan ahead and map out how each new hire will get up to speed. Learn how the team at Invision uses a Trello template to get the job done.
Step 4
Create an employee onboarding checklist
Now it's time to get organized. An employee onboarding checklist can help to ensure you're crossing your t's and dotting your i's.
Templatize the checklist so that it can be used again and again. Depending on your company, the size of your team, and your rate of hiring, you might even want to create a different template for various departments, roles, or position levels.
For example, the onboarding process for a vice president might be different from an entry-level employee. Or, the onboarding process for someone in IT might differ from someone in marketing.
Regardless of how many checklist templates you decide to create, it's helpful to pull one together that can serve as your guide as you're getting new employees up to speed (and avoid forgetting important things!).
While you're at it, ensure that everything you need for the onboarding process is clearly labeled and stored somewhere that's easily accessible for anyone on your team who might require it.
Establish some sort of shared folder that will house all of the paperwork, instructions, templates, and checklists that you'll use during a typical onboarding process, so that you aren't scrambling for things when you need them.
If your company is growing fast or simply hiring for a bunch of different roles, your onboarding lists may look like a disco-ball of complexity. Don't worry. There are ways to standardize even the most variable onboarding lists. That's what the fast-growing auto-buying app company Fair.com did when their hiring tripled, overtaxing their HR team. Watch this video to learn how Fair used Jira and Confluence in tandem to streamline their employee onboarding process, creating templates for 14 different types of new hires, some with up to 55 onboarding checklist items.
Use Confluence to document onboarding checklists, templates, and more – and use Jira Core to organize the process.
Step 5
Host a training about your new onboarding process
An effective onboarding process isn't only about training new employees. It's also about training all of the staff members who are involved throughout the process.
Now that you have an established onboarding process, host a training to update everyone who plays a part in the onboarding of employees. That way, they're in the know about how they can make the new process successful.
This is also a good time to collect any final feedback so that you can ensure the process is tuned up and ready to go before you roll it out to any new employees.
Tip #1
Prepare a warm welcome
Pardon us for relying on a cliché, but you only get one chance to make a first impression.
The new hire has likely already met the team and visited your workspace, but you should still put in the effort to make that first day as friendly and memorable as possible. A warm welcome doesn't require grand gestures. Just do something to make the day special and excite them about returning to the office the next day.
A couple easy ideas could be leaving some company swag and/or a welcome banner at their desk and setting up a team-wide lunch or other outing so everyone can be part of the welcome.
Another way to help people feel like they're part of the company from day one is to write an inspiring welcome letter. Read some advice from our Work Life blog about setting the right tone for this very important first communication.
Tip #2
Pair new hires with a buddy
As the HR team, it's easy to feel like almost all of the onboarding responsibilities fall to you. But that doesn't necessarily have to be the case. You can enlist some help. In fact, it's beneficial if you do so.
As part of your onboarding process, consider a company buddy or mentorship program for new hires in their first few months. This pairs new employees with someone more experienced who can be their point person. Ideally the buddy isn't their manager or an HR representative.
New employees will likely be far more comfortable approaching their buddy with questions, particularly with smaller things (uhh...where do I find the coffee mugs?) that they wouldn't want to bother someone else with.
Not only is this system encouraging for your new hires, but it also helps them get up to speed much faster.
According to a report from Human Capital Institute, 52% of respondents said that they use an ambassador or buddy program, and 45% of those said that the program was either moderately (27%) or extremely effective (18%) for speeding up proficiency of new hires.
If you have remote new hires, it can be a little harder to get them in sync – but the same principles apply: partner them with a team member and hold some virtual get-togethers so they get to know everyone. Try Trello's New Remote Hiring Onboarding template to help remote newbies feel right at home with their new crew.
Tip #3
Don't stop at the first week
Here's another trap that many companies fall into: They sink a lot of effort into an employee's first few days and then squander all those good vibes after getting sucked back into the duties of the day.
Onboarding takes a while, and employees are "new" to your company for longer than their first week. While we've mainly tackled those first few days within this chapter, remember that truly effective onboarding will need to go beyond that.
Set a plan to stay engaged with new employees for at least their first 90 days through efforts like:
One-on-one conversations
Surveys and feedback
Meetings or lunches with other new hires
These help employees feel fully supported by your organization, even after their first week has come and gone.
Plus, proactively troubleshoot any problems or concerns. A survey by Jobvite looked at professionals who have left a job within 90 days, and 43% stated that it's because their day-to-day role wasn't what they expected. The survey showed that 34% said a bad incident sent them running for the hills, and 32% said the culture wasn't a good match.
You can't patch up these issues if you don't know they exist, which is another reason to stay in close contact with all of your new team members.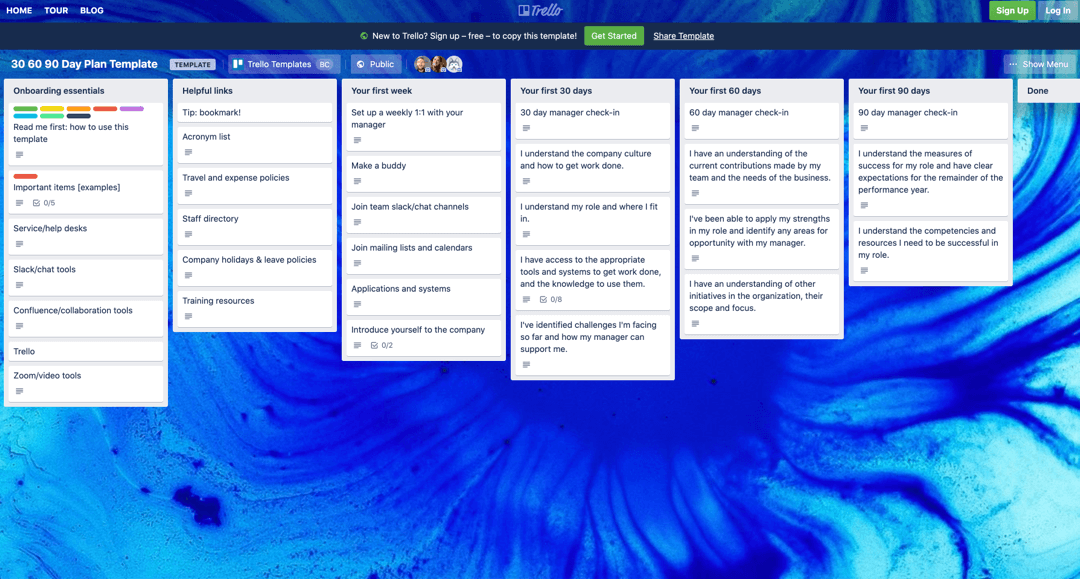 Employee development plan
HR policies and procedures