Jira Software vs. Basecamp
Jira Software is built for every member of your software team to plan, track, release, and support great software with confidence. See how it stacks up against Basecamp.
Jira Software is more than a project management tool
---
Unlike Basecamp, Jira Software fulfills the advanced needs of software teams and comes with the power and flexibility that agile teams need to ship value to customers faster.
Keep your teams and organization in sync
Plan work and track progress in a single view with roadmaps in Jira Software
Built-in roadmaps allow your team to create a timeline of your plans, update your priorities as they change, and communicate the status of work to your stakeholders. Try roadmaps for free in all versions.
"Jira has allowed a great deal of transparency across business and development teams – contributing to a product that's truly a collaborative effort every step of the way."
JEANNICE ANGELA
Product Manager, Rent the Runway
Map your team's unique way of working
Workflows in Jira Software power effective teamwork
Every team has its own definition of 'Done' and how to get there. Build custom workflows that better reflect real-life processes, while reducing friction and enabling faster delivery.
"Once leaders and engineers saw how they could use Jira Software to create custom workflows and share them across teams, along with Confluence for documentation and collaboration, they were confident Atlassian would meet their needs."
Evan Lerer
Director of Engineering, Redfin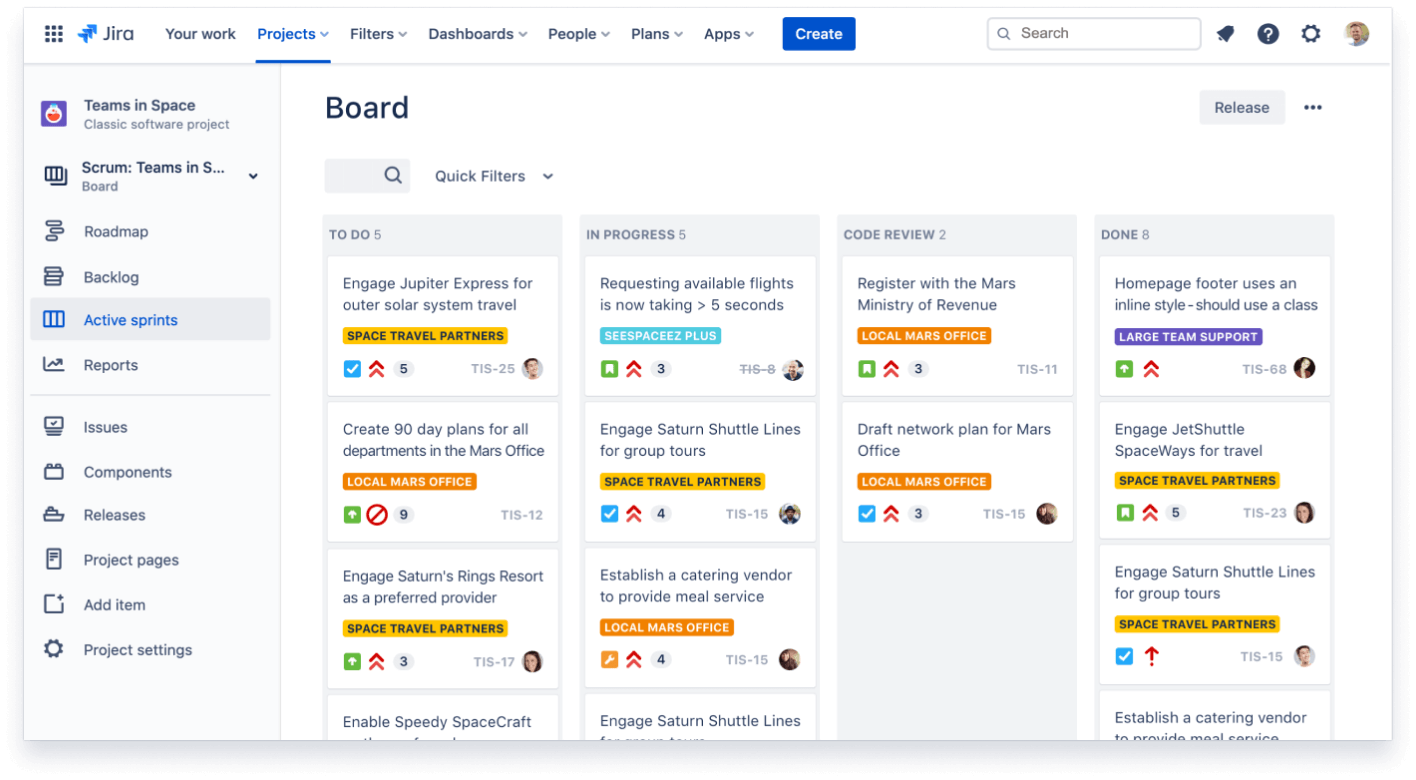 Manage your work with powerful agile boards
Jira Software is designed with agile best practices in mind
With dozens of templates, reports, and best practices, Jira Software makes it easy for agile teams to be successful within our products and beyond. Out-of-the-box scrum and kanban templates give your team full visibility into what's next so you can continuously deliver maximum output in minimal cycle time.
"Engineers appreciated how Jira Software and Confluence simplified the product development lifecycle all the way from planning and design through engineering, testing, and customer support."
GARY CHAN
Head of IT Infrastructure and Employee Services, Zoom
Scale your way of working
Jira Software is designed to grow with your organization
Every organization needs software that can scale beyond a single team. Jira Software offers the flexibility to choose whether you standardize on a way of working across teams or give teams autonomy to design their own ways of working. Mix and match however your organization needs.
"Atlassian solutions balance power and ease of use. There's not many tools that do that well and continue to meet your needs as you grow."
SKY FROSTENSON
Director of Program Management, VSCO
Why choose Jira Software over Basecamp?
Features

Atlassian

Basecamp

Marketplace with apps and integrations

Our Marketplace includes thousands of apps and integrations so you can customize Jira for your exact way of working.

Products tailored for a specific use case

We offer versions of Jira for software, business and IT teams

Comprehensive agile reporting

Jira Software comes with over a dozen agile reports out of the box

Flexible permissions

Pick and mix between standardized ways of working across your org and giving teams the autonomy to design their own workflows

Smart filtering and search

Jira Software's filtering and search is backed by machine learning and JQL (Jira Query Language)

Best practices playbook

Atlassian has 45+ plays to help inspire your teams with agile best practices inside our products and beyond

Top-down visibility

Ladder up work across multiple teams into common goals

Smart dev tool integrations

See the status of work in your dev tools right where your teams plan and track work

Delegated administration

Empower teams you choose to administer their own projects so they can operate faster

Enterprise admin capabilities

Ensure a great end-user experience with enterprise admin capabilities like a sandbox environment and controlled releases

Mobile apps

Jira Software comes with mobile iOS and Android apps

Board and backlog

Enable teams to plan and track, and visualize their work on a board and backlog

Custom workflows

In Jira Software you can create workflows inspired by scrum, kanban, or anything in between

Native roadmaps

Every team in Jira Software gets a roadmap to help plan the big picture

Unlimited levels of hierarchy

Roll work into bigger picture goals with unlimited levels of hierarchy inside Jira Software