Atlassian + LaunchDarkly integration
Together, Atlassian and LaunchDarkly give teams greater visibility into and control over feature releases. We allow you to access critical release information from a single place, thus enabling you to boost efficiency, improve collaboration, and deliver a topflight customer experience. Move faster with confidence.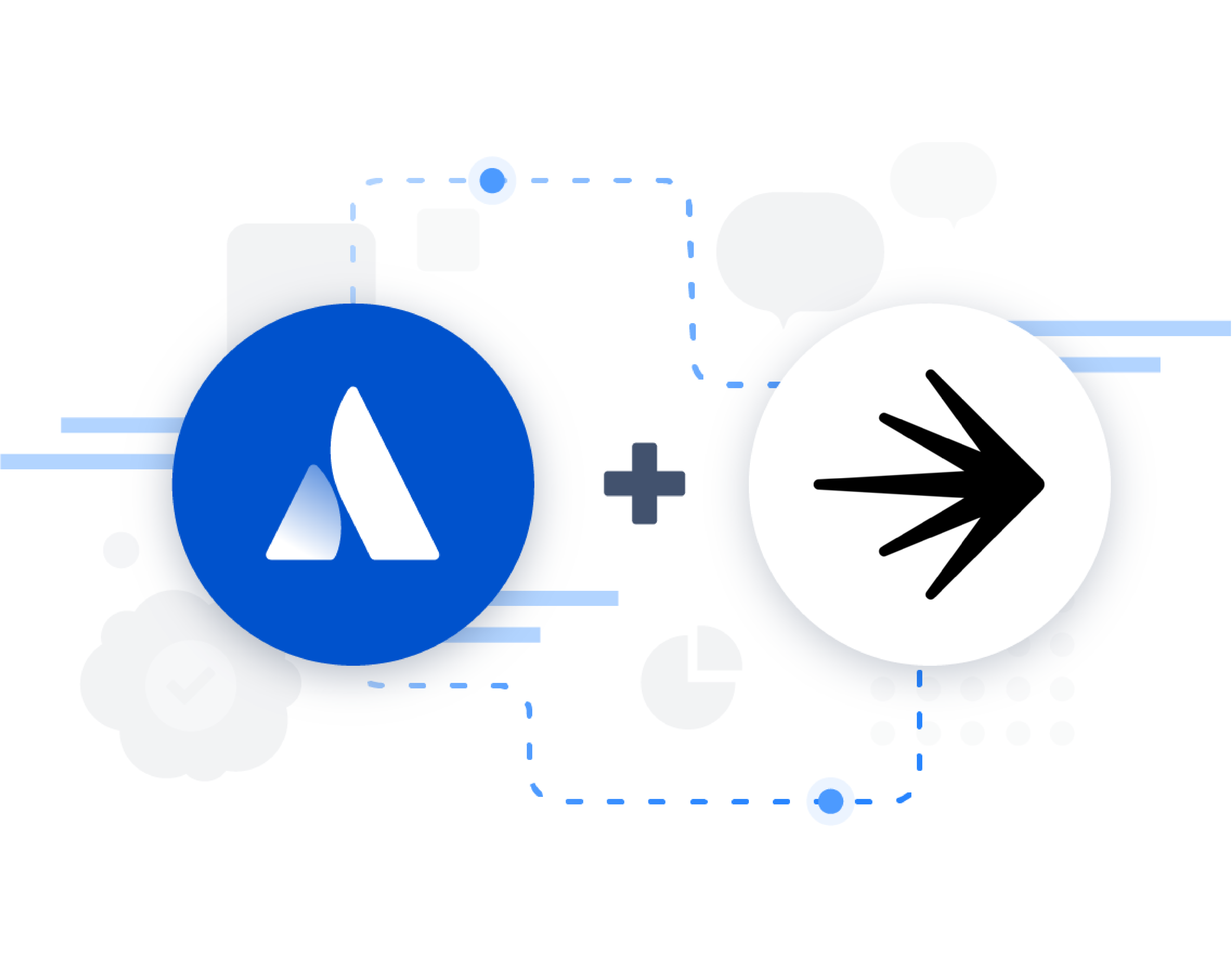 View all LaunchDarkly and Atlassian integrations on the Atlassian Marketplace
Your favorite Atlassian products already integrate with LaunchDarkly
Get context on a feature when you need it
Teams can see feature flag statuses displayed on a Jira Software issue and access critical information about a feature, like if it's in production or not, when it matters most.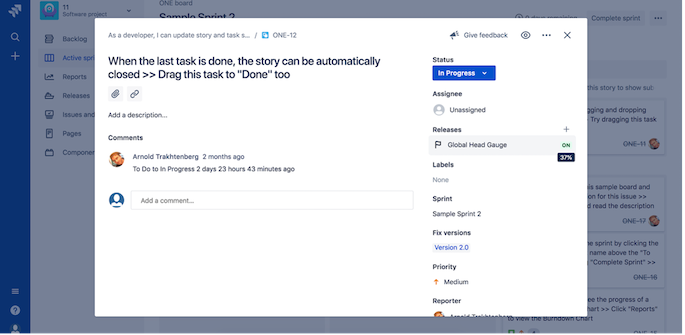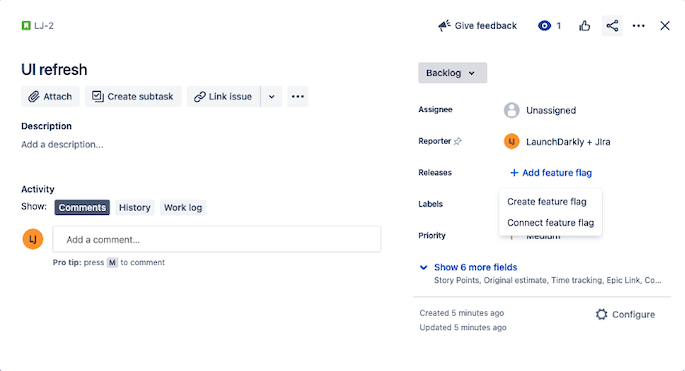 Control features right from Jira Software
Start creating new feature flags from the Jira Software issue screen to streamline development.
Tie existing flags to a Jira Software story
Connect an existing LaunchDarkly feature flag to a Jira Software story with just a couple of clicks—no copy and pasting required. Get a holistic view of your releases.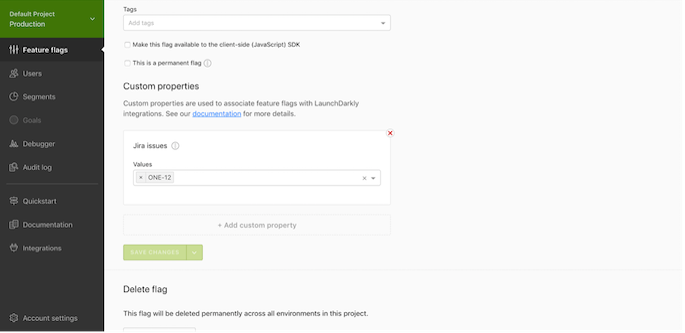 Unlock the power of DevOps and CI/CD
Insert LaunchDarkly feature flag actions directly into your Bitbucket Pipeline's continuous delivery flow. Creating and enabling feature flags via Bitbucket Pipelines gives you the control you need to release confidently, reduce risk, and gather valuable feedback on new functionality. Learn more.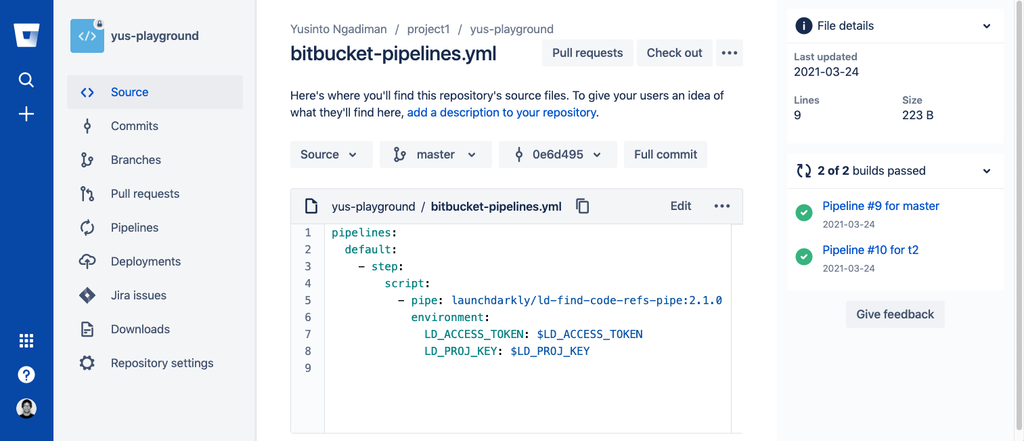 Get a 360-degree view of your code
Code References in LaunchDarkly show you every feature flag in your codebase in a digestible format. By baking Code References into your standard build and deployment workflows with Bitbucket Pipes, you get the assurance of knowing that you've enabled the right feature flags in production and that you've removed the right flags from your code when a rollout is done.
Enjoy the power of feature flags without the technical debt. Learn more.
Why LaunchDarkly and Atlassian?
Improve cross-team collaboration
Being able to access relevant data for a feature rollout in a shared tool allows everyone to stay in the know, better communicate, and drive the best outcomes.
Reduce context switching and confusion
Jumping between different tools to fetch key information breeds confusion and can, in turn, lead to errors. Keep a clear mind with a single source of truth for releases.
Boost efficiency
The ability to see and create feature flags in Jira Software saves considerable time, allowing teams to focus on high-impact projects.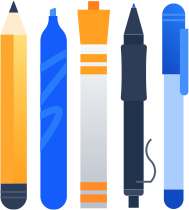 Resource: The Definitive Guide to Feature Management
Discover what feature flags are and how to enjoy the full benefits of feature management.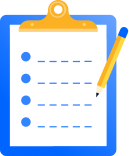 Report: The Total Economic Impact of LaunchDarkly
Know the risks, costs, benefits and ROI. Get The Total Economic Impact™ of LaunchDarkly, a commissioned study conducted by Forrester Consulting.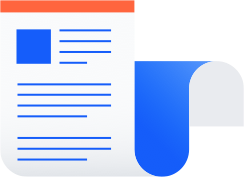 Docs: Setting up the LaunchDarkly Jira integration
Learn how LaunchDarkly's Jira integration allows you to link your feature flags to your team's Jira issues.
Read our latest DevOps resources
Learn about the features of Open DevOps
Connect with LaunchDarkly + Atlassian users on the DevOps community
SUBSCRIBE TO OUR NEWSLETTER
Atlassian Integration Digest
Get expert tips and the latest news on best-of-breed tools that integrate with Atlassian products