Atlassian: A leader in Gartner's 2017 Magic Quadrant for Enterprise Agile Planning Tools
We're proud to be named a leader in Gartner's 2017 Magic Quadrant for Enterprise Agile Planning Tools. This solidifies our belief that tools like JIRA Software help teams successfully practice agile development and release great software at scale.
Download the report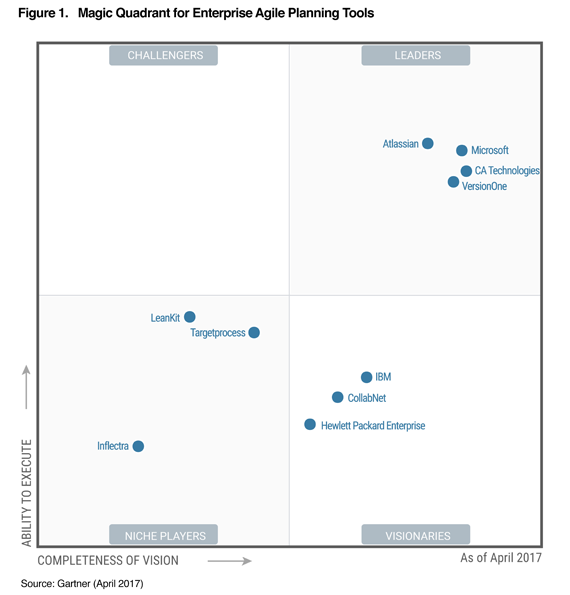 PERMITTED USE- By accessing and using the Reprint, recipient agrees to comply with the following terms:
Your use of the above-listed link(s) is subject to the terms and conditions of the Reprint Order Form, and Gartner's Copyright and Quote policy. Prior to the expiration of the link(s), you will be notified that your content license with Gartner will be expiring shortly. This notification will allow ample time for clients to make any necessary changes to their Web site prior to the expiration of the Reprint. If the Reprint is still considered current at the time of the notification, clients may have the option to renew for an additional term, resulting in uninterrupted access to the link(s). Non-compliance with Gartner policies may result in client's forfeiture of the privilege to license Gartner research in the future.
Atlassian's 75,000 customers are in more than 170 markets and nearly every industry. We believe if you're trying to change the world through software innovation, Atlassian's the best partner you could choose. We feel our growing market presence and continued position in Gartner's "Leaders" Quadrant is evidence that we're disrupting the traditional agile market with our great products and unique model.
Atlassian's portfolio of products helps teams around the world take software projects from concept to launch. Join us, and change the world through the power of software.
Atlassian Enterprise
Go big with Atlassian
Atlassian Enterprise offers the business critical products, premier support, and strategic services you need to get the most out of your Atlassian applications.
Learn more
Code, Build, & Ship

Collaborate on code with inline comments and pull requests. Manage and share your Git repositories to build and ship software, as a team.
Learn more

Harness the full power of Git and Mercurial in a beautifully simple application. Get the free Git and Mercurial desktop client for Mac and Windows.
Learn more