How to set up an engaging editorial calendar
By Natalie Mendes
Consumers see thousands of ads every day plus an influx of other campaign content too. So how do you capture attention in a world that's overrun with marketing materials? You have to create the type of content that busy, bombarded people actually want to read.
And how can you get a load of content created without killing your team? When there are so many decisions and moving parts, the answer is clear: Planning and documentation!
That process starts with an organized editorial calendar. Here are some of the steps to help you set up an editorial calendar and keep track of your content so you can be more thoughtful about what you create and have time to do it well.
Step 1
Write a content vision statement
Once you've developed a good idea of who your readers are and what kind of content they're interested in, you'll need to boil all this information into a comprehensive vision statement. This statement should be specific, so make a list of your brand's:
Expertise
Audience
Content themes
Writing style and voice
Value to customers
Your vision statement should be specific because it will be a guiding force to help you decide which pitches to accept and what content to include.
As an example, this is the vision statement that we use for the Atlassian blog:
"Packed with actionable advice, inspirational stories, and trusted expertise about work life today, the Atlassian blog will help equip individuals, leaders, and teams with the resources needed to face these changes with skill and confidence."
Once you have a vision statement, you can get more specific about the content topics that you want to cover. On Atlassian's editorial team, we have an annual meeting to decide what topics we want to write about in a given year. Remember that although these topics tend to guide our content, they're also subject to change as new trends pop up.
Step 2
Develop a content plan
You should now be in a place where you have a solid idea of what the look, feel, and goal of your content will be. That means that it's time to dive into who's going to write for you, how often you're going to publish, and how you'll be keeping track of all your content.
Decide how often you'll publish content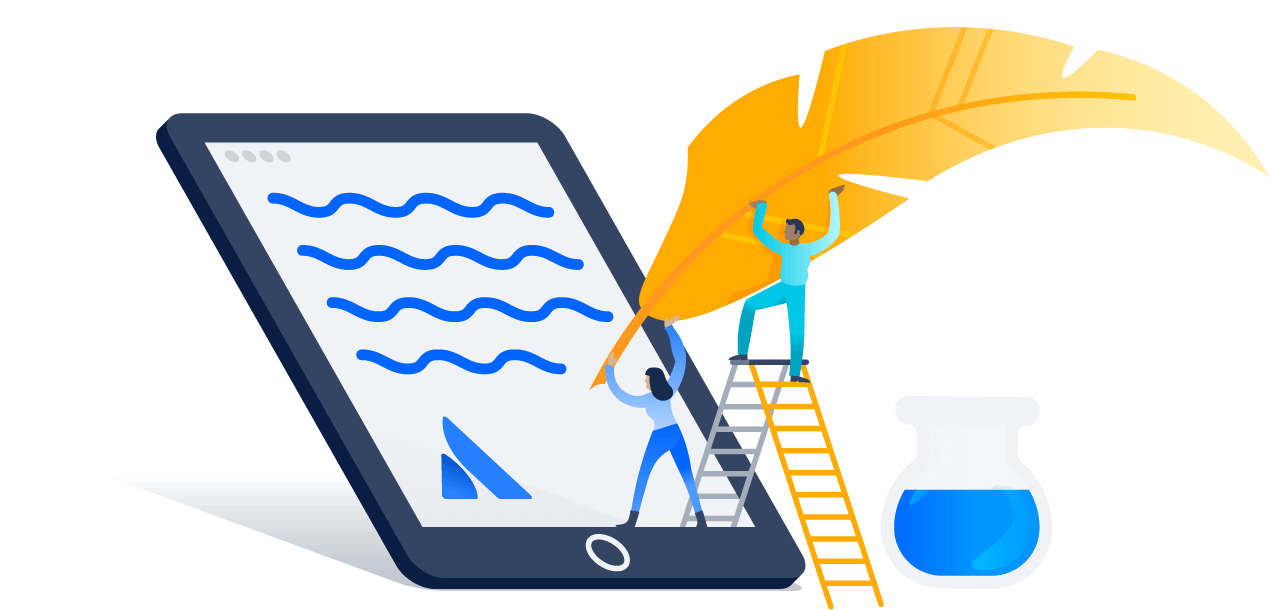 To keep your editorial calendar on track, set clear expectations of how often you plan to publish. Without clear deadlines, your publishing schedule will become inconsistent and you'll forget to follow up on content being created.
How often you're able to publish comes down to your resources and how many people are able to create content. Other crucial considerations for publishing cadence are how often your customers are seeking out your content and whether you want high-quality in-depth content or are okay with posting shorter pieces as well.
These days most people don't go directly to a website to read blog posts, according to statistics from Hubspot. It's more likely that they'll find your content through a search engine or on social media. It's also worth noting that longer-form high-quality posts (think about ~1,500 words) are more likely to show up in search engines or be shared.
That being said, for most brands it makes more sense to focus on publishing a small number of quality pieces of content than it does to try to pump out tons of material.
Determine who your authors will be
When it comes to finding authors for your content, you pretty much have three choices:
Have your editorial team author all your content
Hire freelancers
Accept pitches from colleagues across your company
To help make your decision, let's go through the pros and cons of each choice.
If you use your editorial team, you know that all of your content is going to be top-notch. These are the people who know exactly what your company voice is and will require little editing. The problem is, most companies have a relatively small editorial department. Do you have enough people to publish as frequently as you want to? Do you have the budget to hire more in the future? These are some of the questions you need to ask yourelf if you plan to take this approach.
For editorial teams that need a little bit of extra help, hire freelancers. This will be less costly than hiring someone full-time, and you can also expect that their writing will be high quality because, well, that's their job. The only problem is that they won't be as familiar with your company and might require some extra editing when it comes to tone and voice. It's also worth noting that freelancers tend to come and go at a whim, so when you hire a freelancer, your money isn't necessarily going toward a long term investment.
You can also include a wide range of perspectives by allowing anyone from any department at your company to pitch and contribute to your content, from blogs to social media posts. This can be a great option because you'll get experts on a topic writing about what they know best. However, writing may not be their strongest skill so they will require extra editing. You also have to factor in that, given writing isn't their only job, it may take them longer to finish.
Step 3
Put together your editorial calendar
An editorial calendar is a roadmap for all your content publishing. It's where every piece of content starts and where the personality of your brand assets will begin to form.
Regardless of the approach and tools you use to put your content calendar together (there are many!), make sure you can clearly track where content is in the editorial process, set visible deadlines, and easily leave feedback and ask questions.
We use Trello to run our editorial calendar, which links to Confluence where all of our actual content is written and edited (you can read more about that in our post about using Confluence for blogging).
We chose Trello for our editorial calendar management because it's a highly visual platform, which makes it easy for us to keep track of all the different content that we can publish. It's also extremely flexible: when something changes in our editorial process we can reflect it in our Trello board by just adding a list or moving a card.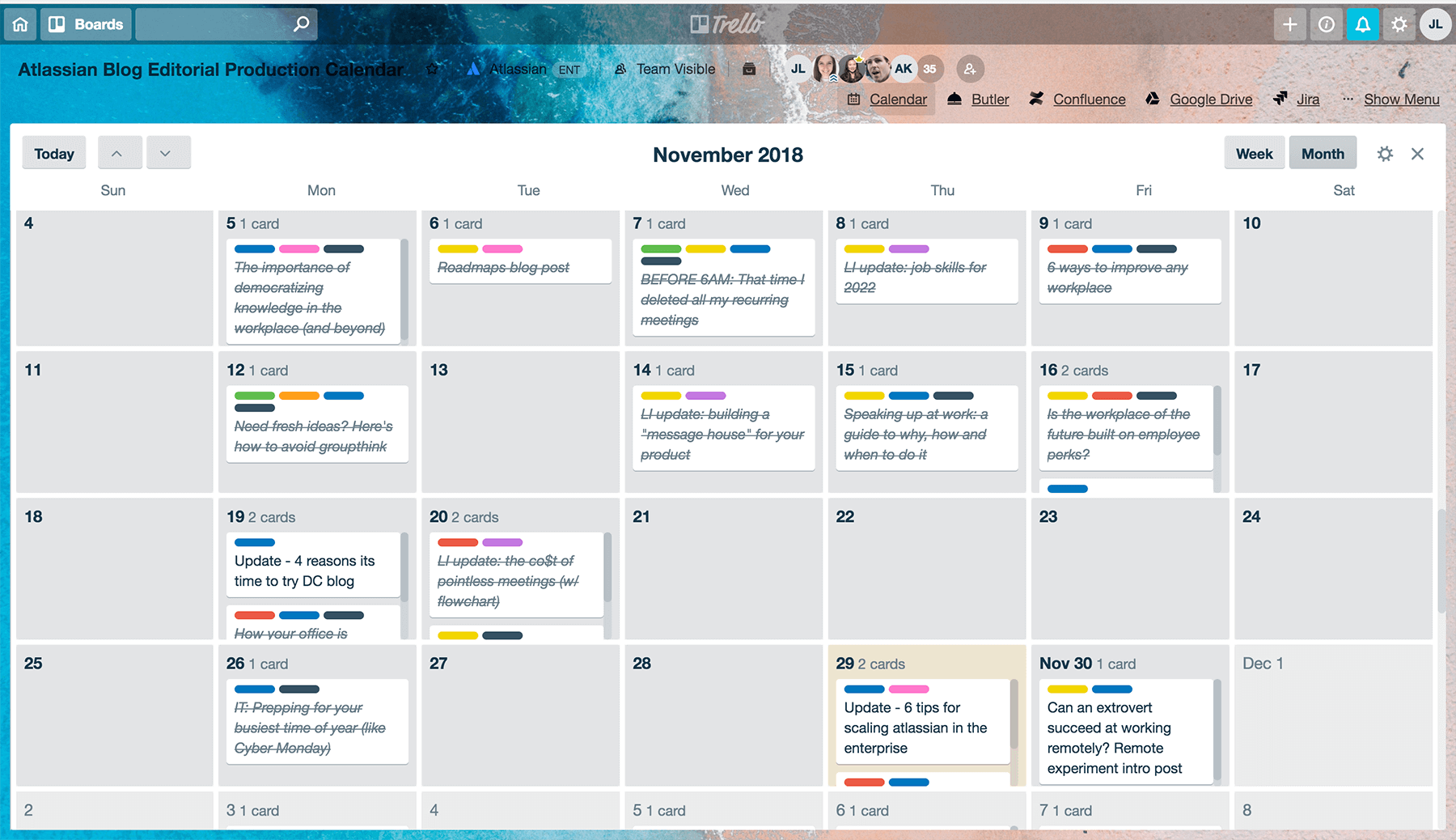 Learn more about setting up an editorial calendar in Trello here.
Define your pitch process
In our editorial calendar, writers start by adding a Trello card to the pitches column. In the card description, they are asked to answer a series of questions that help us gauge whether their idea belongs on the blog including:
What's your story idea?
Why are you writing this piece?
Who is your target audience?
What is your goal for this article? Do you have a tangible viewership goal? Or action you'd like a reader to take? What is measurable and what is qualitative?
How will a reader benefit from reading your article?
Has this topic been covered on the Atlassian blog before?
They are also asked to specify the blog's author, focus keyword, and relevant deadlines.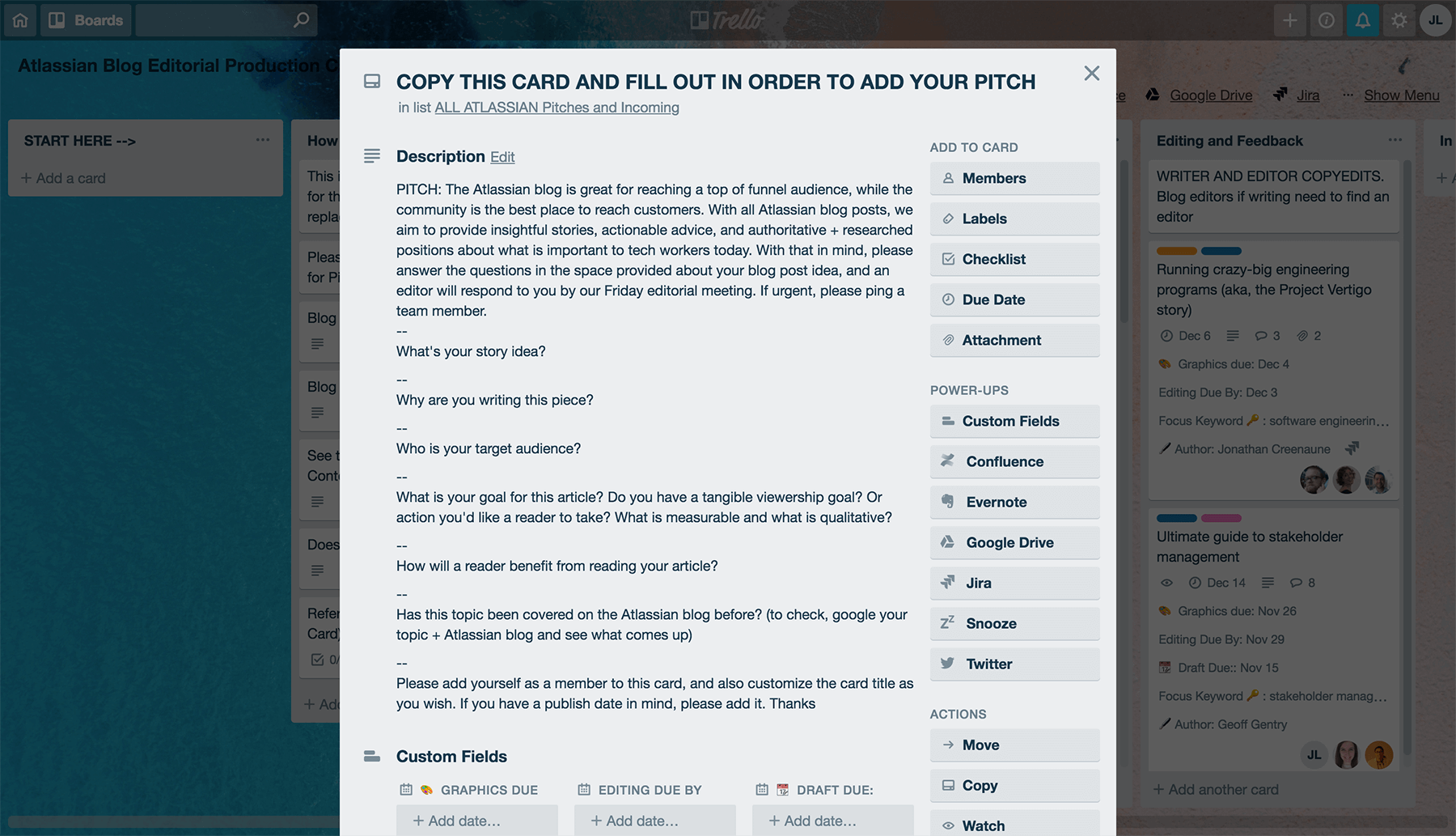 The editorial team then looks through each of the pitches and determines how valuable the piece of content will be to our readers. We consider criteria such as its relevancy to our blog themes, whether it's inspiring, fresh, and if it's timely.
We also take into account how easy it will be to distribute, based on if it's particularly well-suited for social media or if we think it could do well from an SEO perspective.
Pitches that are well-suited to gain a lot of traffic via social media, for example, usually have a strong, controversial opinion and revolve around a topic that will encourage conversation. If we want to optimize a piece to rank high for a certain search query in Google, however, we look for ideas that have potential to answer a lot of common questions on a given topic.
Keep your calendar up to date
If a pitch is approved, the author will create a Confluence page for their draft using our blog template and link it back to their Trello card. Then, the writer will move the card through each of the following columns as they progress through the editorial process:
Pitches
Drafts
Editing and Feedback
Moved to Wordpress
Final Review
Scheduled
Published
Re-promoting opportunities
We also include a column on the far left corner entitled "How to use this board" that includes a number of cards with resources about what makes a good pitch, a good blog post and gives an overview of the mission of the blog.
The editorial team meets twice a week for production meetings where we take a look at our calendar to discuss content that will be published in the next two weeks, and make sure that no blog post, design, or deadline gets forgotten.
Support your content after you hit publish
You may have noticed that the last column on our board is not "publish." That's because you can't just put your assets out into the world and forget about them. To really have a successful content plan, you'll want to keep checking back in on your assets to see if there are opportunities to re-promote them.
We also make a point to regularly sift through our old content and see how it could be updated to be more timely. Sometimes, just a small tweak can make content relevant again. For example, tie it to a current event and give it some extra buzz on social media.
Get started on your own editorial calendar
Once you follow these steps, you'll be on your way to creating a thriving publishing process, filled with content that your customers will actually want to read.
Create a strong marketing plan
Best practices for content development