Jira Software vs Trello
Whether your software team needs a flexible and visual board to brainstorm new product ideas or a customized scrum board to run your next sprint, Atlassian has you covered
Get Jira Software free
Sign up for Trello
Get a clear understanding of the yin and yang of Trello and Jira Software
Plan and track work for the teams that build, run and support software
Run your software development sprint end-to-end with scrum and kanban workflows, and reports that help you gain real-time, actionable insights into how your team is performing sprint over sprint.
Trello
JIRA Software
Run sprint retrospectives and meetings
Run successful retrospectives and better meetings by creating clear agenda items with actionable follow-ups.
JIRA Software
Trello
Brainstorm product and development ideas
Transparently share, discuss, and prioritize ideas with product managers and stakeholders in a visual and flexible way.
JIRA Software
Trello
Integrate with Bitbucket or GitHub
Stay organized and get to coding quickly by creating branches directly from where you plan, track, and collaborate on work.
JIRA Software
Trello
Easy to setup, easy to manage
Get up and running in a couple clicks with an easily customizable solution to meet the unique requirements of your team.
JIRA Software
Trello
Jira Software
The #1 agile software development
tool built for teams that plan, track and release software 
Learn More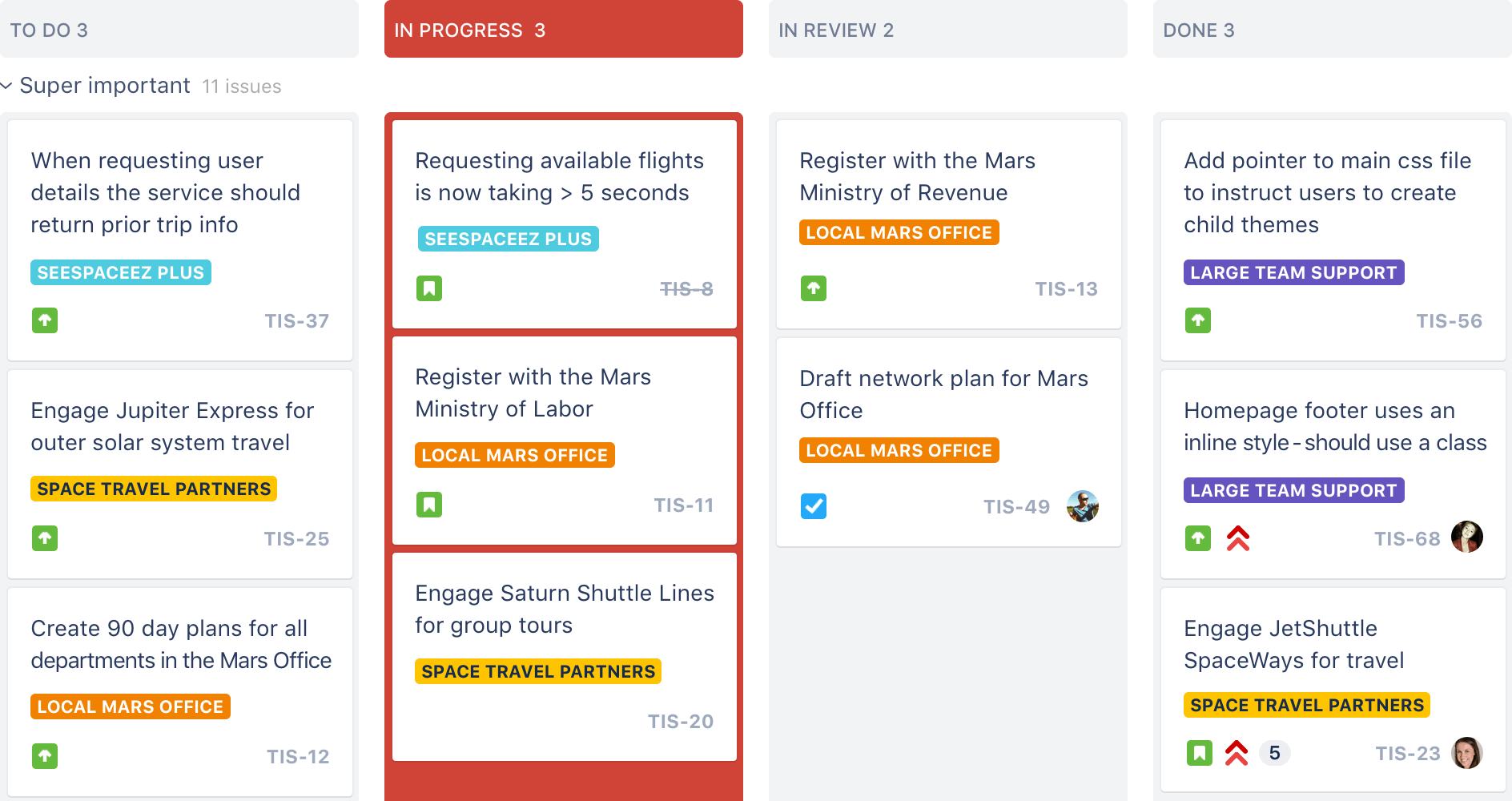 Purpose-built for agile software teams
Jira Software comes with scrum and kanban workflows, burndown charts, sprint reports, estimations, and everything you need to build software
Scale your software development
Scale structured workflows and processes from one team to all teams involved in building, running and supporting software
Custom tailored to fit your needs
Connect Jira Software to thousands of 3rd party apps and integrations to fit any use case or development process
"Jira Software is instrumental in building and maintaining the best software on the market"
Trello
Trusted by millions, Trello is the easiest way for any team to collaborate on projects and get more done
Learn more
Organize anything
From personal to-dos and big projects to launching a startup and building a business, Trello's boards, lists, and cards are suited to any task
Work with perspective
Whether you're planning a product roadmap or bringing your product to market, Trello helps any team work together in a fun and flexible way
Simple on the surface
Spin up a Trello board in seconds flat, and customize it with the apps and features you need
"Trello is simple and intuitive and fits in perfectly with our agile way of working"
Jira Software + Trello, better together
Working in different apps doesn't mean teams can't still work together


 
Easy cross-functional collaboration
Keep technical and non-technical teams in the know about software development updates by integrating Jira Software issues into Trello
From ad hoc to operational
Easily move from ideation to building products by pushing Trello cards into Jira Software when ideas are ready for development
 
Jira Software and Trello are used by millions of people to get more done