Jira Software vs TFS
Jira Software is built for every member of your software team to plan, track, and release great software. See how it stacks up against Microsoft's TFS.
Try it free
The best project trackers let you work in any development environment
You don't settle for anything but the best for your users, so why should it be any different for your software team? Choose the one tool that's earned its place as the #1 software development tool used by agile teams.
Top reasons to go Jira Software
From an industry leading workflow engine to powerful search and reporting, Jira Software gives your team everything you need to plan, track, and release great software.
Why choose Jira Software over TFS
See what makes Jira Software the #1 software development tool used by agile teams.
Developer environment agnostic
Free your engineers to work in any developer environment they'd like. Jira Software works with every type of developer environment, meaning no team member will ever be forced to use any tool they don't want to use.
JIRA Software
TFS
Customizable dashboard with plug-and-play widgets
Create custom dashboards in Jira Software that contain all the information you need to effectively plan and track your work. Dozens of plug-and-play widgets are ready to suit any need or purpose.
JIRA Software
TFS
JIRA Software
TFS
Native mobile support
With Jira Software for iPhone and Android, your single source of truth is always in your pocket. Track team progress in real time, join the conversation from anywhere, and capture and assign issues on the go.
JIRA Software
TFS
Deep Bitbucket integration
Teams that use Jira Software and Bitbucket together release 14% more often and close 23% more issues. With Jira Software's deep Bitbucket integration, your team will enjoy full traceability from backlog to release.
JIRA Software
TFS
RBAC (role-based access control)
Jira Software supports RBAC (role-based access control) to ensure that Jira Software admins can allocate different degrees of access to users based on their role.
JIRA Software
TFS
Information effective December 8 2016
Importing from TFS is easy
Importing TFS work items into Jira Software is easier than ever. Follow these simple steps to migrate today: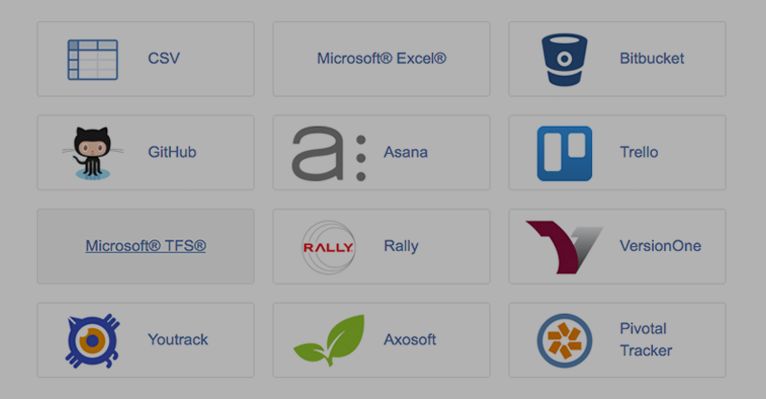 | | |
| --- | --- |
| | Access the Microsoft TFS importer in Jira Software |
| | |
| | Select the CSV file you exported from Microsoft TFS |
| | |
| | Map Microsoft TFS fields to Jira fields |
| | |
| | Run the importer |
"Jira Software is instrumental in building and maintaining the best software on the market."
VIEW THEIR STORY
TRUSTED BY OVER 35,000 CUSTOMERS WORLDWIDE

Switch to Jira Software
All the features your team needs to build great software, at a fraction of the cost. Choose Jira Software today.
Try it free