Jira Align demo center
Scroll to find demo videos, use cases, and top resources that help you understand how to leverage Jira Align and scale agile practices across your entire company.
Jira Align Product Overview
Jira Align connects the work that IT, Dev, and business teams are doing with the goals and OKRs of the organization as a whole, enabling executives to effectively manage their portfolio of projects with an outcomes-based approach.
Strategic Intent and Outcome Alignment
Learn how to set strategic objectives, align work, and prioritize initiatives. Using tools in Jira Align, see how to effectively connect strategy to execution, ensuring that everyone is working towards the same outcomes.
Agile PI Planning with Jira Align
The planning ceremony typically involves the entire agile release train aligning all of the teams to a shared mission and vision. In this short video we explore how teams can set a common goal, identify dependencies, manage risks, and set PI objectives using Jira Align.
Dependency Management with Jira Align
In Jira Align, you can create dependencies between teams, programs, and external entities. Use dependency management to ensure teams are working together to ensure work is completed on time.
Understanding Value Engineering
This video provides an overview of Value Engineering in Jira Align. Watch to learn how you can improve efficiency and decrease operating costs through analysis.
Roadmaps with Jira Align
Watch this video for an overview of Jira Align Roadmaps: a visual representation of your work. This video will cover three main verticals of roadmaps: (1) upfront planning; (2) tracking work being done; and (3) reporting.
Monitoring Risks
Watch this video to learn how to use Jira Align to monitor risk during PI Planning. Through these tools, you can improve team visibility and drive mitigation in your organization.
Tracking Work Progress
Portfolio leaders use Jira Align to track the progress of work. See how you can quickly understand the current state of strategies, goals, and associated work items tied to a portfolio.
Jira Software & Jira Align Integration
Make the most of two of Atlassian's powerful products — Jira Software and Jira Align — by learning how the integration works.
Lean Portfolio Management
Lean portfolio management (LPM) focuses on value-based outcomes over output. Learn how to align business strategy and product development with new approaches to funding, governance and portfolio operations management.
Backlog Management
Managing the backlog is often the first and most crucial step of the PI Planning workflow. Watch this video to see how you can manage your backlog in Jira Align during PI Planning.
Reporting and Analytics with Jira Align
Jira Align provides reporting and analytics capabilities at the program, portfolio, and enterprise levels. Take advantage of these out-of-the-box reports that help answer common business questions, or use tools to build your own.
Ebook
Leading a lean portfolio
Ebook
The definitive guide to OKRs
Ebook
Beyond the basics of scaling agile
Whitepaper
Use Jira Align to replace waterfall with agile practices
Blog
Four best practices for a successful virtual PI planning event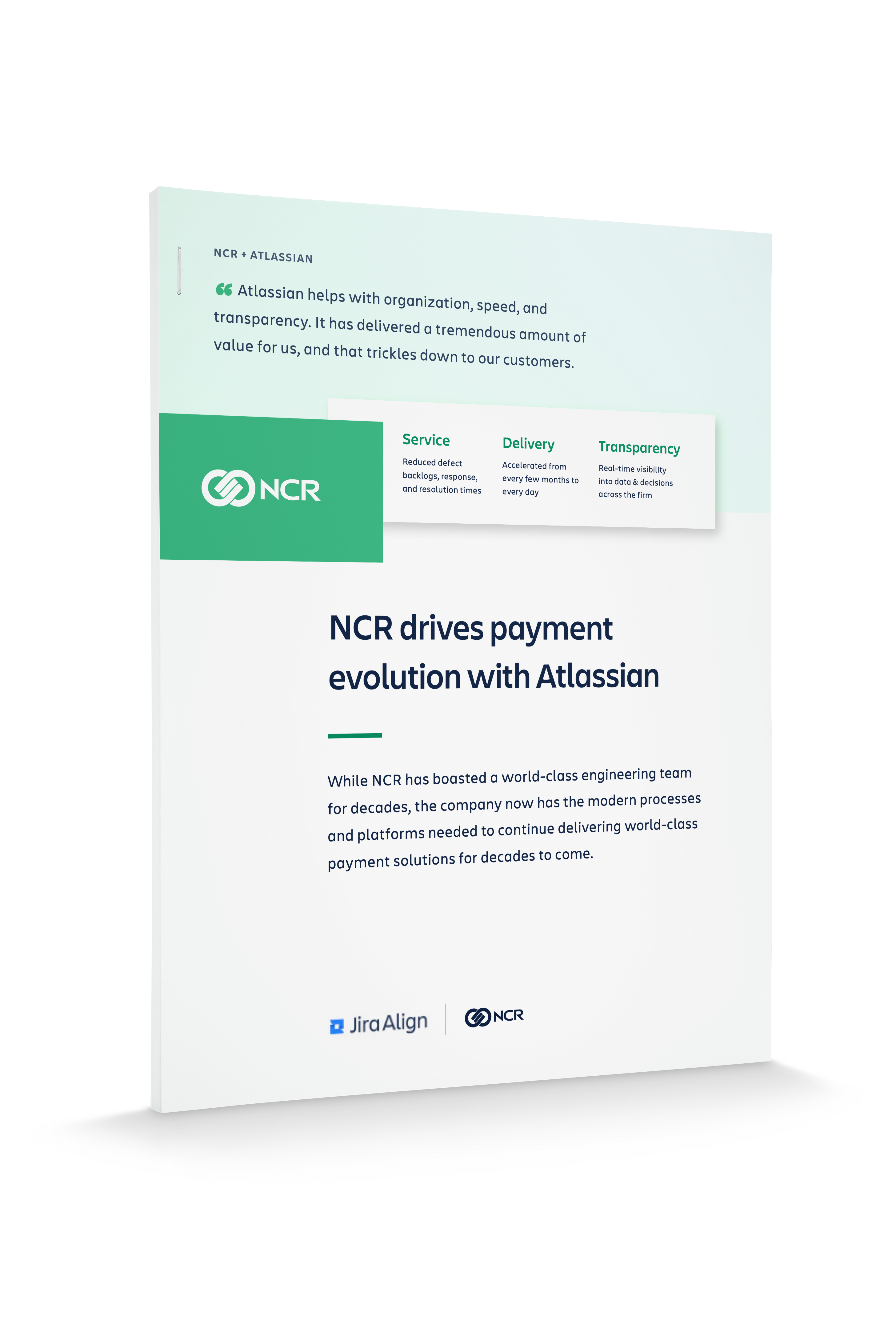 Case Study
NCR drives payment evolution with scaled agile practices and an integrated Atlassian toolset
Want to see a personalized demo?