FREE DOWNLOAD
The Atlassian approach to ESM
Executive summary
The pace of business today demands that organizations move at higher velocity. To make that happen, all kinds of teams are becoming service teams, responding to requests, triaging tasks, and continually improving. There is unique opportunity for organizations to embrace this transformation, doing away with old ways of working that constrain progress and rigid processes that restrict team agility. This is why the SaaS space is buzzing about Enterprise Service Management (aka ESM) and its promise to help organizations meet the demands of the moment.
Atlassian's principles and practical advice to help all teams deliver excellent service
Modern teams are racing against the clock to do the seemingly impossible, like supporting a remote workforce, or reshaping business models to meet a rapidly changing world. We designed Jira Service Management to enable IT teams to create and support exceptional software-driven experiences that are always on, for both their customers and their employees.
Today, over half of the service portals in Jira Service Management are created by non-IT teams. In fact, before we even heard the phrase "Enterprise Service Management," we noticed that our customers were increasingly using IT products for non-IT purposes. After diving into those use cases a bit more, a pattern became clear. IT pioneers the way, implementing service management tools and practices. Eventually other teams look to IT for support implementing these tools to manage their own work.
That's been the case at Atlassian. We have over 130 service portals helping employees with everything from IT support to taxes to swag. Jira Service Management is designed to adapt the needs of many different types of teams, like HR, marketing, and legal. Since ESM is an everyday part of our work, we thought it would be helpful to share some of what we've learned through the stories of some of our service teams. 
In this whitepaper, you'll discover just how different teams are leveraging Jira Service Management for ESM that meets the demands of the modern workforce.
Learn Atlassian's insider tips and tricks for getting ESM up and running
Check out real ESM use cases from Atlassian teams including legal, marketing, and HR
Discover the benefits of extending Jira Service Management's capabilities to service teams across your organization
PDF content preview
Workplace Experience team: Scaling service while maintaining personal connections
The team uses service request management best practices and Jira Service Management features like dynamic forms to deliver better experiences for employees.
Team
Workplace Experience oversees the day-to-day operations and management of Atlassian's office and remote experiences such as internal virtual events. This includes facilities, guest services, events, employee rewards, in-office food and beverage service, and wellness programs.
Problem
Before Jira Service Management, it was basically the wild, wild west for some time."
Rebecca Siler
Workplace Experience Manager
Everything started when our Sydney Workplace Experience team became overwhelmed with requests. They had gotten big enough that having a direct relationship with everyone wasn't possible. Sometimes people would submit requests virtually, but they were still looking for a personal connection with the people who provided these services, so there would still be pings coming though Slack and other channels.
The team was juggling the various forms, tickets, messages, walk-by questions, and one-off requests. They used spreadsheets and spent going back and forth looking through documentation pages while trying to get answers to employees. Unfortunately, things would accidentally get dropped, and the breadth of this work wasn't accurately reflected and visible to the global team.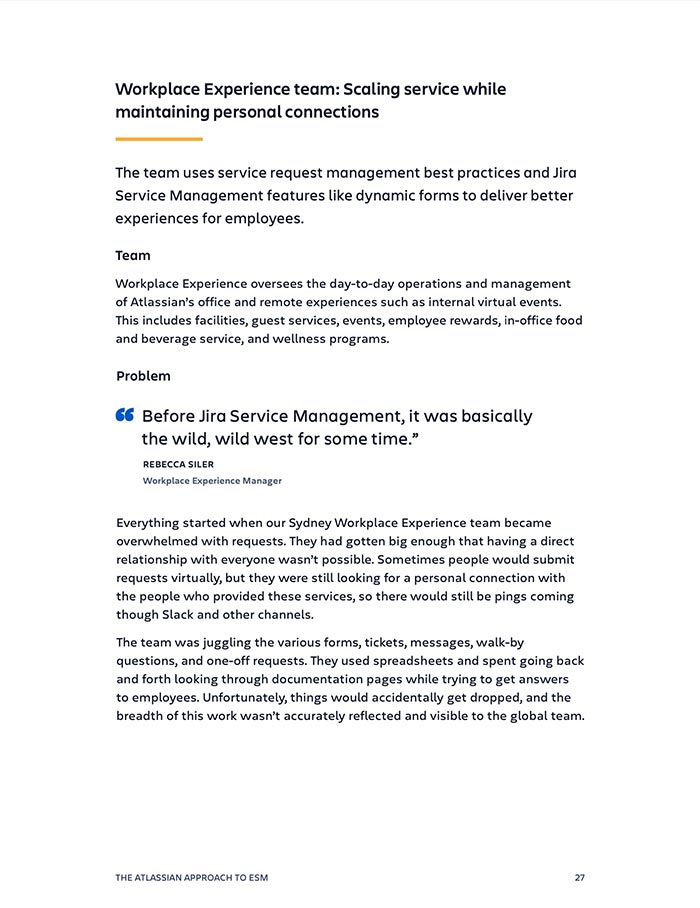 Download the Atlassian guide to ESM
Tips and tricks for delivering excellent ESM