FREE DOWNLOAD
Atlassian Cloud Security Shared Responsibilities
Executive summary
Security is a top priority and we must work together to protect your mission-critical applications and make informed decisions. Atlassian products are built with security at the core and our dedicated security teams safeguard your data by monitoring risk and responding quickly. Download the whitepaper for an overview of Atlassian's approach security and find out and what you can do to help us, help you best.
How security is implemented at Atlassian
Your role in the shared responsibility model
Threats that you may need to consider
PDF content preview
The shared responsibilities model
In Cloud, Atlassian focuses on the security, compliance, and reliability of the applications, the systems they run on, and the environment those systems are hosted within. We ensure your systems and environments are compliant with relevant standards, including ISO27001, SOC2, GDPR, and many others that live with our Trust Center.
You, our customers, manage the data within your accounts, the users and user accounts accessing your data, and control which Marketplace Apps (formerly called "add-ons") you install and trust. When using our applications, you are responsible for ensuring your organization is using our products in a compliant way.
In this paper, we will discuss the actions we take to protect your data, and how Atlassian can best help you as we embark together.
Our guiding principles
Atlassian is well known for our values, and those values genuinely influence everything we do — including our approach to shared security responsibilities in Cloud. In practice, our values have led us to the following guiding principles about shared responsibility:
One team
We're on the same team, and our customers are the motivating factor of everything we do. We strive to support you and meet your requirements along the way.
Trust in transparency
We know that honesty and integrity are key to any relationship. We will be as transparent as possible about the way we do things.
Prioritize platform reliability
We've built our platform and infrastructure to support your organization today, as well as in the future. It is our responsibility to ensure our products are resilient and available for you when you need them and as you scale.
Defense in depth
We implement layered controls and make sure all parties who are a part of the Atlassian ecosystem are rowing in the same direction.
The pillars of Trust at Atlassian
Trust in Cloud is our top priority, and with Atlassian Cloud, we take on responsibilities of hosting and maintaining infrastructure your products run on. This is a foundational layer of Trust, and each of the subsequent pillars (reliability, security, privacy, and compliance) builds upon our infrastructure and architecture practices. We believe in being transparent about the practices and processes we use with our Cloud products, so you are informed and feel secure as our partner.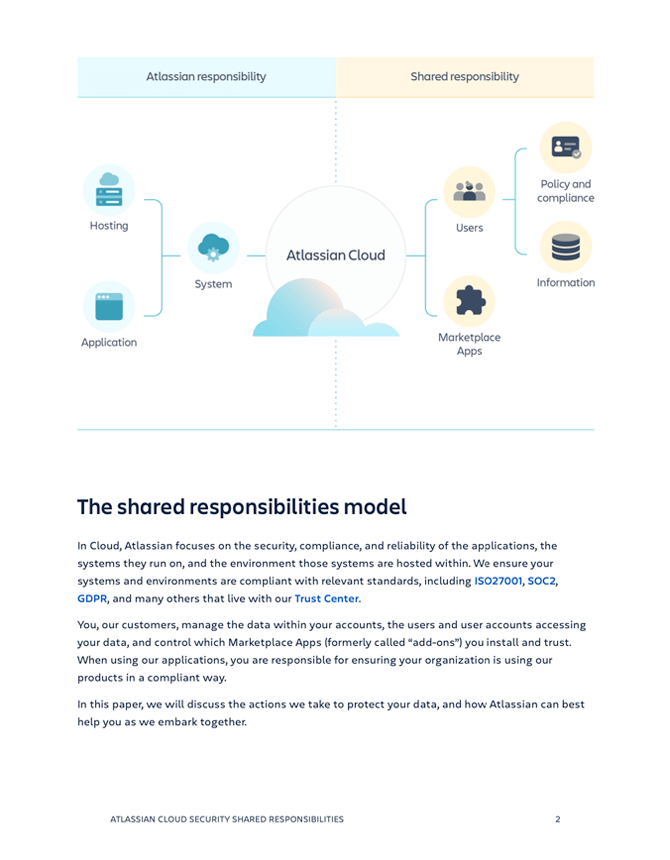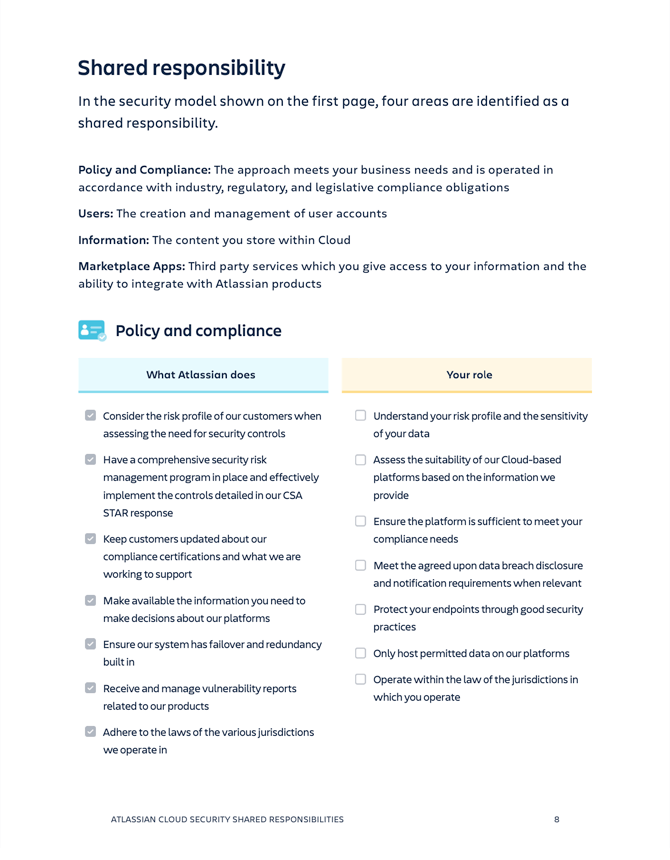 Download the complete report
Atlassian Cloud Security Shared Responsibilities