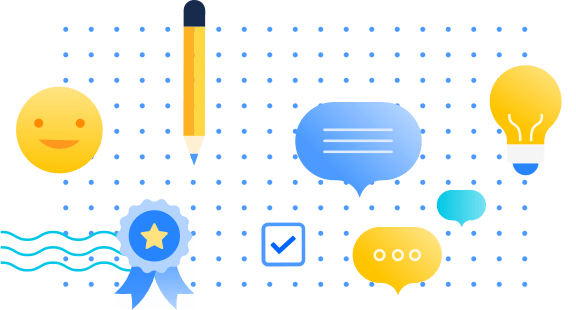 Perks and benefits
---
United States perks & benefits
3 min read
Atlassian offers a variety of perks and benefits to support you, your family and to help you engage with your local community.
Mental wellbeing
We offer free and confidential tools to help you navigate your mental wellbeing. This includes coaching, therapy, consultation, instructor-led wellness classes, meditation sessions, referrals for parenting resources and childcare services, and more. We also offer referral and counseling services for you and folks in your household — available 24 hours a day, 7 days a week.
Ongoing education & resources
Access to education, training, and resources is critical to achieving goals and moving forward! To help, we offer an annual learning budget, a library of 7,000+ online development courses, and a business book portal to help cultivate new interests. 
Bright Horizons
Atlassian partners with Bright Horizons to help employees manage personal, work, family, and personal responsibilities.
With Bright Horizons Back-Up Care, employees have access to backup care for their children, adults, and elderly family members.
Distributed working allowance
No matter where you're working from, we want to ensure you're set up for success. To support, we provide tools and generous financial support to complete an ideal workspace that suits your needs.
Insurance
Atlassian is committed to offering employees health and life benefits designed to meet the needs of Atlassians and their families. We partner with Collective Health, Anthem, VSP, Kaiser (California only), and The Standard. Atlassian pays 100% of the monthly premiums for employees and eligible dependents.
Anniversary awards
We truly value our people, teams, and the incredible work they produce! Starting on your 3rd anniversary, all eligible team members receive 3 extra days off. And after 5 years, Atlassian provides reimbursement for a trip.
Family Formation
We provide Atlassians with inclusive and comprehensive family formation benefits. This includes fertility health, assisted reproduction (like in-vitro fertilization), fertility tissue preservation (like egg or sperm freezing), adoption, gestational surrogacy, menopause, and more.
401(k)
Our 401(k) offers the opportunity to save and invest part of your income. Contributions can be pre-tax, Roth 401(k) after-tax, and additional after-tax deferrals up to the IRS limits. To help bulk up your savings for retirement, Atlassian offers a very generous 4% company match with 100% immediate vesting.
Atlas Shop
Our Atlas Shop offers everything from cash back at hundreds of stores to discounts from exclusive partners on everything from fashion, electronics, classes, and entertainment.
Financial wellness
We partner with financial wellness providers to assist you with unlimited comprehensive financial planning advice, smart budgeting, spending analysis and more.
FSAs & HSAs
We offer flexible spending accounts (FSAs) and health savings accounts (HSAs) through SmartChoice. This enables you to set aside pre-tax funds to cover approved out-of-pocket expenses for both healthcare and dependent daycare.
Paid time off & leave
Atlassian encourages employees to step away from work to relax, recharge, and spend time solo or with family and friends! In addition, tap into foundation time and unpaid or bereavement leave — for the moments that matter in life.
Parental leave & support
Becoming a parent is a major milestone. To support caregivers with spending time with their families, we provide:
26 weeks of paid leave for birthing parents and 20 weeks of paid parental leave for non-birthing parents.
Programs to assist in combining a career with caring for dependents.
Access to a dedicated parent and caregiver portal with resources to help you navigate parental leave and caregiving needs.
We provide your family with a dedicated Care Coordinator, who can help you tackle things like the logistical and administrative tasks of caring for the ones you love, including yourself.
Due to the Transparency in Coverage requirement, please click here to access machine-readable files for our in-network negotiated rates and out-of-network allowed amounts in a machine readable format.
Flexible working arrangement
We understand that life happens outside of work. That's why we don't expect a typical 9 AM - 5 PM schedule to work for everyone — we offer flexibility for you to do your best work in a way that works for you.
Fitness reimbursement
We provide an annual stipend to reimburse fitness and wellness expenses — like taking cycling classes, joining a tennis league, or buying a new yoga mat (for you and your eligible family members).
Foundation
We encourage you to take 5 paid days each financial year to volunteer with your favorite charity. For every $1 you donate, up to $1k, Atlassian will match your contribution.
Employee referral program
We're always looking for great talent! If a referral is hired full-time, the referring Atlassian will receive a bonus once the new starter has been with us for 3 months.
Fitness classes
Because exercise is a key part of a healthy and active lifestyle, we made it easy to stay fit while working from wherever you are. Our list of free virtual (in person, when available) classes includes yoga, pilates, outdoor fitness, circuit training, and dance classes. 
Neurodiverse family support
We partner with a program specializing in caring for children and adults with learning, social or behavioral differences. This program provides family support for parents, caregivers and students with schooling (including virtual school), fostering independence, establishing schedules and routines, managing screen time, sibling interaction, self-help, behavior, and much more.
Join the Atlassian Talent Community
Don't see an exact role match? No problem! Join our Talent Community and stay up-to-date on company and careers updates relevant to your career.