Team collaboration and culture at scale
Confluence Data Center is a self-managed content collaboration solution that changes how modern enterprise teams work
Try it free
Keep work moving forward
When your team creates documents, provides feedback and iterates on work in Confluence, maintaining a constant flow of communication is mission-critical. Confluence Data Center's active-active clustering model helps you minimize downtime and gives enterprises uninterrupted access around the clock.
---
Deliver consistent performance at scale
As your team grows and collaborates on more work in Confluence, you need a fast and simple way to scale. Add a node or change load distribution to ensure your team can continue to work together without sacrificing performance.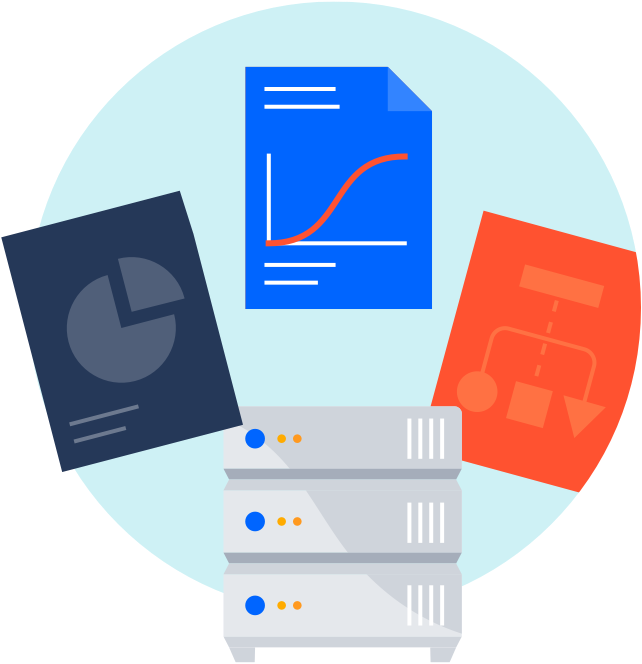 Ensure business continuity
Confluence is a central place to keep your team's work organized and accessible, so you can't afford to lose this information if something goes wrong. With Confluence Data Center, we've got you covered with full disaster recovery.
---
Made for every team
Teams change and teams grow. Confluence Data Center is a flexible platform that supports the way your team works and can be customized to fit any and every type of need. Choose your infrastructure and control access with easy and flexible administration.
Is your team ready for Data Center?
Not sure if your team is ready to make the leap to Confluence Data Center? Download our PDF and learn what signs to look for and best practices for pitching Confluence Data Center to your team (or boss).
Download PDF
Enterprises benefit from Confluence Data Center
Confluence Data Center provides uninterrupted access, making it easier for enterprise teams to collaborate. Learn more in our guide for success.
High availability
Minimize downtime and give users uninterrupted access to critical applications with active-active clustering.
Predictable cost
License by user-count, not by your architecture. Scale, back up, and stage your environment without additional license costs.
Concurrent user capacity
Add nodes to the Data Center cluster to instantly increase capacity for concurrent users without sacrificing performance.
Load-balancing
Use any industry-standard load balancer (software or hardware) to intelligently distribute load and improve performance.
Disaster recovery
Ensure business continuity and maintain recovery time objective even in the face of complete system or location outage.
Collaborative editing
Teams can share drafts, create content together and give feedback in real-time to keep projects moving forward, faster.
Once we started putting everybody's content into Confluence - all of the tech. support, operations teams - we needed to have access to our information 24/7. One server was not going to be sufficient for us. We couldn't build a failover with a single-server situation.