Atlassian 2017
State of Diversity Report
The tech industry's diversity challenge has long been a conversation for the C-suite and Heads of Diversity and Inclusion (D&I). While commitment from the top is important, diversity is ultimately about employees and creating a fairer and more equitable workplace for everyone. To truly understand how the industry measures up we need to broaden the lens and hear from frontline tech workers. Are their experiences and conversations the same? Has the presidential election changed their outlook on diversity?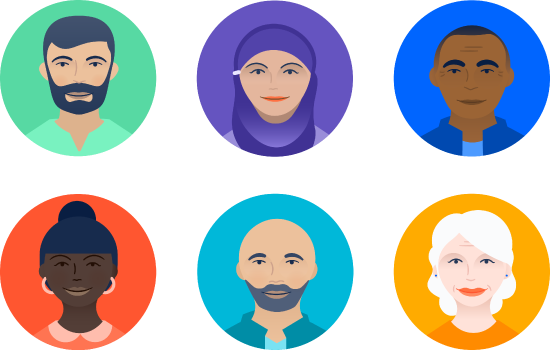 Atlassian's 2017 State of Diversity Report surveyed more than 1,400 tech workers* across the United States, providing the first ever look at how tech employees perceive diversity progress within their industry, and in light of the current socio-political climate. The results were varied: the election has led to an increase in diversity awareness and a new sense of urgency to take action, but some are worried their company's diversity efforts will be stifled. Interestingly most believe change will be driven by individuals and companies rather than government.
But perhaps the most shocking revelation is that, while most say they value diversity and want to do something about, there's a serious lack of understanding about what diversity really means or what progress looks like. Many say their companies are already diverse and need no improvement, but industry numbers make clear the lack of people from one or more marginalized groups.
Atlassian's mission is to unleash the potential in every team, diversity is core to that mission – diverse teams perform better. We plan to use these results to refine our own diversity efforts, and we hope our industry partners, customers, and peers do the same. Our industry is predicated on solving impossible problems, and tech has an exceptional power to influence the broader business community. It's imperative we transcend competition and share our knowledge with our allies. Only then can we can approach this challenge together, and act collectively to make a powerful difference.
Tell us how you are pushing for change, and share your best diversity tips using #teamup4diversity. 
Aubrey Blanche
Atlassian's Global Head of Diversity & Inclusion
*Results representative of 1,400 tech workers surveyed across the United States. Tech was defined as any business that creates technology goods or services. Employees did not have to work in a technology field or have a role that is technical in nature.
Trump's win: what tech workers say it means for diversity
Diversity and race were strong undertones of the recent election, spurring conversations nationwide on issues of immigration, women's rights and racial justice. Our data shows these national concerns have trickled down to tech workers and impacted their sentiments about diversity in a meaningful way.
CHANGES IN BEHAVIOR SPURRED BY THE ELECTION
Despite these positive changes, there are fears about what the election means for broader diversity efforts.
believe we've actually taken a step back.
predict the election will hurt their company's existing diversity efforts; just 12% think it will help.
Taken together, we should see these beliefs as an opportunity. More people are seeing and acting against the practices and institutions that disproportionately disadvantage the most marginalized among us. We should seize this energy, and help direct it towards meaningful initiatives that drive positive change for those underrepresented in the workplace.
The key to diversity and inclusion progress: individuals and companies
With fear but a desire for action brewing under the surface, what's the most effective way to move forward on diversity? 
People believe a "bottoms" up approach will be most effective. When asked to stack rank the impact of each of the following on D&I, individuals and companies clearly took the lead, showing up in the top two 57% and 54% of the time, respectively. Far fewer have faith in the national or local government, or the legal system to make a difference. 
BIGGEST DRIVERS OF IMPACT FOR D&I
Fortunately, many companies seem to be acknowledging this reality...
say D&I initiatives are important to their company.
say their company has a diversity program of some kind in place; only 17% say their company has no diversity program whatsoever.
AREA PEOPLE THINK THEIR COMPANY MADE THE MOST PROGRESS ON IN THE LAST YEAR
...and these initiatives seem to be making somewhat of an impact.
While this is a good start, there's still room for improvement: 18% of employees say their company has made no progress in any of these areas. 
We also surveyed tech workers on their general sentiments toward existing diversity efforts.
say D&I is important or very important; only 4% think it's not important.
say other employees* support diversity; only 2% say their peers are against it.
*excludes executives and D&I leaders
PROGRAMS TO ADOPT OR ALREADY IN PLACE
|   | Want Company to Adopt | Company Already Has in Place |
| --- | --- | --- |
| Issue a diversity report | 30% | 46% |
| Create safe spaces for majority groups to talk about diversity | 28% | 49% |
| Focus on team diversity and inclusion | 27% | 58% |
| Hiring initiatives | 26% | 60% |
| Event sponsorships | 25% | 58% |
| Forming employee resource groups or affinity groups | 24% | 54% |
Employees gave us insight into what they are seeing at their companies at a more tactical level.
A gap between perception and reality
Despite the general sentiment that diversity is important and companies are making an effort (to varying degrees) to support it, when we get more granular we start to see discrepancies between the perception of diversity and reality on the ground. General consensus is only about 2% of the tech workforce is Black and 3% Latinx, while 24% of the technical workforce identifies as female. Now compare that to our results: 83% say their company is already diverse, and 79% think the average team at their company has a diverse set of team members. 
Moreover, roughly 94% of respondents gave the tech industry, their companies and their teams a passing grade for diversity. To better understand how people came to this conclusion, we asked respondents to explain their thinking. 
Top Reasons For Giving Companies a Passing Grade
60
%
say at least their company is making an effort, even though they gave no indication of concrete action.
"I feel they can do more, but they are trying. So, can't knock them for it."
"The intention and acknowledgement that there needs to be more diversity and inclusion within the tech industry is there, but the follow through is not." 
48
%
say their company already has great diversity, or at least relatively speaking.
"Multiple ethnicities represented at my company."
"Our company employs more females, African Americans and Hispanics than most tech companies do." 
20
%
say their company is a meritocracy, and everyone is treated equally.
"We hire based on skill and a potential employee's added value to the company. It would be foolish to hire based on race/sex. I welcome diversity, but not if it is forced."
"We have a very diverse team and hire based on a meritocracy" 
19
%
say their company has an inclusive culture that's welcoming to everyone, and everyone works well together.
"We are always inclusive to the point where we don't see race, we see people."
"We don't focus on diversity and aren't naturally fairly diverse, but I wouldn't consider it an exclusionary culture." 
Where do we go from here?
There's no question that solving tech's representation challenges to achieve true diversity is hard. But no matter where your company or team currently sits on the diversity continuum, there is a way forward. Armed with a better sense of where the most common gaps in understanding are, we can interrupt bias and help our industry become the meritocracy it should be.
This requires investment at every level: companies must correctly analyze the diversity of their organizations, functions and teams; they must equip their employees with actionable strategies to help them create the kinds of inclusive environments that attract and sustain diversity; and individuals must understand the true state of diversity in tech, and contribute to practices that change their teams, companies and the industry culture for the better.
Share your experiences and tips: #teamup4diversity
Click here to download a full summary of survey statistics.
The survey was conducted on behalf of Atlassian by Market Cube in January 2017 among 1,411 American workers employed in the tech industry at companies of 20 employees or more. Respondents were drawn from a diverse range of geographies and job roles. The margin of error is 2.6%.