Jira Software versus Redmine
Jira Software is built for every member of your software team to plan, track, and release great software. See how it stacks up against Redmine.
Jira Software versus Redmine
Redmine is an open-source issue tracking tool. Unlike Redmine, Jira Software comes out-of-the-box with full agile functionality so your team can focus on shipping value to customers instead of installing and customizing Redmine.
Roadmaps
Maak een totaalbeeld en zorg ervoor dat het werk van je team in de roadmap is opgenomen.
Agile borden
Passend voor je kader: je teams kunnen zich met Scrum- en Kanban-borden richten op het sneller leveren van klantwaarde.
Workflowengine
Ga snel aan de slag met vooraf gedefinieerde workflows of ontwerp je eigen workflow.
DevOps-statistieken
Zet informatie van je developertools in Jira en krijg meer inzicht in je softwarepipeline.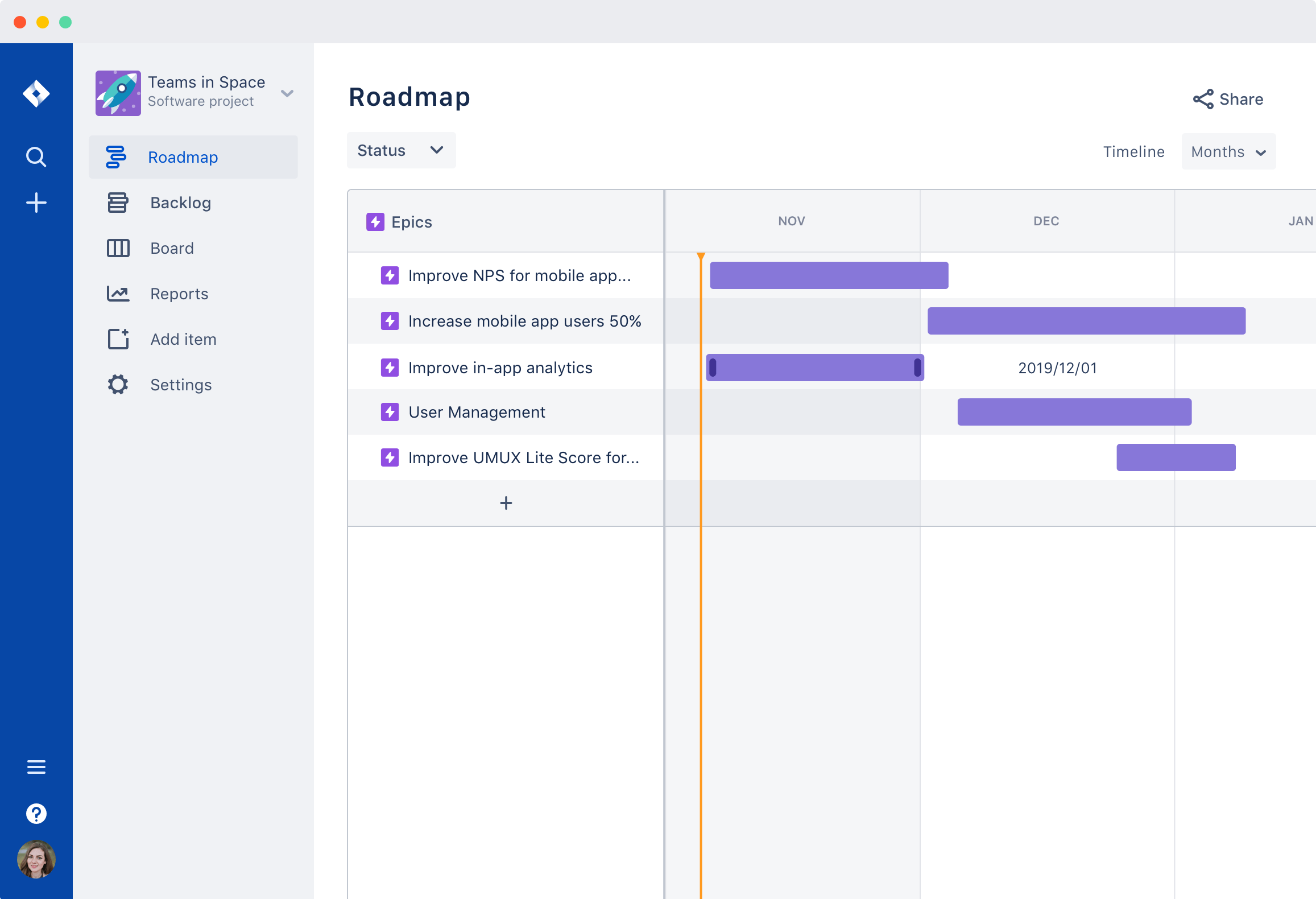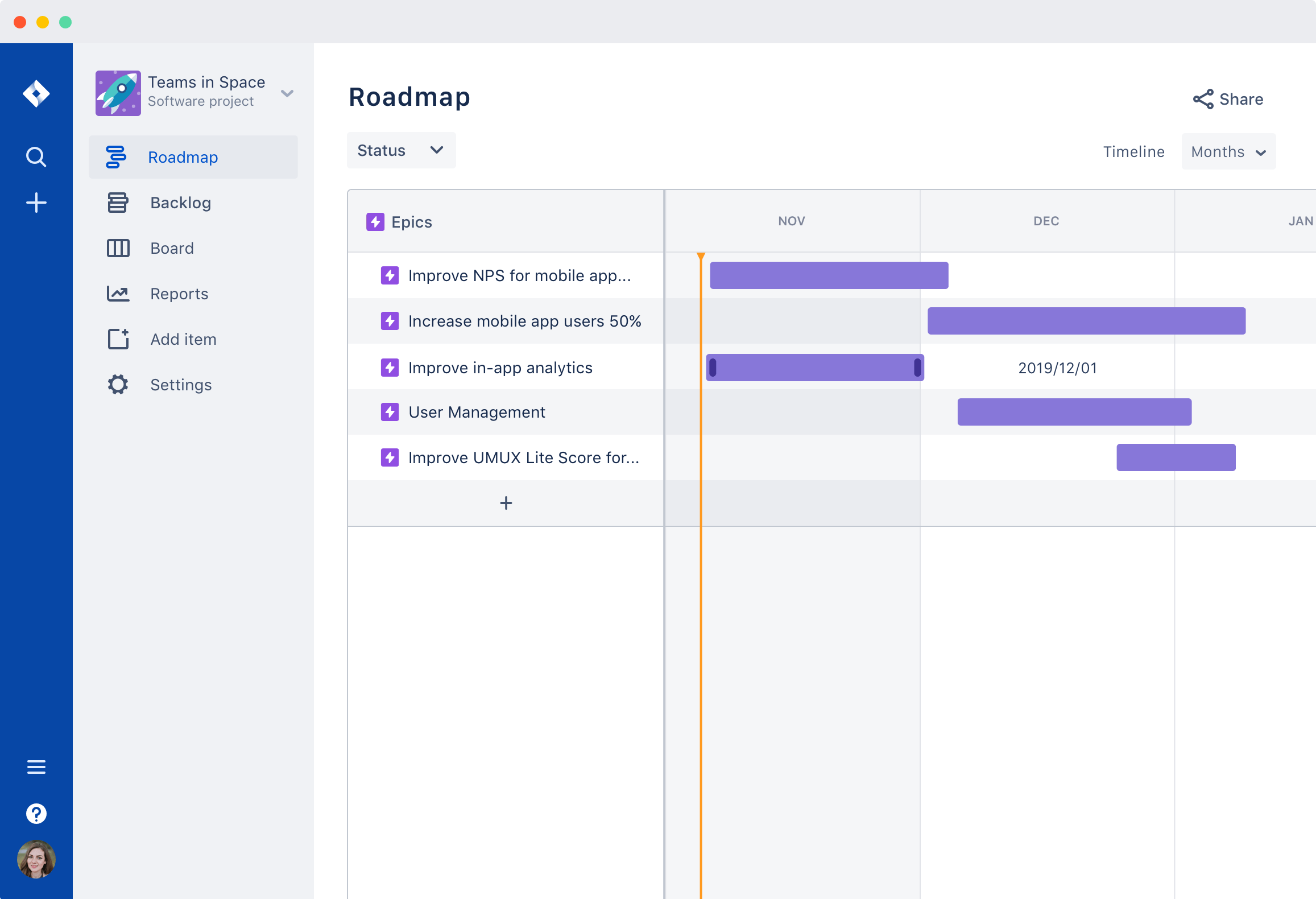 Wat maakt Jira Software beter dan Redmine?
See what makes Jira Software the #1 software development tool used by agile teams.
Feature Comparison

Jira Software

Redmine

Out-of-the-box agile support

Support for Scrum, Kanban, and any framework in between. Teams can begin with a lightweight approach and then progressively add more features.

Requires 3rd party plugin

Get started quickly and easily adapt to change

Get started today, no lengthy setup or implementation projects required. Teams can start work immediately and iteratively add more features as they go.

Customizable workflow engine

Regardless of your team's size or structure, Jira Software's dynamic workflow engine can be mapped to your team's unique workflow.

Drag and drop interface

Update tasks on your boards with ease. Use Jira Software to move issues and prioritize tasks with a simple drag and drop.

Built-in roadmaps

Quickly create a timeline of your plans, update your priorities as they change, visualize dependencies, and communicate the status of work to your stakeholders.

Customizable dashboard

Create custom dashboards in Jira Software that contain all the information you need to effectively plan and track your work.

Requires 3rd party plugin

Comprehensive agile reporting

Teams have access to more than a dozen reports with real-time, actionable insights into how their team is performing sprint over sprint.

Powerful search

Jira Software comes with advanced search capabilities powered by Jira Query Language that offers teams detailed views into their work.

REST APIs

Integrate Jira Software with the tools that your team is already using by leveraging our robust set of APIs.

Marketplace with 1,000+ plug-and-play add-ons

Over 1,000 plug-and-play add-ons from the Atlassian Marketplace extend Jira Software to fit any use case or development process.

Enterprise-ready

Jira Software provides high availability, performance at scale and advanced security features like encryption at rest.
Information effective July 24 2019
'Hoewel Jira geen opensourceprogramma is, heeft het veel meer API-mogelijkheden en een veel gevarieerdere plugin-infrastructuur, wat meer opties biedt om de tool aan te passen aan de vereisten van je bedrijf.'
Manikant M
Vertrouwd door meer dan 65.000 klanten wereldwijd

Stap over naar Jira Software
All the features your team needs to build great software, at a fraction of the cost. Choose Jira Software today.