Jira Software 与 Bugzilla
Jira Software is built for every member of your software team to plan, track, and release great software. See how it stacks up against Bugzilla.
选择 Jira Software 的主要原因
From an industry leading workflow engine to powerful search and reporting, Jira Software gives your team everything you need to plan, track, and release great software.
路线图
描绘整体概况,并确保您的路线图与团队工作相关联。
敏捷看板
适合您的框架:Scrum 和看板可确保您的团队专注于更快实现客户价值。
工作流引擎
借助预定义工作流快速入手,或设计自己的工作流。
DevOps 指标
将信息从您的开发工具中引入 Jira,并掌握软件管道的情况。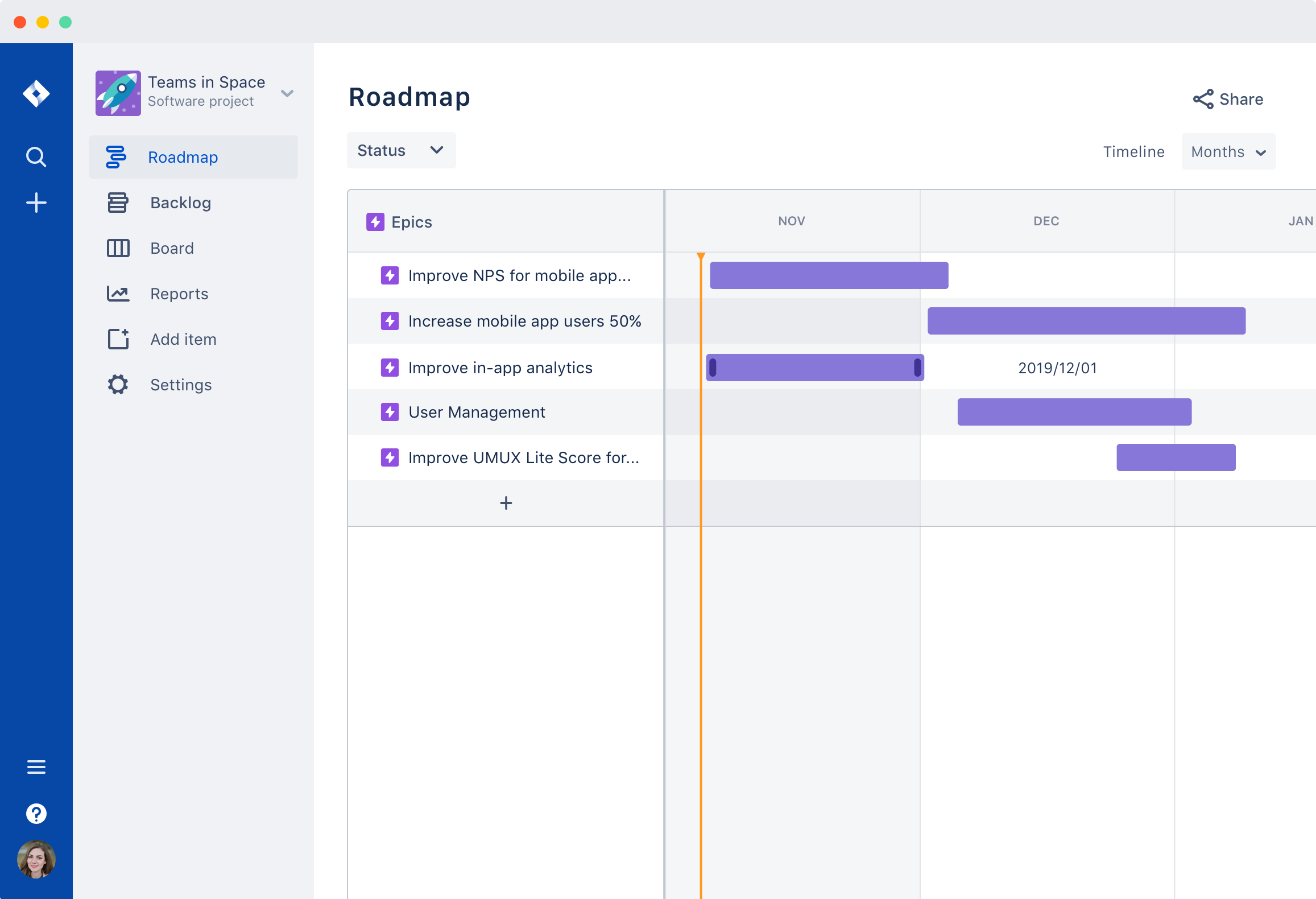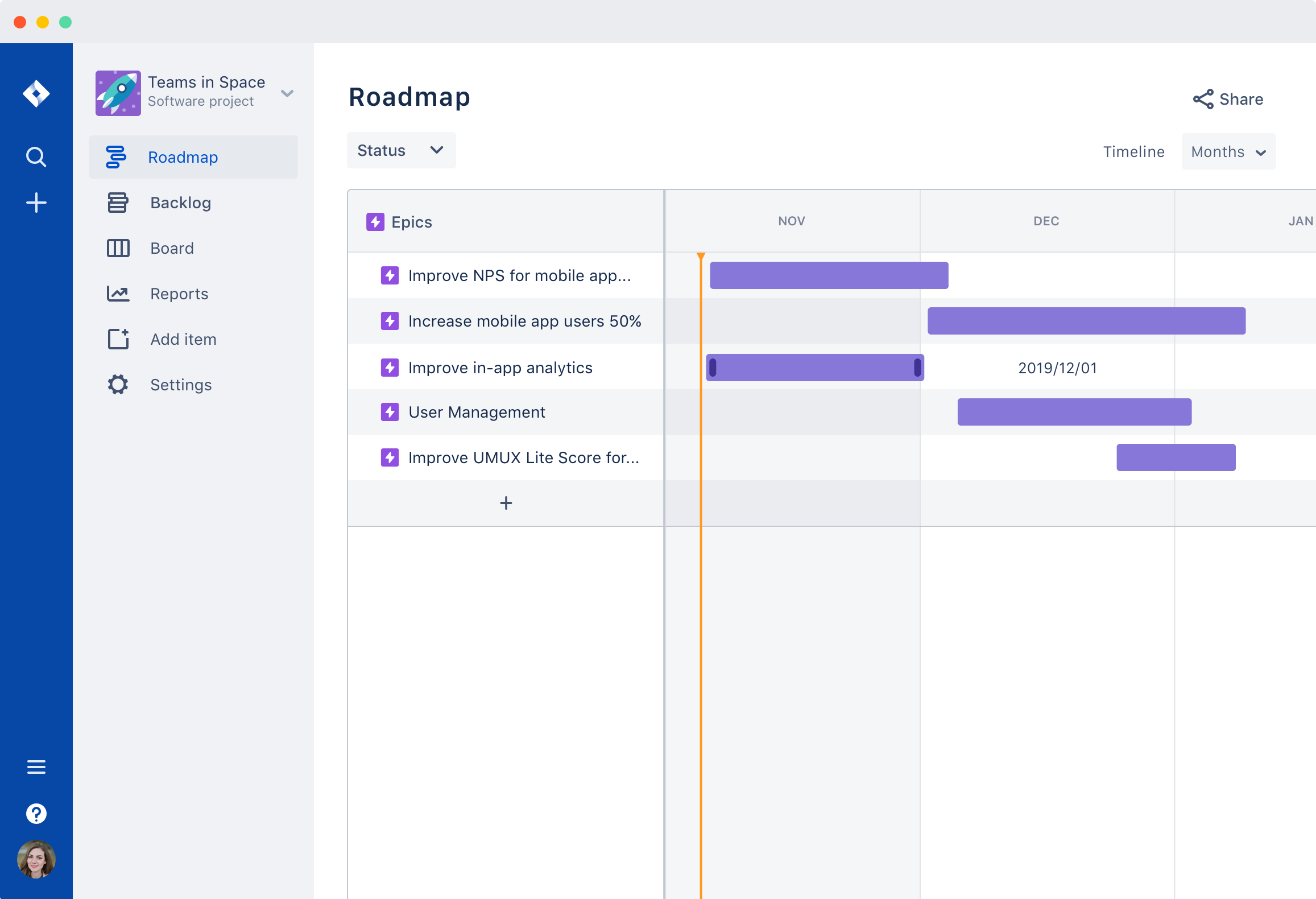 为何选择 Jira Software 而不是 Bugzilla?
See what makes Jira Software the #1 software development tool used by agile teams.
Feature Comparison

Jira Software

Bugzilla

Agile planning and reporting

Plan, prioritize, and iterate on your team's work with ease in Jira Software. Gain real-time, actionable insights into how your team is performing sprint over sprint.

Scrum and kanban boards

Scrum and kanban boards allow you to raise the visibility of work items across your team and ensure everyone is always working on the highest priority issues.

Drag and drop task prioritization

Update your tasks and your team with ease in Jira Software. Transition issues and prioritize tasks with simple drag and drop functionality.

Dashboard with customizable gadgets

Create custom dashboards in Jira Software that contain everything you need to plan and track your work. Fill these dashboards with customizable gadgets that suit any need.

Customizable workflow designer

Jira Software's flexible workflow engine allows you to design and deploy custom workflows that map to each team's unique work process.

Real-time release tracking

Jira Software brings real-time visibility and an up-to-date status of your team's next release, all in one handy location that's always at your fingertips.

REST APIs

Integrate Jira Software with all of the tools that your team is already using by leveraging its robust set of APIs.

Marketplace with 1,000+ plug-and-play add-ons

Every software development team works differently. Install 1,000+ plug-and-play add-ons from the Atlassian Marketplace to extend Jira Software to fit any use case or development process.

Runs on cloud and server

Deployment flexibility is key. Utilize Jira Software in the cloud or run it on your own server, the choice is yours.

Data center deployment

Perfect for enterprises or teams who require high availability and performance at scale, Jira Software Data Center gives your entire organization peace of mind for this mission critical application.
Information effective July 24 2019
"我认为转而使用 Jira 是我们公司能做出的最好决定之一。从冲刺面板(提高整个公司产品决策的可见性)到 Slack 集成(我们会在请求单更新时收到实时通知),我们对业务需求实现了端到端的覆盖。"
赢得全世界 65,000 多家客户的信赖
转用 Jira Software
All the features your team needs to build great software, at a fraction of the cost. Choose Jira Software today.