Confronto tra Jira Software e Rally Software (in precedenza CA Agile Central)
Jira Software is built for every member of your software team to plan, track, and release great software. See how it stacks up against Rally Software.
Confronto tra Jira Software e Rally Software (in precedenza CA Agile Central)
Rally limits teams to operate according to its definition of agile. With Jira Software, your team can customize its workflow according to whatever flavor of agile works for your team.
Roadmap
Traccia il quadro generale e assicurati che la roadmap sia connessa al lavoro di tutto il team.
Bacheche agile
Adatta il framework: le board Scrum e Kanban consentono al team di concentrarsi sull'offerta di valore ai clienti, più rapidamente.
Motore dei flussi di lavoro
Inizia rapidamente con i flussi di lavoro predefiniti o progettane altri personalizzati.
Metriche DevOps
Importa le informazioni dagli strumenti di sviluppo in Jira e ottieni visibilità sulla pipeline del software.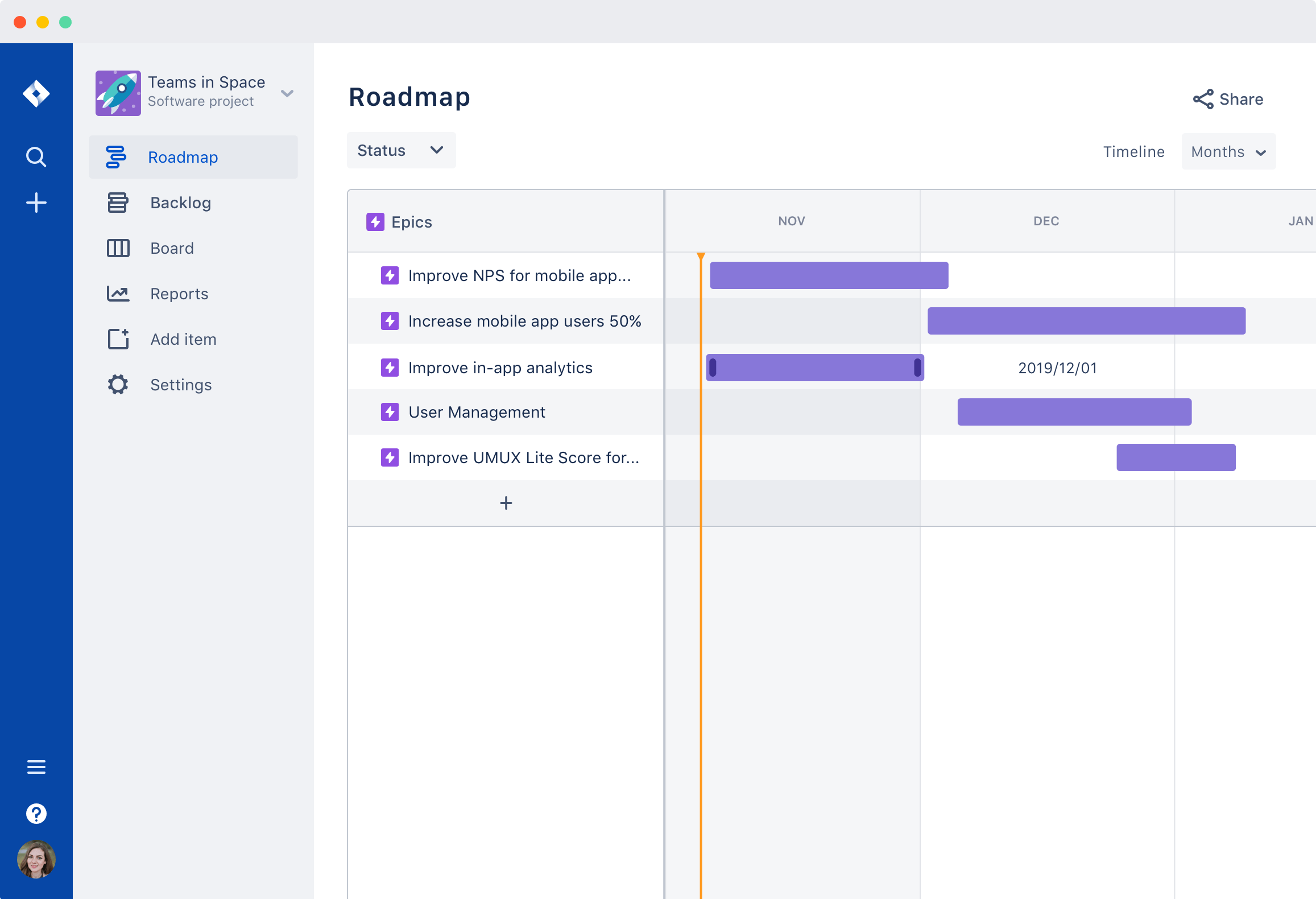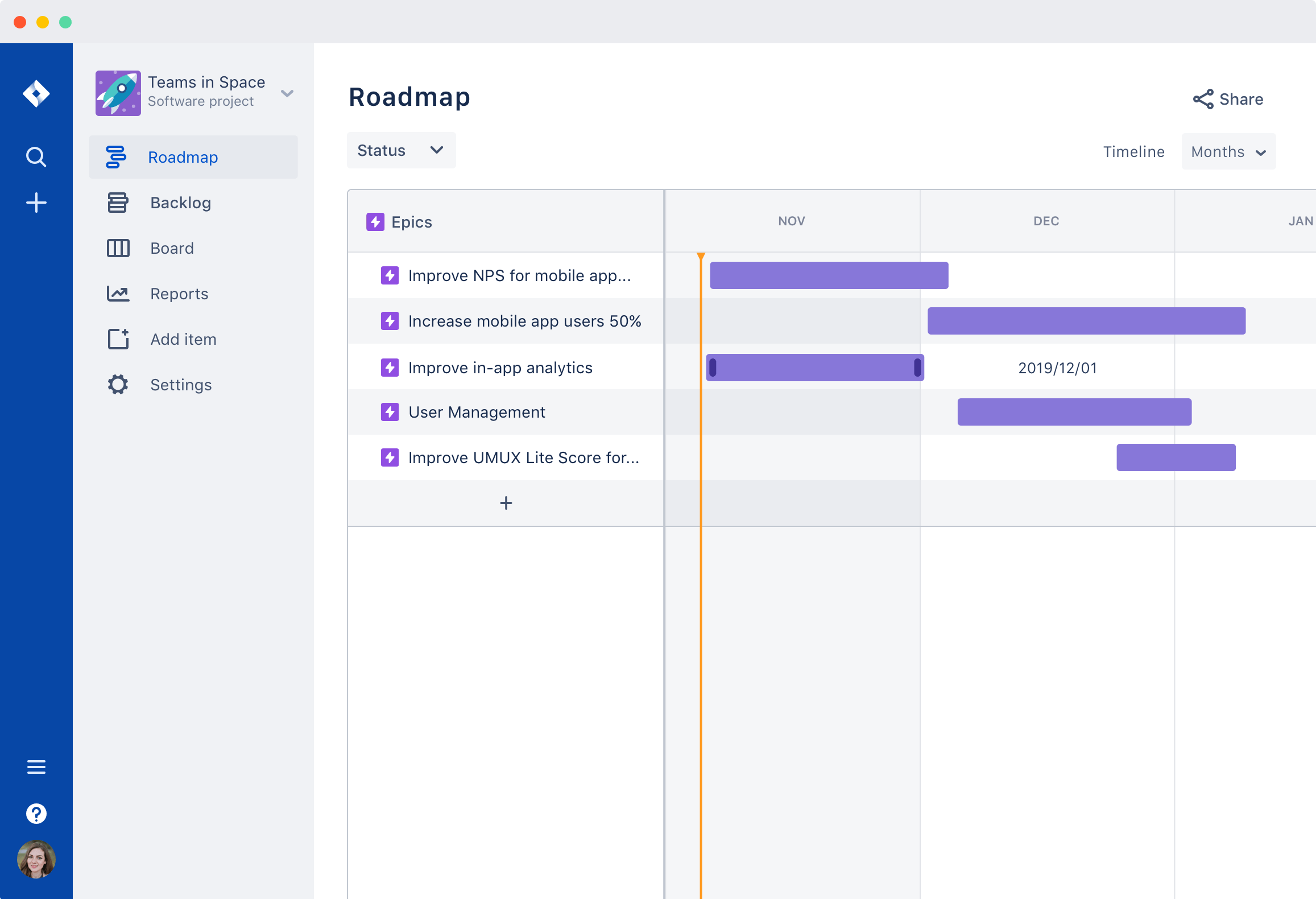 Perché preferire Jira Software a Rally?
See what makes Jira Software the #1 software development tool used by agile teams.
Jira Software

Rally

Get started quickly and easily adapt to change

Get started today, no lengthy setup or implementation projects required. Teams can start work immediately and iteratively add more features as they go.

Customizable workflow engine

Regardless of your team's size or structure, Jira Software's dynamic workflow engine can be mapped to your team's unique workflow.

Marketplace with 1,000+ plug-and-play add-ons

Over 1,000 plug-and-play add-ons from the Atlassian Marketplace extend Jira Software to fit any use case or development process.

Built-in roadmaps

Quickly create a timeline of your plans, update your priorities as they change, visualize dependencies, and communicate the status of work to your stakeholders.

Customizable dashboard

Create custom dashboards in Jira Software that contain all the information you need to effectively plan and track your work.

Comprehensive agile reporting

Teams have access to more than a dozen reports with real-time, actionable insights into how their team is performing sprint over sprint.

Powerful search

Jira Software comes with advanced search capabilities powered by Jira Query Language that offers teams detailed views into their work.

Agile portfolio management tool

Get visibility across all teams and projects with Advanced Roadmaps . Forecast release dates, manage team resources and track progress with real-time planning.

Enterprise-ready

Jira Software provides high availability, performance at scale and advanced security features like encryption at rest.

Transparent pricing

Scale your team with transparent pricing . No need to "contact us" and talk to a salesperson, instead get started in minutes with no credit card required.
Information effective July 24 2019
"Jira abbraccia la vera filosofia Agile offrendoti una piattaforma semplice ma ampiamente personalizzabile per implementare le procedure e gli elementi più adatti al tuo caso d'utilizzo/progetto. Inoltre, include un set completo di funzioni preconfigurate per tutti gli elementi delle molteplici tecniche di gestione dei progetti Agile."
Jorge S.
Scelto da più di 65.000 clienti nel mondo
Passa a Jira Software
All the features your team needs to build great software, at a fraction of the cost. Choose Jira Software today.