Confluence Data Center:
optimized for scale
Strike a balance between growth and control of your Confluence instance.
Confluence connects teams within your organization, empowering teams to innovate at scale. If you're experiencing rapid and unanticipated user growth, work stopping when Confluence is down, or are in need of a disaster recovery plan, it may be time to upgrade Confluence Data Center.
In this guide, we'll run through everything you need to know about making the switch.
01
Data Center: optimized for scale
Built for administrators who prepare for the future
Confluence Data Center is a self-managed enterprise edition that gives you the reliability and compliance your organization demands, with the infrastructure to manage team growth without compromise.
In addition to the capabilities available in our Server product, our Data Center products offer a number of features and added benefits, such as:
Scale and performance
Data Center products are built to scale as you grow. Use your current infrastructure, or use a clustered environment and add nodes without downtime or hits to performance.
Security, compliance and governance
Get the comprehensive security, compliance and controls you need without slowing your teams down.
Infrastructure and automation
Deploy on-premise or with IaaS vendors like AWS and Azure to best suit your company's existing investments.
Reliability and stability
Keep business running smoothly with rate-limiting, clustering and a disaster recovery strategy.
Apps and extensibility
Data Center approved apps are purpose-built and verified for response times, scale and supported databases.
Additional support
Free access to Atlassian Priority Support for the first 180 days of your license - which includes higher SLAs, faster triage and resolutions.
Innovate at scale
Empower teams and drive success with the horizontal scalability required for seamless collaboration.
Grow fast, grow smart
Scale with confidence and build a long-term strategy for scaling teams, applications, and infrastructure.
Tools you can trust
In the face of tough compliance, usage, and geographic constraints, your business can depend on our tooling and practices.
Balance autonomy and control
As growth accelerates, Data Center balances team autonomy with the right controls, and governance.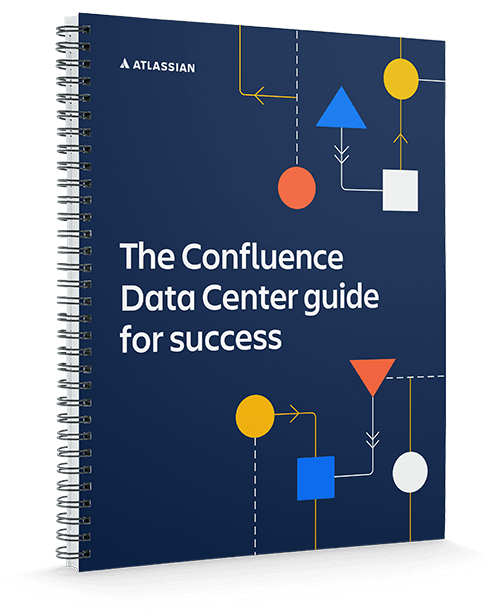 The Confluence Data Center guide for success
Download this guide as a PDF, so you can reference it offline!
Before you install Confluence Data Center, be sure to take time to understand the technical requirements and necessary investments. This will impact how you set up your instance.
Whether you're new to Confluence Data Center, or looking to keep your existing instance healthy, here are the next steps to take.
Testing, maintenance, customization, and more
Keep your instance healthy with regular testing and maintenance
It's important to regularly test and monitor your Confluence Data Center instance to keep it healthy, to ensure that your users have access to their content around the clock. Testing helps determine whether your infrastructure is capable of supporting adequate performance levels under typical loads, and monitoring ensures that Confluence will continue performing at an optimal level. Creating a strong Confluence maintenance strategy requires plenty of strategy and foresight, so use these resources to plan ahead.
Additional resources
If you're running into trouble during the setup process, we've created a troubleshooting guide to answer your most common questions. For more help, you can raise a support request or use the additional resources below to help you and your team keep your Confluence Data Center instance running smoothly.
Unlock more from Confluence with Marketplace apps
Using Confluence alone may not meet all of your organization's needs, and the Atlassian Marketplace is your go-to place for finding hundreds of apps that can extend and improve your experience using Confluence. By adding functionality, such as calendar syncing, Q&A, publishing workflows, diagramming and more, Marketplace apps help your organization carry out some of its most important functions on Confluence.
Try Confluence Data Center for free