Watch Sessions
Relive the greatest moments of the first Summit in Europe.
Watch full replays of the opening keynote and breakout sessions.
Summit Europe 2017 Keynote
Scott Farquhar
Co-founder and Co-CEO, Atlassian
Presentation video
Diversity in Tech
Watch our inspiring panel of experts discuss the issues surrounding diversity in the industry at Summit Europe 2017.
Presentation video
ShipIt Live
ShipIt is a 24-hour period of innovation that happens every quarter at Atlassian. See who was crowned the winner at this year's hackathon showcase at Summit Europe 2017.
Presentation video
Building a Successful Service Culture: How Airbnb Elevates with JIRA Service Desk
Laurent Bordier
JIRA & Confluence Manager, Airbnb
Chris Arrington
Productivity Tools Manager, Airbnb
These are the pillars of Airbnb's core values:
Champion the mission
Be a host
Embrace the adventure
Be a cereal entrepreneur
The IT team set out to deliver a level of service that embraced these values and bring them to life. They called this project "Latitude": a solution that gives users the latitude - or freedom - to easily find the information and help they need. They practiced champion the mission by providing a self-help solution for the community; Host by listening and working closely with business teams to find excellent solutions; Embrace the adventure by offering insights about evolving methodologies, new tools, and processes; and being a cereal entrepreneur by providing automated self-service help based on individual client needs.
With the help of JIRA Service Desk, project "Latitude" saw these highlights one month after launch:
94% response SLA
5200 knowledge base article views
5% of articles deflecting ticket creation
4.9 of 5-star user satisfaction rating
In this session, Airbnb will describe the "Latitude" journey, how it opened up new ways to provide help and delivered results. We'll also talk about what's ahead.
Presentation video
Presentation slides
Bundeswehr Blueprint: A Collaboration Platform for the German Military
Nils Merkle
Captain, German Armed Forces
It's true – even the Bundeswehr uses Confluence to organize their work. In fact, they use it for a great deal of their collaboration, coordination, and communication. But convincing the German Armed Forces to go digital with their knowledge base was no easy feat. In this talk, Nils Merkle, Air Force Captain, will recount how a team of four Confluence evangelists promoted social collaboration in a hierarchical environment through tactics like phone support, on-site seminars, and biannual community meetings. Come hear Bundeswehr insights, use cases, and best practices that can help any organization maximize Confluence's potential. And, of course, some funny stories that came about along the way.
Presentation video
Presentation slides
Enterprise Ready - What's New in Data Center
Keshav Puttaswamy
Head of Product, Server, Atlassian
Data Center provides administrators with high availability, performance at scale, deployment flexibility and control when hosting Atlassian applications. Join us to learn about the improvements to Data Center's core technology, latest product updates and direction. Don't miss hearing what our customers have planned and are doing with Data Center!
Presentation video
Presentation slides
Git Aliases of the Gods!
Tim Pettersen
Senior Developer Advocate, Atlassian
Git's incredible velocity and iron-clad backwards compatibility are a paradox: how does a CLI tool introduce hundreds of new features without changing its existing behavior? With command-line options, of course! The downside is that Git now has literally thousands of options littering its man pages. The only way to master them is through the ancient art of aliasing. This talk covers the nuts and bolts of creating Git aliases and automating Git-related JIRA and Bitbucket interactions from the command line. Attendees will learn tips and tricks for speeding up their workflow, improving their CLI mastery, and they'll also learn a lot about Git in the process.
Presentation video
Presentation slides
Hello, Trello! An Insider's Guide
Justin Gallagher
Group Product Manager, Trello, Atlassian
The newest addition to the Atlassian product lineup, Trello, was acquired in January, 2017. Trello is a visual collaboration tool that creates a shared perspective on any project. Trello's boards, lists and cards enable you to organize and prioritize your personal and work life in a fun, flexible, and rewarding way. In this session, you'll walk through numerous example boards to illustrate how you and your team can use Trello to get perspective, see how Trello works with other Atlassian products, and discover the tips and tricks that will help you become a Trello power user.
Presentation video
Presentation slides
Scaling Agile with JIRA Software and Portfolio for JIRA
Dennis Struis
Product Owner JIRA, ABN AMRO
Rik de Valk
Product Owner, ABN AMRO
In 2015, ABN AMRO, one of the largest banks in the Netherlands, rolled out agile across their organization. Within a year and a half, ABN AMRO grew from over 100 to 7000 users, and they are now moving towards using JIRA Software Data Center. This growth greatly increased their system complexity, that included 65 administrators that had created over 65 issue types, 250 statuses, and 400 workflows.
In this session, ABN AMRO will share the process of introducing scaled agile to their organization, which includes identifying the impact on usability, gathering metrics, and improving system performance and maintenance. You can also learn about how Portfolio for JIRA is an integral part of scaling agile across an organization and which best practices you can apply to your own journey.
Presentation video
Presentation slides
The Team Playbook: A Recipe for Healthy Teams
Dom Price
Head of R&D and Work Futurist, Atlassian
Georgie Bottomley
Senior UX Research, Atlassian
The benefits of a high performing team are endless. They are autonomous, empowered, responsible and effective. At Atlassian, we've pioneered the Team Playbook, which is our way of scaling teams by getting smarter, not bigger, and driving a culture of continual improvement. Utilised by hundreds of teams within Atlassian, we've made our secret sauce not so secret. Don't come to this session for a lesson on theory...come to this session to hear the philosophies and principles of the Team Playbook from Dr. Dom, our internal team doctor, and insightful and practical stories from Georgie, one of our users of the Team Playbook. You'll leave this session invigorated, engaged and ready to take action.
Presentation video
Presentation slides
AtlasCamp Sessions
Get best practices and catch up with full session replays from our premier developer conference.
Watch now →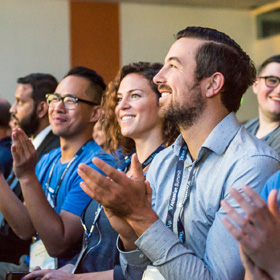 Atlassian Community
What did you think about the Summit sessions? Start or join a conversation in the Community.
Get started →
Stay tuned
Be the first to know about Atlassian live events and sign up for special announcements on when Atlassian is coming to a city near you.