Watch Sessions
Relive the greatest moments of the first Summit in Europe.
Watch full replays of the opening keynote and breakout sessions.
A Day in the Life of a HipChat Developer
David Cruz
Senior Software Developer - HipChat Desktop, Atlassian
Atlassian builds tools for all teams... including ourselves! There's no right or wrong way to use our tools, but we've developed some best practices that a lot of our teams have adopted.
In this session you will learn how an Atlassian developer uses JIRA, Confluence, HipChat, BitBucket, and Bamboo to plan, build, test, and continuously deploy HipChat. You will also learn some tips and tricks for using the Atlassian toolset to take a project from a concept to a released application.
Presentation video
Presentation slides
Automating Release Governance to Maintain Your Sanity
For many institutions in financial, medical and other regulated industries, there are many challenges to ensure appropriate governance of software development and release activities. The oftentimes slow and manual effort required to prove compliance with internal and external regulations is at odds with the desire to release value more frequently and stay ahead of the competition. This makes balancing the needs of governance against continuous delivery approaches critical for any institution.
This talk will describe how a global banking and financial services institution is automating their end-to-end software development and release governance process using Atlassian and other vendor products. We will share specific examples of automation such as evidencing a code review has occurred, integration between different products in order to prove successful testing, and interfacing into tools implementing ITIL. Additionally, we will talk about considerations for improving successful adoption by development teams and some of the challenges faced as we've started to automate.
Code Reviews vs. Pull Requests
Tim Pettersen
Senior Developer Advocate, Atlassian
There are many styles of code review, and it can be tough to find a process that works for your team. Do you use Git, SVN, or something more exotic? Do you prefer pre-commit reviews or pull requests? Do you branch, fork, or do everything with patches? This talk examines the various review options adopted by professional teams. We'll investigate Bitbucket pull requests, Crucible reviews, and Gerrit, discussing the pros and cons of each workflow. Then I'll show you the battle-hardened peer review process - refined over thousands of code reviews and pull requests - that Atlassian teams use to maintain the high quality expected of our products.
Presentation video
Presentation slides
Configuration as Code in Bamboo
Przemek Bruski
Architect, Atlassian Bamboo, Atlassian
Configuring Bamboo plans through the UI can be difficult due to long wait times and complexity. Come to this session to learn how you can tweak your configuration and start managing your builds like a pro.
Presentation video
Presentation slides
Developers Use Bitbucket and So Can You
Amber Van Hecke
Product Manager, Atlassian
Do you think Bitbucket is just a tool for developers and their code? Or perhaps you feel features like diff-views, version control and pull requests have no place in your team's workflow? Well guess again, because Bitbucket works just as well for people like designers, analysts and content writers as it does for software developers!
Join Product Manager Amber Van Hecke as she explains how Bitbucket can help your team. She'll explain the basics to get your non-coding related projects up and running, and showcase how various teams at Atlassian are using Bitbucket for marketing content, design, data sharing and more.
Presentation video
Presentation slides
DevOps Services: Development Pipelines On Demand
Torben Hoeft
Product Owner, Swisscom
Adopting DevOps can be a transformative process for many companies. For Swisscom, this involved untangling processes needed to meet regulatory requirements in order to help teams accelerate their adoption of DevOps. Learn how the DevOps Services team created a 'CI/CD as a Service' platform that empowered teams to create their development pipeline on demand, and reduced the time to set up new infrastructure from months to minutes.
Presentation video
Presentation slides
Git Aliases of the Gods!
Tim Pettersen
Senior Developer Advocate, Atlassian
Git's incredible velocity and iron-clad backwards compatibility are a paradox: how does a CLI tool introduce hundreds of new features without changing its existing behavior? With command-line options, of course! The downside is that Git now has literally thousands of options littering its man pages. The only way to master them is through the ancient art of aliasing. This talk covers the nuts and bolts of creating Git aliases and automating Git-related JIRA and Bitbucket interactions from the command line. Attendees will learn tips and tricks for speeding up their workflow, improving their CLI mastery, and they'll also learn a lot about Git in the process.
Presentation video
Presentation slides
Software Delivery at Warp Speed: Five Essential Techniques
Domnick Eger
Global DevOps Practitioner, Splunk
The rise of microservices and containers has dramatically accelerated software delivery. With shorter release times and increased complexity, access to real-time feedback from your build pipeline can be the difference between successful and failed releases. Join Dominick from Splunk for five best practices successful teams adopt to propel software delivery to warp speed while increasing collaboration and breaking down silos. Spoiler alert: this session will include best practices for using analytics to correlate insights into a variety Atlassian tools including JIRA Service Desk, JIRA, HipChat, Bamboo, and more!
Presentation video
Presentation slides
Succeeding with DevOps Behind the Firewall
Roger Barnes
Principal Product Manager - Bitbucket Server, Atlassian
Software teams operating in self-managed or regulated tools environment don't have to resign themselves to slow release cycles. In fact, world class teams are creating competitive advantage in collaboration with their broader organisations by shipping high quality code more often, despite real world constraints.
Join Bitbucket product manager, Roger Barnes, to learn about Atlassian's philosophy on the rise of DevOps and the importance of people, processes and supporting tools. He'll share what's new in the Server and Data Center family of products to help you on your way, going beyond JIRA Software with key developer tools to scale your success, and finding ways to move ever faster... even in the most heavily regulated industries.
Presentation video
Presentation slides
Unleashing Docker with Pipelines in Bitbucket Cloud
Philip Hodder
Developer, Atlassian
For those using Bitbucket Cloud, Bitbucket Pipelines makes Docker a first class citizen in your CI/CD cycle. Join Bitbucket Pipelines developer Philip Hodder to learn how containers are changing the way developers build software for the cloud, enabling faster development and safer deployments in a microservices world. He'll use practical, real-world examples to show best practices for testing, building, and pushing your Docker containers in the cloud when using Bitbucket Pipelines.
Presentation video
Presentation slides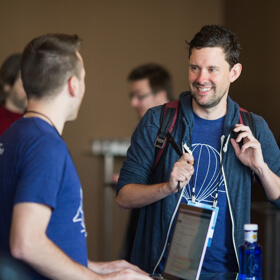 AtlasCamp Sessions
Get best practices and catch up with full session replays from our premier developer conference.
Watch now →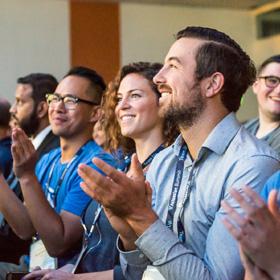 Atlassian Community
What did you think about the Summit sessions? Start or join a conversation in the Community.
Get started →
Stay tuned
Be the first to know about Atlassian live events and sign up for special announcements on when Atlassian is coming to a city near you.