Thank you to our 2017 Sponsors
draw.io for Confluence is a joint venture between JGraph and //SEIBERT/MEDIA. JGraph has been licensing web diagramming technology to world's largest companies since 2005. //SEIBERT/MEDIA GmbH is one of Atlassian's biggest partners worldwide with over 140 employees across Germany, Switzerland, UK and USA with over 14M Euros revenue.

draw.io supports the creation of and collaboration on professional diagrams directly within Confluence pages. We believe that diagrams are more popular than text when presenting certain types of information. From mind-mapping for executive planning, modeling relationships in a business model, designing layouts for software interfaces, creating process diagrams to optimize business procedures, and mapping factory layouts for manufacturing: draw.io offers a powerful and easy-to-use solution that everyone in an organization can take advantage of both for development of ideas and the presentation of information in a concise, memorable and understandable way. All diagrams can be collaboratively developed and adapted at any time, which are audit-proof and traceable, with the full range of tools and functionality.
draw.io is available through the Atlassian Marketplace since 2012. Launched as a free plugin, within 12 months it became one of the highest user rated plugins in the entire Atlassian ecosystem.
Over 5000 organizations worldwide rely on solutions from K15t Software to better manage their content and documentation in Confluence, and to collaborate on projects across borders with JIRA.

The Scroll Add-ons enable teams to author, manage, and release documentation and technical content while leveraging all of the collaborative muscle of Confluence. It's a game-changing process that keeps pace with agile development and fast-changing products and services.

Backbone Issue Sync for JIRA empowers teams to collaborate on projects across departmental or B2B borders with fine-grained mapping control and enterprise-proven reliability. It's a powerful new way of working: 'JIRA without borders'.

Founded in 2009 by Stefan Kleineikenscheidt and Tobias Anstett, K15t Software is a respected Atlassian Platinum and Enterprise Solution Partner. In addition to their suite of best-selling add-ons, K15t helps clients run Atlassian products for over 100,000 users around the world. K15t Software powers painless content and project collaboration.
Tempo products are designed to enhance the efficiency of Atlassian's JIRA helping teams and businesses collaborate, plan, budget, track, and work smarter seamlessly in one central software platform. More than 10,000 customers in over 100 countries trust Tempo to be successful. Our customers include small startups to large-scale distributed enterprises such as NASA, Amazon, Paypal, Toshiba, Disney, BMW, and Princeton University. Tempo is one of the largest, award-winning, and bestselling add-on vendors in the Atlassian Ecosystem, and has an established network of more than 100 partners worldwide. Tempo Planner helps project teams visualize work with easy resource management and planning seamlessly in JIRA. Tempo Budgets provides agile project and portfolio financial management in JIRA. Tempo Timesheets delivers painless time tracking and reporting for all JIRA teams, including for accounting, payroll, billing, enhanced project efficiency, and forecasting.
Become a sponsor
We are sold out of booth sponsorships for Summit Europe 2018. If you're interested in purchasing any Additional Marketing Opportunities (AMO) or a Partner Day Sponsorship, download the prospectus below. For any questions, please email sponsorship@atlassian.com.
Download prospectus
Amplify your brand
Atlassian Summit is a special opportunity to showcase your company, build relationships, and drive business.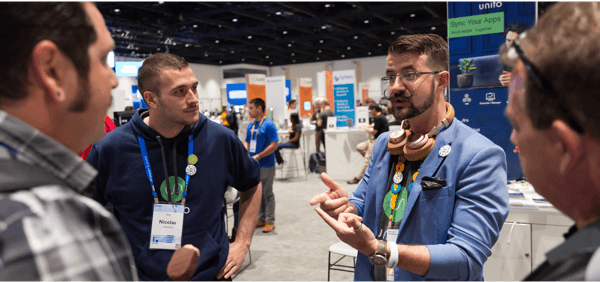 Expand awareness
Discover endless opportunities to develop new relationships and generate new leads.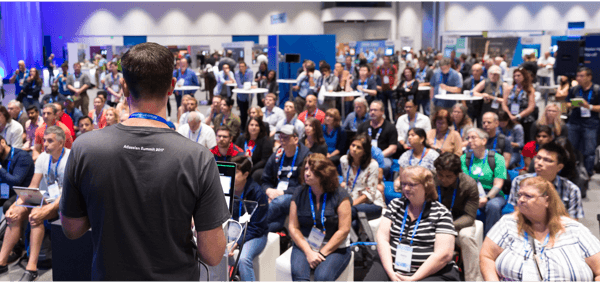 Showcase solutions
Share your solutions with the Atlassian customer and expanding partner community.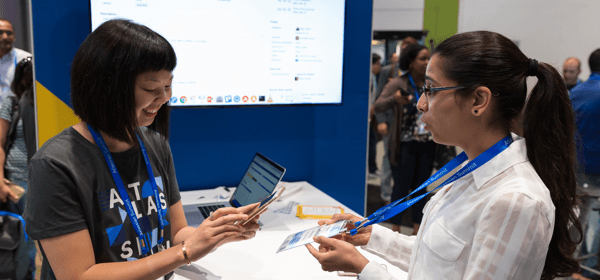 Connect globally
Tap into our 60,000+ user base and meet product users from around the world.
Sponsor AtlasCamp
Check out unique marketing opportunities for our premier developer conference.
Learn more →
Sponsor PartnerDay
Boost your brand exposure to our global network of Atlassian Partners.
Learn more →