What are the benefits of cloud?
A strategic investment into enterprise cloud applications can help your organization adapt to change, reduce time to market, and reduce costs.

Cloud technology has transformed the way people share data and information, allowing companies to quickly adapt to and lead change, increase delivery velocity, and reduce time to market. At the same time, cloud software allows companies to maximize their IT budget, creating new efficiencies and improving team productivity.
In general, the question isn't should companies move to the cloud—it's how quickly can they make the shift. Gartner estimates that by 2025, 80% of all enterprises will migrate entirely away from on-premise servers and data centers, making it easier to quickly scale their operations in the cloud, and integrate applications and data into a seamless customer experience.

And with SaaS (software-as-a-service) products, teams can stay integrated and aligned—even if they're distributed all over the world—while maintaining the maximum flexibility in managing license costs.

Today, every company is a software company—regardless of what they sell. These organizations need IT leaders that are willing to step up and set shared priorities and responsibilities with their business leaders to enable both efficiency and growth of the business. With that united partnership, IT can drive changes in how the organization operates, supporting large-scale digital transformation.

Ease of maintenance was the primary reason we migrated. We're a lean organization and we want to stay focused on delivering value to our two million members. It's hard to justify the time spent on internal tool upgrades when they don't directly contribute to our mission to help people fall in love with their creativity.
Sky Frostenson
Director of Technical PRoduct Management, VSCO
Read the story
Learn how migrating to cloud can transform your business
How to scale (faster and more affordably) in the cloud
4 ways to future-proof your teams and stay competitive in the cloud.
How to improve productivity in the cloud
How to improve productivity in the cloud
6 ways cloud increases speed and performance
6 ways cloud increases speed and performance
---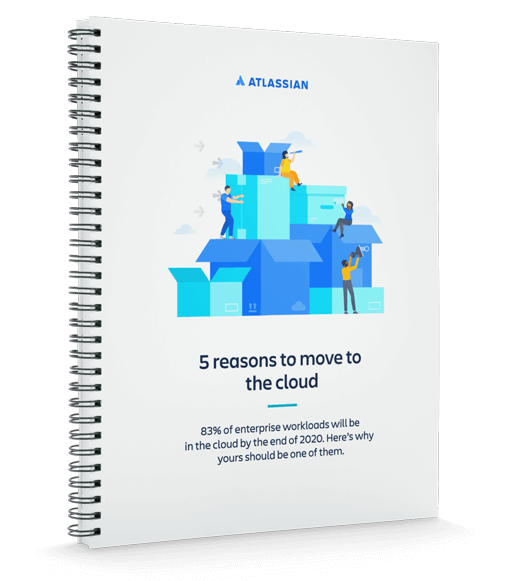 The top 5 reasons to move to cloud
Learn the top 5 reasons organizations are switching to cloud from on-prem, backed by 3rd party research and real-world case studies.
---
Visit the Atlassian Trust Center
Get the latest information on the security, reliability, privacy, and compliance of Atlassian's products and services.
Learn more about cloud migration
Find all the resources, tools, and support you need to start evaluating if cloud is right for your organization.