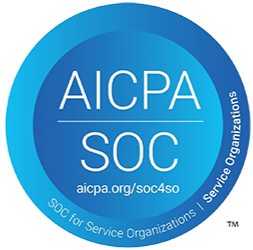 SOC 3
---
The System and Organization Controls (SOC) 3 reports are independent third-party examination reports that demonstrate how an organization achieves key compliance controls and objectives.
SOC 3 reports are based on the Auditing Standards Board of the American Institute of Certified Public Accountants' (AICPA) existing Trust Services Criteria (TSC). The purpose of the report is to provide a publicly facing version of the SOC 2 attestation report for customers who need assurances about service organization's controls relevant to security, availability, processing integrity, confidentiality, and privacy, but do not require a full SOC 2 report. SOC 3 reports can be freely distributed because they are general use reports.
A SOC 3 report contains a written assertion by service organization management regarding control effectiveness to achieve commitments based on the applicable trust services criteria, as well as service auditor's opinion on whether management's assertion is stated fairly.
Both SOC 2 and SOC 3 reports are both attestation examinations that are conducted in accordance with the SSAE 18 standard, specifically sections AT-C 105 and 205, governed by the AICPA. The main difference is a SOC 2 is a restricted use report and a SOC 3 is a public-facing report.
Project and issue tracking
Jira Cloud
enterprise agile planning
Jira Align
high-velocity itsm
Jira Service Management
document collaboration
Confluence Cloud
Git code management
Bitbucket Cloud
VISUAL COLLABORATION
Trello
modern incident response
Opsgenie
incident communication
Statuspage
help desk service management
Halp
Have more questions about our compliance program?
Do you have cloud certifications? Can you complete my security & risk questionnaire? Where can I download more information?
Trust & security community
Join the Trust & Security group on the Atlassian Community to hear directly from our Security team and share information, tips, and best practices for using Atlassian products in a secure and reliable way. 
Atlassian support
Reach out to one of our highly-trained support engineers to get answers to your questions.