ITSM
Check out our collection of articles and resources covering what you need to know about IT Service Management (ITSM)
What is ITSM?
IT service management (ITSM) is simply how you manage the delivery of end-to-end IT services to your customers. This includes the processes to design, create, deliver, and support IT services including hardware, software, and other workplace technology.
ITSM benefits your IT team, and service management principles can improve the entire organization. ITSM leads to efficiency and productivity gains. A structured approach to service management also brings IT into alignment with business goals, standardizing the delivery of services based on budgets, resources, and results. It reduces costs and risks, and ultimately improves customer experience.
ITSM vs ITIL
One of the most commonly adopted best practice frameworks for ITSM is ITIL or The IT Infrastructure Library. A common question we hear about these concepts is -- what is the difference between ITSM and ITIL?
The Information Technology Infrastructure Library (ITIL) is a set of practices for ITSM that focuses on aligning IT services with business needs. ITIL is the most widely accepted approach to ITSM and can help IT organizations realize business change, transformation, and growth.
ITSM Processes
Process is important for IT teams. Our approach to ITSM emphasizes four core processes:
Service Request Management

A repeatable procedure for handling the wide variety of requests from customers including access to applications, software enhancements, and hardware upgrades.

Incident Management

The process of responding immediately and restoring service when something goes wrong, whether it's an outage or a broken feature.

Problem Management

Identifying root causes of incidents, preventing recurring incidents and service disruptions, and minimizing the impact of unavoidable incidents.

Change Management

Standardized method to control changes to an IT system and minimize the impact on services.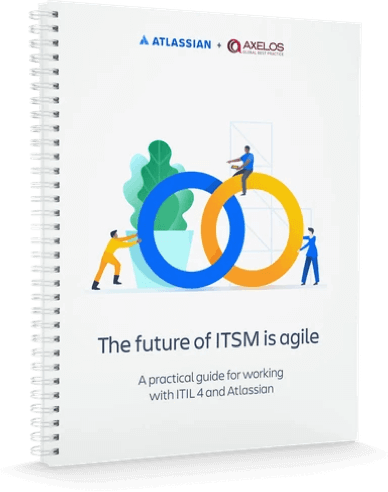 Keeping up with ITIL 4
ITIL 4 is a new update to the ITIL framework which offers a more holistic and approach to ITSM, while embracing modern ways of working like agile and DevOps.
Download our guide
---
ITSM Software
ITSM software enables IT teams to align with business needs and take a strategic approach to organizational change, transformation, and growth. There are a wide variety of ITSM software tools available in the market, from standalone applications to platform services.
Service desk software is a primary focus in ITSM. ITIL defines a service desk as "the single point of contact between the service provider and the users. A typical service desk manages incidents and service requests, and also handles communication with the users."
For teams embracing an agile approach to ITSM, consider whether your software meets the following requirements:
Easy to use and setup
Clean, intuitive self-service portal that makes it easy to request help, search knowledge bases, and track progress on issues.
Enables Collaboration
Platform for developers and cross-functional teams to work together for faster issue resolution.
Adapts to your needs
Software so flexible that it supports any resolution, escalation, or change process your IT Teams might dream up.
---
Resources
We've compiled a variety of ITSM best practices, advice, guides, and all the resources you need to set your team up for success.
Featured
Help desk vs. service desk vs. ITSM: What's the difference?
IT, and not just IT support, is full of jargon. And don't get me started on the IT three-letter acronyms (3LAs) that seem to breed when you're not looking.
3 tips to set, measure and report on SLAs
IT teams measure so much, it's easy to lose focus. We share how to set the right goals from the start — and get far better results. Learn about successful IT reporting and measurement.
4 musts for successful IT metrics and reporting
Start with questions like, who will use the metrics? Why do we need them? Are we setting the right performance goals to reinforce the goals of our business? Then, we share four very practical guidelines for measuring and reporting on IT performance, and for setting the right goals from the start.
---
Additional Resources
ITSM/ITIL 101
The new shape of modern IT teams
We recently conducted a survey of over 600 IT professionals across the United States to learn what makes modern IT professionals tick. We knew that IT teams came in all shapes and sizes but we wanted to dig deeper and understand what it means to be a modern IT team practicing ITSM.
DevOps vs. ITSM: Which side are you on?
In the IT industry, we often hear such varying opinions around DevOps and IT Service Management. These concepts are typically pitched against each other, as an 'either/or' decision. Do we really need to pick a side?
Intro to IT asset management
IT asset management (also known as ITAM) is simply making sure that all the valuable items your company buys are both accounted for and being used. Basically, if your organization owns or leases it, you need to know where it is and whether it is being used, and make sure it is maintained properly.
Best Practices
Best practices for service request management
IT teams receive a wide variety of requests from customers including access to applications, software enhancements, computer upgrades and new mobile phones.
5 secrets of high-performing IT teams
IT's role is evolving from "help fix my laptop" to "help me be the best." While many IT teams are still stuck firefighting, high-performing teams align with the business, embrace agile and automation, and drive digital transformation. Does yours?
How Spotify supports a company in hypergrowth
Spotify is one of the largest online music streaming companies in the world and they've been growing extremely fast. Like, "600% growth in three years" fast. Listen to Daniel Vázquez and Rick Wacey tell the story of how their team went from managing requests by email to using Jira Software and Jira Service Desk.
Incident Management
Nailing the IT incident management process
Tackling incident management in two parts–basic principles, advanced tips, and technology how-to's–all in the name of helping you adopt a better incident management process quickly and painlessly.
An introduction to ITSM incident management
Incident management is one of the most critical IT support processes that an IT organization needs to get right. Service outages can be costly to the business and IT teams need an efficient way to respond to and resolve these issues quickly.
Expert tips for better incident management
Experts at Atlassian share a few of our resulting recommendations for better incident management.