Support for Scrum@Scale
No matter your approach to scaling agile, we're here to help.
---
Scrum@Scale (S@S) is a framework for organizations that already have Scrum successfully working at the team level and are looking to implement it throughout the organization. It's an extension of the Scrum framework from one of the co-creators of Scrum, Jeff Sutherland. The main goal is to align growing organizations around a common and shared set of goals. Coordination is managed through a Scrum of Scrums, which is comprised of Scrum Masters from each team, and a MetaScrum, made up of product owners.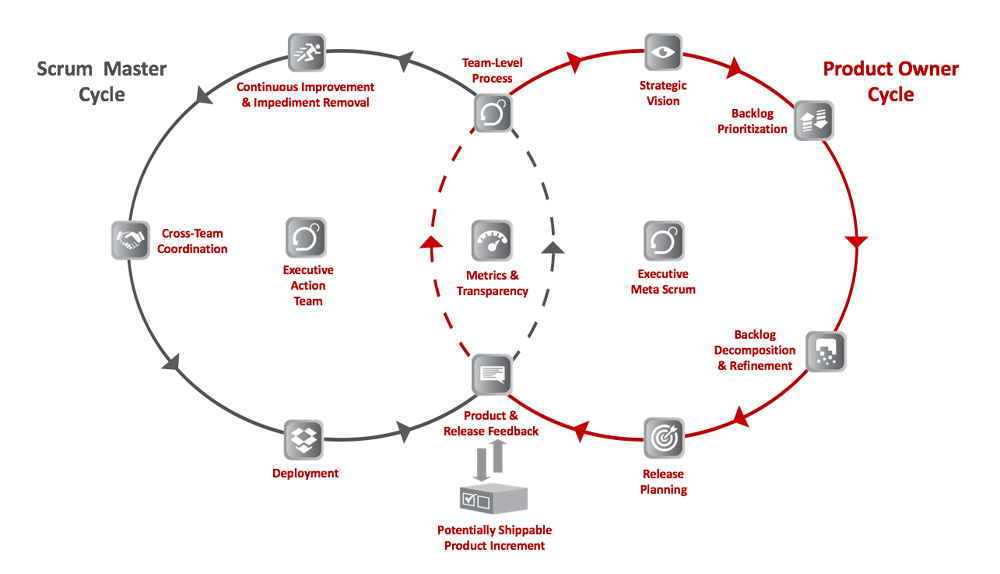 How Jira Align supports Scrum@Scale
Dependencies
Reduce delays with dependency management and see the results of better coordination and work across teams.
Roadmaps
Create and communicate a shared vision at the team and team-of-teams (Program) level for what the organization will build and release over time.
Risks
Improve visibility and drive mitigations leveraging successful risk management model like ROAM to manage and reduce risk.
Team visibility
Maintain the connection to your current Jira, TFS, or many other team tools and manage the data at the Team of Teams level.
Team rooms
Bring teams together for meetings and chats while you monitor team progress at the sprint level, connecting it to strategy.
Unified work tree
Get an overview of all work items in a PI and a drill-down hierarchy of progress at each work item level, by strategy, across teams.
Team meetings
Plan, execute, and track work in online ceremonies with a live view of how everyone is doing and where you are blocked.
Kanban
Visualize the work flowing through the system while limiting work in progress so the system matches its capacity.
Lean UX/UI
Stakeholders vote on the design of a Lean use case tied to personas and experience maps.
Forecasting
Allocate epics, features, or capabilities among teams and achieve a good fit within the release.
Story maps
Organize your product backlog and frame the user journey as it is tied to execution.
Themes
Refine strategy, allocate budget to investment themes, manage program funding, and assess budget vs. value.
"Knowing what's in the backlog, what's in work, what's next, is critical. Being able to answer those questions quickly and accurately is definitely where we want to be. [Jira Align] provides that."
Max Girardi
Product Owner Australian Tax Authority
Explore benefits for all types of roles
Portfolio management
---
Communicate the value of funding strategic initiatives to investors, analysts, and employees.
Product management
---
Manage idea intake, prioritize your feature backlog, and track progress with live roadmaps.
Program management
---
Track and resolve program risks, impediments, and dependencies while keeping everyone informed.
Release train
---
Ensure programs run smoothly and resources are perfectly allocated to nail on-time delivery.
Finance
---
Ensure initiatives maximize value, right-size scope and stay within budget from end to end.
Executives
---
Drive enterprise value of your high-level mission and vision while connecting strategy to execution.
Transformation teams
---
Drive digital transformation with a framework customized to scale agile in your enterprise.
Delivery teams
---
Execute against sprint work that tracks back to your organization's high-level strategy.
Ready to connect your enterprise?
Software without silos enables end to end visibility