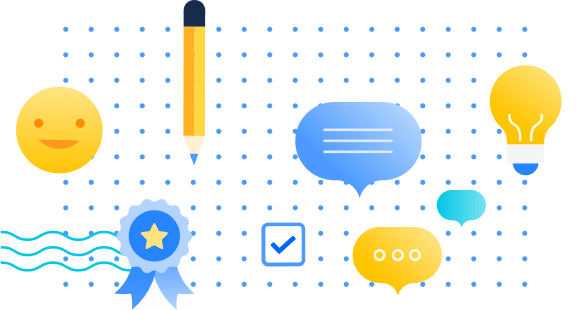 Scaling to enterprise: how you can impact our evolving approach to enterprise sales
Here at Atlassian, our sales model is undergoing an evolution—and we're looking for new Atlassians to join us as we expand our mission to drive customer support and value within the enterprise. 
Everything about the Atlassian sales model starts with the idea of guiding the customer to the fastest path to their outcomes, with the least amount of solution discovery friction.  
We begin by building products that speak for themselves and are easy to use and navigate, so that a high velocity and high volume self-service "try and buy" flywheel model can naturally address the needs of SMBs and smaller team level pockets of users within Enterprises.
As customers expand beyond niche usage to mainstream enterprise and 'wall-to-wall' use cases, this flywheel-led model then naturally progresses to an Enterprise sales-led approach staffed by strategic sales professionals who can engage the customer to explore complex problems like cloud transformation or multi-product collaboration solutions, that require a more sophisticated customer buyer understanding and relationship development.
Today just over 80% of the Fortune 500 are Atlassian customers, and as Atlassian's enterprise business continues to scale globally at a rapid pace, it is an exciting time to join.  
Here's a look at what's unique about the Atlassian experience, in the words of some of our enterprise sales team members.
We live by our values.
Open company, no bullshit
Play, as a team
Build with heart & balance
Be the change you seek
Don't #@!% the customers
Atlassian's five core values are central to everything we do, and help us to build a network of trust throughout the sales process. They empower us in terms of how we connect with our customers, and even in our internal conversations. 
"They always act as a nice backstop," says Scott Goh-Davis, a Solutions Engineer Manager for APAC based in Sydney. "They say, 'Oh, well, you know, this is all great, but we're screwing the customer. Wait, we need to think through a different way to pivot through this because this just isn't coming together in a way that we anticipated.' 
"Being able to use those as guideposts and really, truly taking that on board empowers every last hand in a way that I've not seen at other companies."
"We all strive to do the right thing for our customers along the way," echoes B.J. Miller, a Jira Align Senior  Strategic Account Manager for the U.S. based in Colorado. 
"That means saying no to customers when it's not a good fit. We spend an inordinate amount of time telling organizations that are too small to really use our products that they should potentially look at advanced roadmaps or something along those lines."
"'Don't F the customer,' or  'Play as a team' aren't necessarily values that will always come first in a sales organization," adds Emily Greenhalgh, an Enterprise Development Manager for EMEA based in Amsterdam. "I was slightly skeptical when I joined, but they're truly woven into the DNA of our team."
Our sales process is strategic, not gimmicky.
If you're used to working in a sales environment where you're pressured to constantly upsell, or asked to create urgency in purchasing by offering limited-time discounts, don't worry—you won't find those games here. We don't offer discounts or limited-time offers on our products; our entire sales process is focused around showcasing the value that our products can deliver to our customers.
While we do have sales targets, we focus on building relationships rather than using pricing as a negotiation factor. And our process isn't batch-and-blast: Each sales team member works with a relatively small number of accounts within their respective territories, which means messaging and approach must be considered carefully.
"As an Enterprise Advocate, I feel I'm responsible for the customer's journey with Atlassian," says Annamaria Bonyhadi, a Jira Align Strategic Enterprise Advocate based in Amsterdam. "My main goal when entering a conversation is positioning Jira Align and making sure we can cater to their functional needs and challenges. We look at how Atlassian as a whole can support that organization's journey."
It's a dynamic place to work, and every day will be different.
In our enterprise sales team, our focus isn't on selling products—it's on meeting our customers where they are, and helping them understand what solutions are the right fit for their particular journey and use cases. That means each customer journey may involve multiple conversations with different people on the sales team, including Enterprise Sales Advocates and Solutions Engineers, with people in many different roles and levels of seniority on the customer side. 
"One of the common themes that I'll hear when I talk to people who also work in pre-sales is because you're working with so many different customers and so many different challenges, it's something that always keeps you engaged," says Goh-Davis. 
"It's very hard to be bored because you're talking to so many different scenarios of people at so many different levels, that no two problems are exactly the same. You're constantly incorporating new technologies and you're tackling a variety of challenges and a landscape that's always changing. Someone who thrives in that type of dynamic environment, who wants to be consistently challenged: that's the kind of person we're looking for."
We're an ever-evolving company, and you have room to make an impact at every level.
Atlassian has seen tremendous growth in its two decades in operation, with 33% revenue growth in the last year alone. As a cloud-first company, we're paving the way for every step of our customers' own digital transformations by helping them to not only identify the right solutions from our entire product portfolio, but to implement them based on each organization's unique needs. And as we continue to optimize our growth strategy, we welcome enterprise sales representatives at every level to play a role in shaping how we present and implement our solutions.
"Knowing people who work at huge tech companies with 50,000 employees, yes, it's a great job, but they say things don't really radically change," says Greenhalgh. "And I've been here for nearly a year, and I have seen four or five huge announcements, which is a very exciting place to be."
"For example, we've now built out a whole team who are responsible for cloud migration. There's a lot of transparency around saying, 'We haven't figured this out yet. And if you want to help us, come knock on our door and we're here to listen.'"
Meci Vardar, an EMEA Sales Manager based in Amsterdam, says that in terms of what she looks for when she's hiring, curiosity and openness to learning and sharing knowledge are crucial. 
"I'm looking for someone that is willing to be competitive in a friendly way and has ownership of their territory, and can teach their learnings across the team with other people. If they want to challenge the status quo, go for it."
"That's what makes it so fun to work here," adds Bonyhadi."If I see that something's not working, I can address that. I can take steps with my manager, or with my manager's manager, and no one will be weird about it. It's normal that I have constructive feedback and they are responding openly, even in a company of 5,000 people."
Join our team or talent community
Interested in learning more about the dynamic opportunities available in our Enterprise Sales team? We're recruiting for remote positions internationally. Take a look at our Careers page to find your ideal role right now, or join our Talent Community to get notified about future career opportunities that may be the right fit.
Join the Atlassian Talent Community
Don't see an exact role match? No problem! Join our Talent Community and stay up-to-date on company and careers updates relevant to your career.