Rosetta Stone + Atlassian
Rosetta Stone relies on Advanced Roadmaps for Jira to orchestrate complex, multi-team projects
---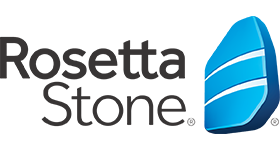 Location
Arlington, Virginia
Rosetta Stone is a global language learning and literacy company. It develops interactive software to accelerate language learning and is widely recognized today as the industry leader in providing effective language programs.
Challenge
Spanning 15 teams in eight locations around the world, Rosetta Stone's software engineering organization needed a better way to manage its scaled agile development.
Specifically, engineering teams and product managers needed a better way to communicate progress and forecasts throughout the development cycle; program managers needed a better way to coordinate releases; and stakeholders and senior leadership needed an at-a-glance solution for monitoring products in development.
"When you have multiple teams that are interdependent and working on various projects simultaneously, you have to find a way to scale agile," says Todd Glidewell, manager of PMO at Rosetta Stone. "Getting those teams to move forward in the same direction at the same velocity, while keeping stakeholders informed, is incredibly challenging."
Solution
Long-time users of Jira Software, Rosetta Stone added Advanced Roadmaps for Jira to its Atlassian implementation.  
"With Advanced Roadmaps for Jira, we can reflect the real, on-the-ground situation in a manner of minutes," says Eric Hilfer, vice president of Software Engineering at Rosetta Stone.
With Jira Software and Advanced Roadmaps for Jira, we're able to work with a single toolset that facilitates every aspect of communication among the teams, and between the teams and the stakeholders.
Eric Hilfer
VP of engineering, Rosetta Stone
Benefits
Advanced Roadmaps for Jira provides a single, accurate view of work across projects and teams, enabling Rosetta Stone to effectively review, plan, and manage initiatives.  Everyone in the organization can remain on the same page across the roadmap: developers, product owners, managers, and executive stakeholders.
"Advanced Roadmaps for Jira gives us focus… It allows us to coordinate team activity, manage resources, get true alignment with the business, and respond to change in real time," concludes Hilfer.
Take us for a test drive!
Through its flagship product Altéa Customer Management System, Amadeus connects airlines, hotels, railways, cruise lines, and other travel providers to over 100,000 travel agents worldwide.
The pain of inactionable alerts and too many notifications highlighted the need for a tool that could consolidate the information, make it meaningful, and enable incident response.